Split Sailing Route – Croatia Sailing Itinerary
This is a 7-day sailing trip starting from Split, Croatia, meant for people who love exploring and have an adventurous spirit. The sailing route starts and ends on Saturday. When you find your yacht, you may want to choose a bareboat or skippered yacht charter, or even a luxury yachts charter, to follow the route.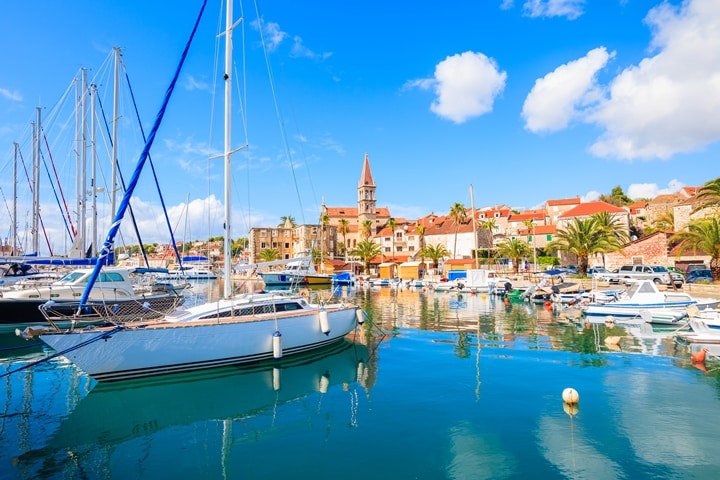 Please note that all restaurants and activities listed are only suggestions and are not included in the charter price. The trip can be changed according to your wishes and current weather, meaning stops can be added or removed.
We can arrange a transfer from Split Airport to the marina for you. The Split International airport is 10-15 km away from all marinas in the area. The transfer is usually not included in the charter prices in Croatia.
What to Expect from Sailing in Split
Split is Croatia's second-largest city, the biggest coastal city, and an important maritime and sailing centre. You will be able to enjoy a cheerful atmosphere that is right in the middle of both tradition and modernity. Oh, and it is one of the best romantic destinations in Croatia.
As you walk into the famous Diocletian's Palace, you will be greeted by many bars, restaurants, and shops, all thriving amid the old atmospheric walls that form almost half the old town of Split.
To top it all off, Split has a unique picturesque backdrop with its dramatic coastal mountains that perfectly complement the view of the turquoise waters of the Adriatic.
If you want to know when to visit Croatia, it is best to choose one of the summer months.
Day 1: Split – Šolta
The plan for the first day is to arrive on a Saturday in Split, Croatia, and get to the marina where your desired yacht is waiting for you. Your check-in procedure for hopping aboard the boat will be at 5 PM. Then, depending on the weather conditions and sunset hours, you may choose to spend the night in the Split archipelago or head to the island of Šolta.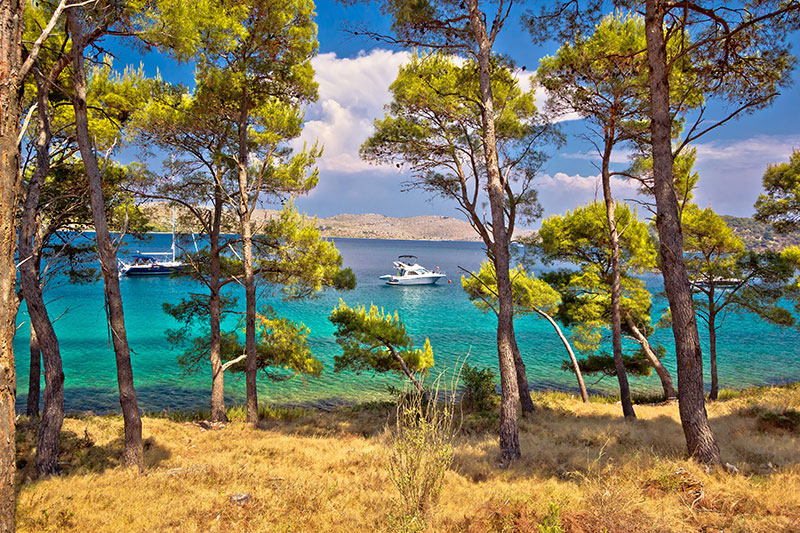 Recommended Activities in Split, Croatia:
Game of Thrones Guided Tour
Diocletian Palace Walking Tour
Highlights of Split by Pedicab or Rickshaw Tour
Swimming on the Bačvice or Kašjuni Beach
Evening Walk in the Marjan Forest Park
Gastronomic Recommendations in Split, Croatia:
Toto Burger Bar (best burgers in Split)
Corto Maltese Freestyle Food (mixture of cuisines for everyone's taste)
Bokeria kitchen and Wine Bar (fine dining)
Konoba Fetivi (Michelin Bib Gourmand Restaurant)
Day 2: Šolta – Brač
Whether you come to Šolta on your first day or on the next day's morning, you may choose to moor in Rogač, Maslinica, or Stomorska. Šolta Island is a rather quiet island known in the nautical world for its tranquillity and beautiful bays where you can swim and sunbathe under the warm Croatian sun. Once ready, head to the island of Brač.
Recommended Activities on Šolta:
Stomorska (the oldest port on the island)
Heritage Hotel Martinis Marchi in Maslinica (romantic harbour with luxury yachts)
Gornja Krušica Beach (secluded pebbled beach)
Secrets of Šolta (Off the Beaten Track Tour)
Gastronomic Recommendations on Šolta:
Red Wine Dobričić
Šišmiš Beach Bar (fresh seafood and mooring in front of the bar)
Martinis Marchi Restaurant (fine dining)
Restaurant Šampjer (culinary oasis worth finding to try local olive oil)
Day 3: Brač – Hvar
Brač Island is an ideal sailing destination for gourmands. You can taste delicious lamb meat, creamy goat cheese, fresh seafood, and succulent mandarins. Gulp it down with a glass of fine wine from the local wineries. There are also plenty of unique things to see here, so make sure to check our list of activities.
Your next destination is the party island of Hvar.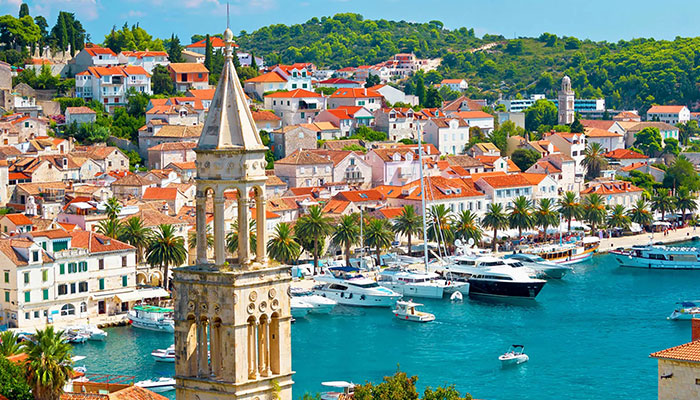 Recommended Activities on Brač:
Swim at the world-famous Zlatni Rat Beach
Hiking Trails to the Vidova Gora Summit
Visit the Stonemasonry School and the Roman Quarry
Visit the Olive Oil Museum in Škrip
The Blaca Hermitage (UNESCO World Heritage Site)
Gastronomic Recommendations on Brač:
White Wine Pošip
Red Wine Plavac Mali
Kopačina Restaurant
Kaštil Gospodnetić Agrotourism
Day 4: Hvar – Vis
Hvar Island, the Queen of the Dalmatian islands. The island offers dense Mediterranean nature, rich tradition and architecture in Stari Grad, and lively nightlife in Hvar Town. You may want to island-hop the Paklinski Islands in front of Hvar Town. The Palmižana Beach will welcome you with exotic plants, art and relics, hidden bays, and a traffic-free area.
The furthest island from the coast on this route is Vis Island, so be wise when planning this sailing part.
Recommended Activities on Hvar:
Book a Scooter Adventure
Visit the Hvar Fortress, Public Theater, and St. Stephen's Cathedral
Wine Tasting and Winery Tour
Tvrdalj Castle Tour and Lavender Fields Guided Tour
Stari Grad Museum
Gastronomic Recommendations on Hvar:
Restaurant Eremitaž (fresh seafood)
Kod Barba Luke (relaxed atmosphere with fresh seafood)
Antika (private atmosphere)
La Gitana Cocktail Bar (an excellent place for a late-night dinner and drinks)
Restaurant Meneghello on Palmižana (beautiful terrace and great food)
Laganini Lounge Bar on Palmižana (great local wine selection)
Restaurant Macondo in Hvar Town (seafood!)
Carpe Diem Bar (nightlife hotspot)
Day 5: Vis – Korčula
Komiža is a picturesque fisherman's town on the colourful island of Vis with the sunniest amount of days in a year, hundred-year-old carob trees, stone houses, medicinal Mediterranean plants, and vineyards. And here is a fun fact for you – Mamma Mia! Here We Go Again The Musical was filmed on Vis Island. You would never tell, wouldn't you?
Your next sailing leg will also be a bit longer to reach the island of Korčula.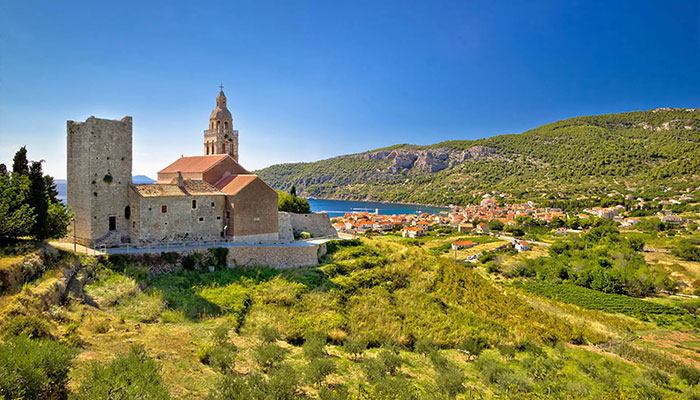 Recommended Activities on Vis:
Stiniva Cove and Beach
Budikovac Blue Lagoon
Green Cave
Tito's Cave and Fort George Historic Site
Ancient Greeks Exhibition
Gastronomic Recommendations on Vis:
Jastožera Restaurant (great choice for a romantic dinner)
Bako Restaurant (beautiful views while enjoying local cuisine)
Bakery Cukar (best bakery in Croatia)
Roki's Winery and Restaurant (the best Croatian wine sorts)
Restaurant Pojoda (traditional food)
Day 6: Korčula – Lastovo
Korčula Island has magnificent sunsets that you can watch in secluded bays, such as Orlanduša, Vela Pržina, or Vaja. The island is widely known as the birthplace of Marco Polo and has exquisite cuisine, so make sure to visit one of the recommended restaurants. In the evening, stroll around the cobblestone streets and enjoy the breeze of the fresh Adriatic air.
Lastovo is a remote island of untouched nature, which is why it is also an official nature park in Croatia. Around 70 % of Lastovo Island is covered in forests. The island has a rich wildlife and marine life – it is home to sea corals, dolphins, and sea turtles.
Recommended Activities on Korčula and Lastovo:
Sword Dance Festival (Moreška)
Korkyra Baroque Festival in Medieval Korčula Town
Discover Korčula Island on a Walking Tour
Pupnatska Luka
The Port at Ubli and Meteorological Station (Lastovo Island)
Fumars (famous chimneys on Lastovo Island)
Gastronomic Recommendations on Korčula and Lastovo:
Konoba Mate (Michelin Green Star, oriented toward sustainability)
LD Restaurant (Michelin Guide Restaurant)
Filippi (Michelin Guide Restaurant)
Konoba Bačvara (Lastovo Island)
Konoba Lučica (Lastovo Island)
Day 7: Back to Split
This fantastic week-long sailing around Split ends with a morning of swimming and eating a Mediterranean breakfast. Wait for the check-out procedure that is scheduled for 9 AM with a cup of coffee. Make sure you take your belongings and new memories home with you. You may want to spend the day in Split to cover everything listed on day one.
If you would like to explore another part of Croatia, you can tailor your perfect vacation with us.
Read more about Croatia and safety in Croatia here.