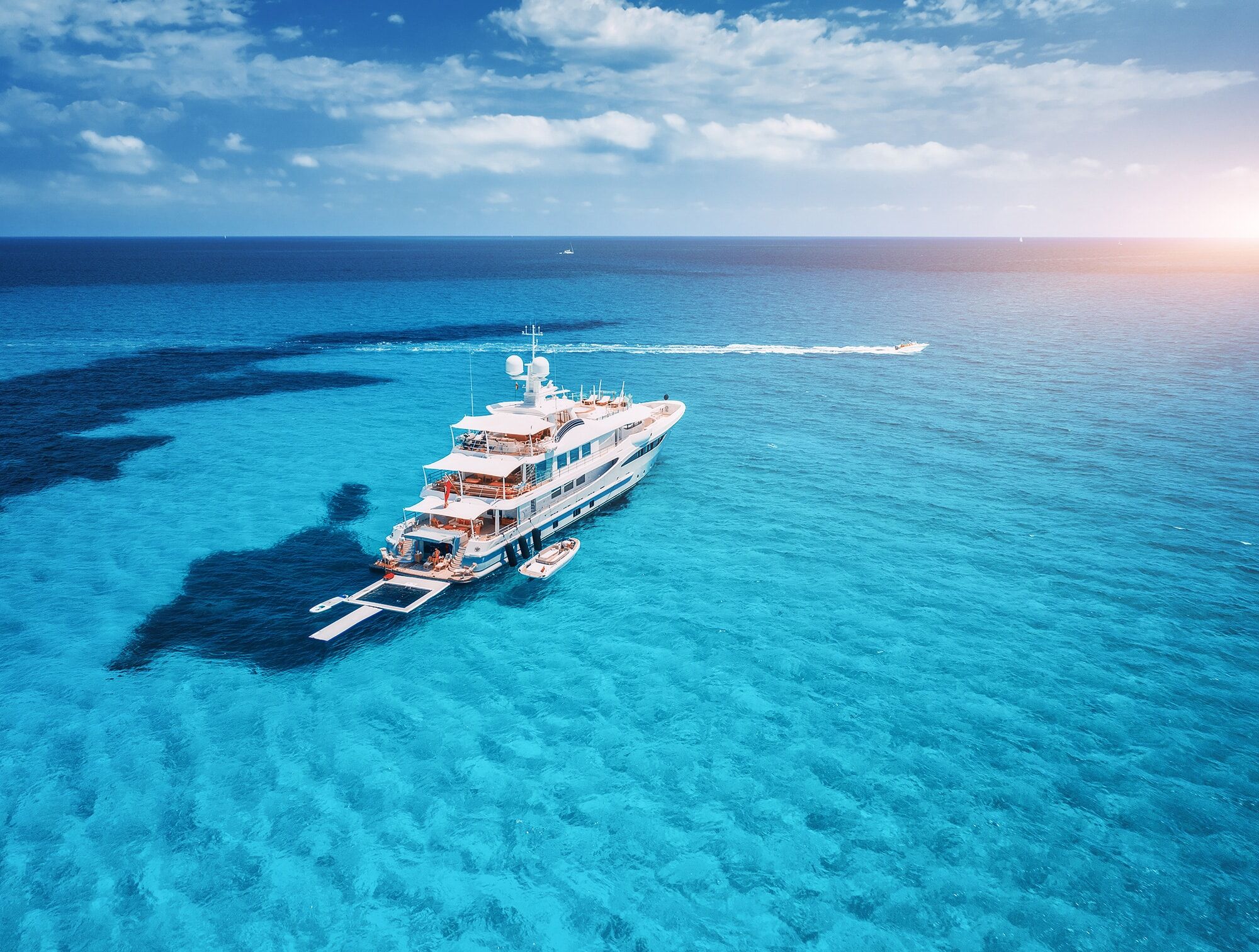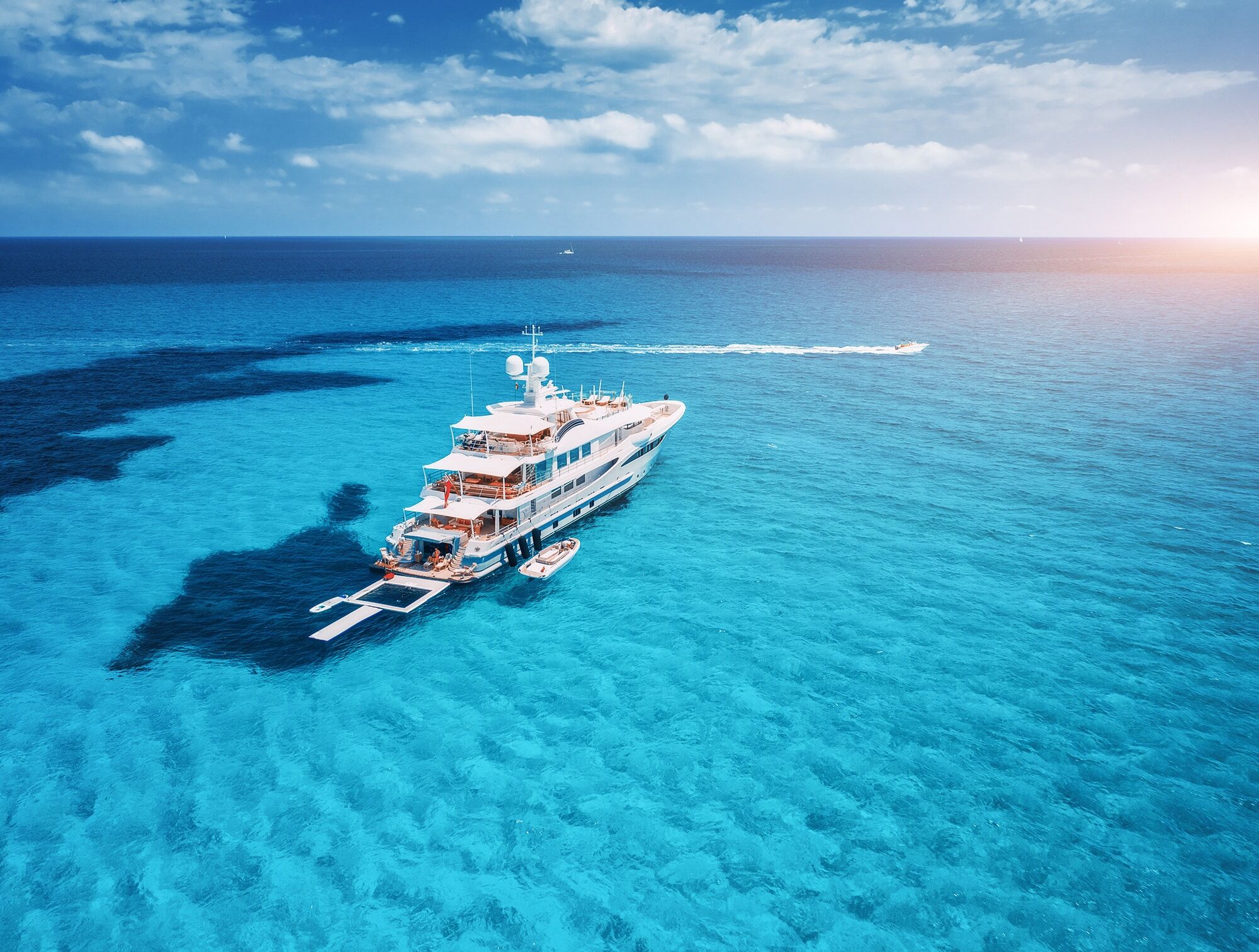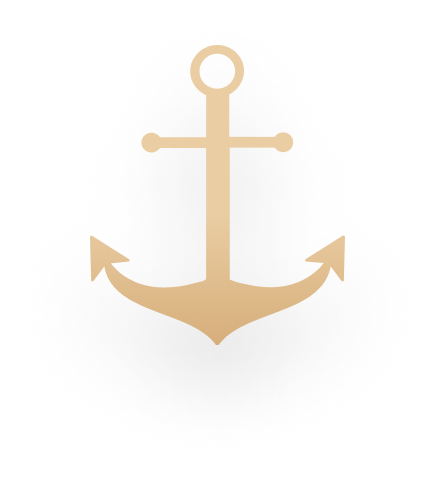 Experience
Luxury

Sailing Yacht Charter in Amalfi
fully crewed and tailored to your needs by Sebastus
Our Offer For You
Avail of our professional services
At Sebastus, we are committed to exceeding all expectations when it comes to your yacht charter holidays.
We are proud to offer a carefully selected fleet of fully crewed charter motor yachts, catamarans, sailing yachts, and gulets on the most popular and stunning, nautical destinations worldwide.
Find your perfect luxury boat charter for your needs and budget with Sebastus.
Our brokers operate in six languages and will use their expertise, local knowledge, and contacts to create bespoke luxury yachting holidays for you no matter if it comes to:
corporate events,
family holidays,
romantic holidays
or spending time with friends.
Our experienced team makes it easy to charter a luxury yacht or other fully-crewed charter for your needs.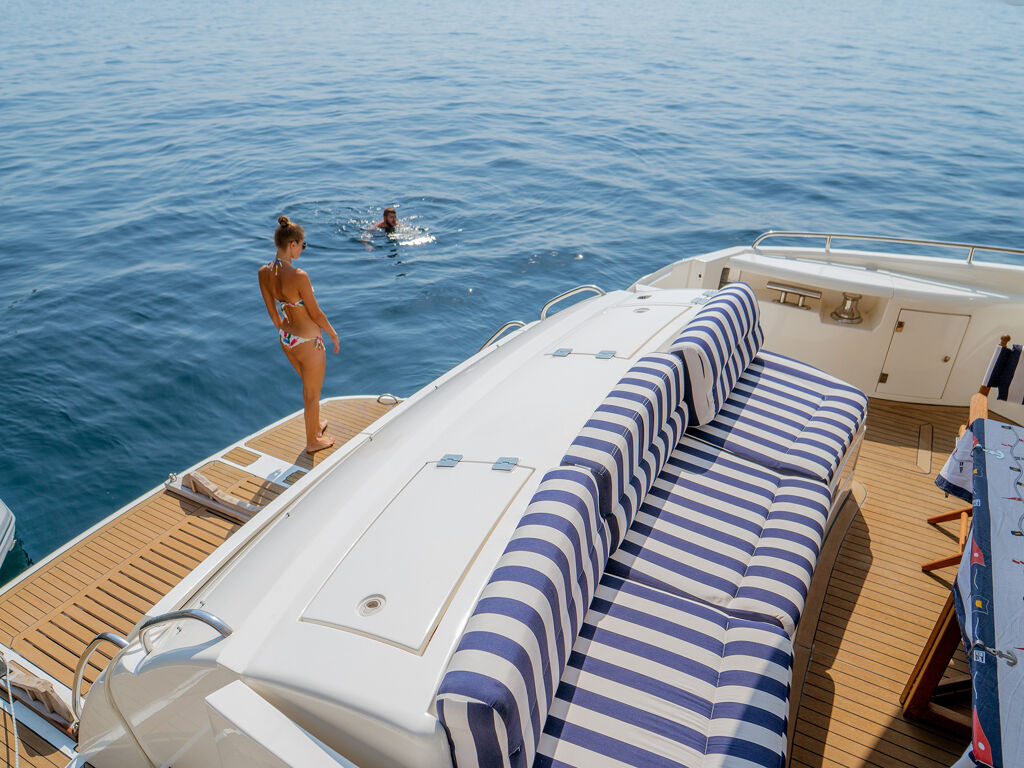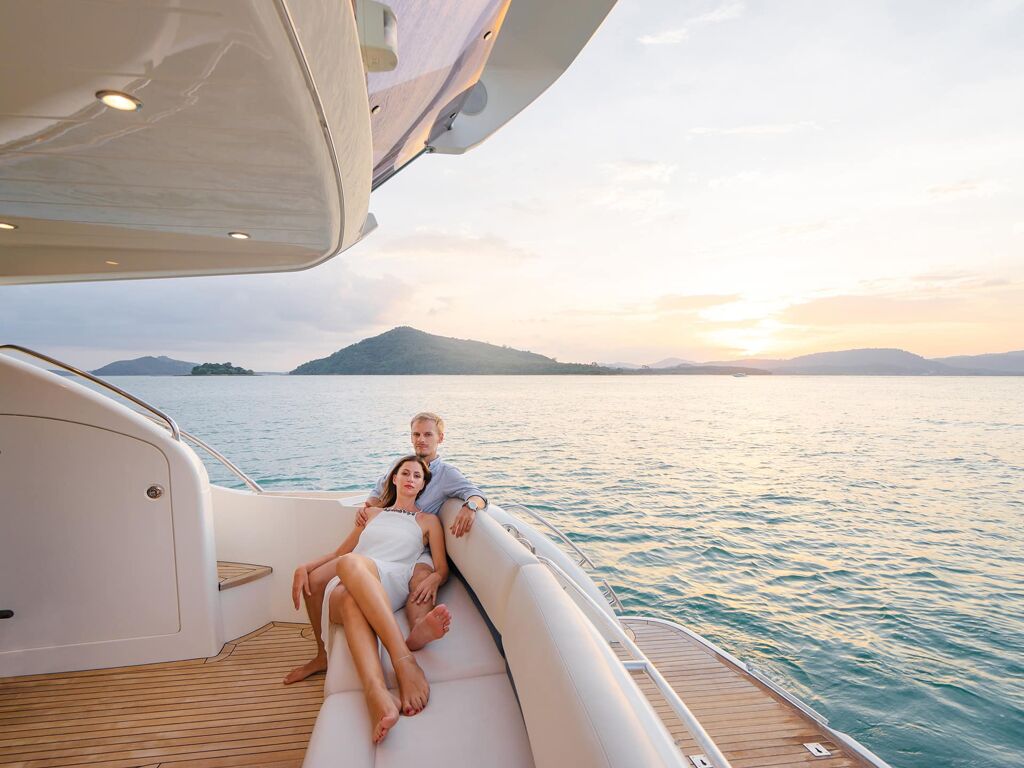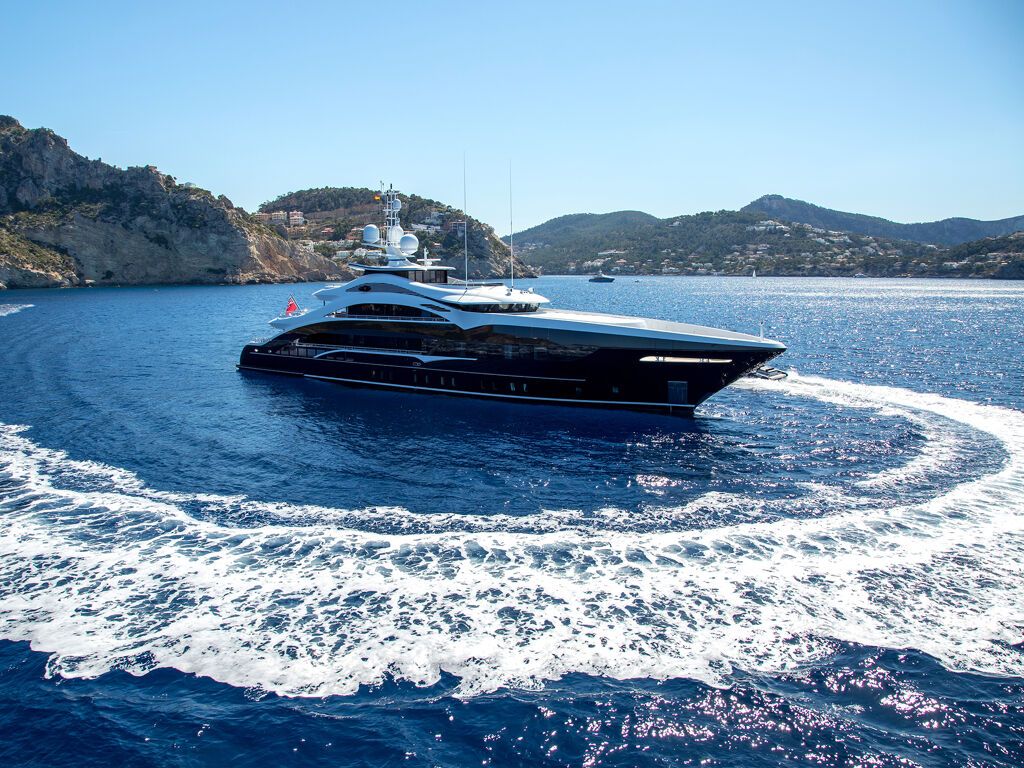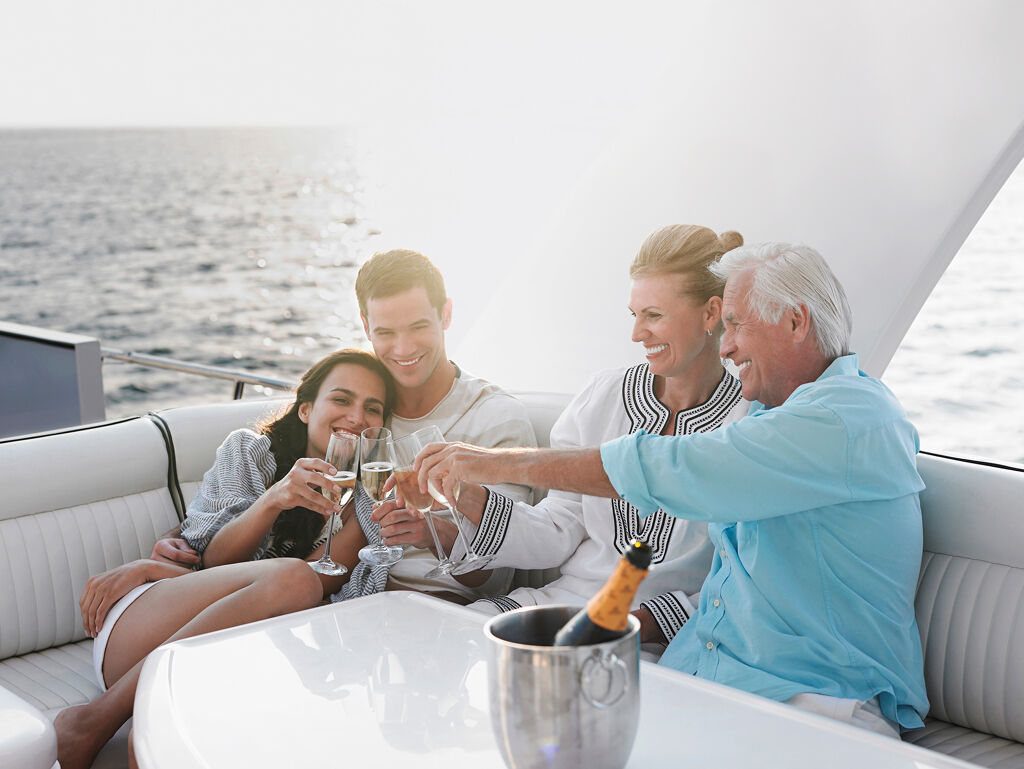 Discover the World's Most Exclusive Yacht Charter Sailing Destinations
The sun-soaked places where no expense is spared
From the crystal clear waters of the Bahamas to the stunning Ionian Islands in Greece, you can explore the world in a new way on your luxury yacht charter. Book a yacht charter vacation to some of these popular destinations.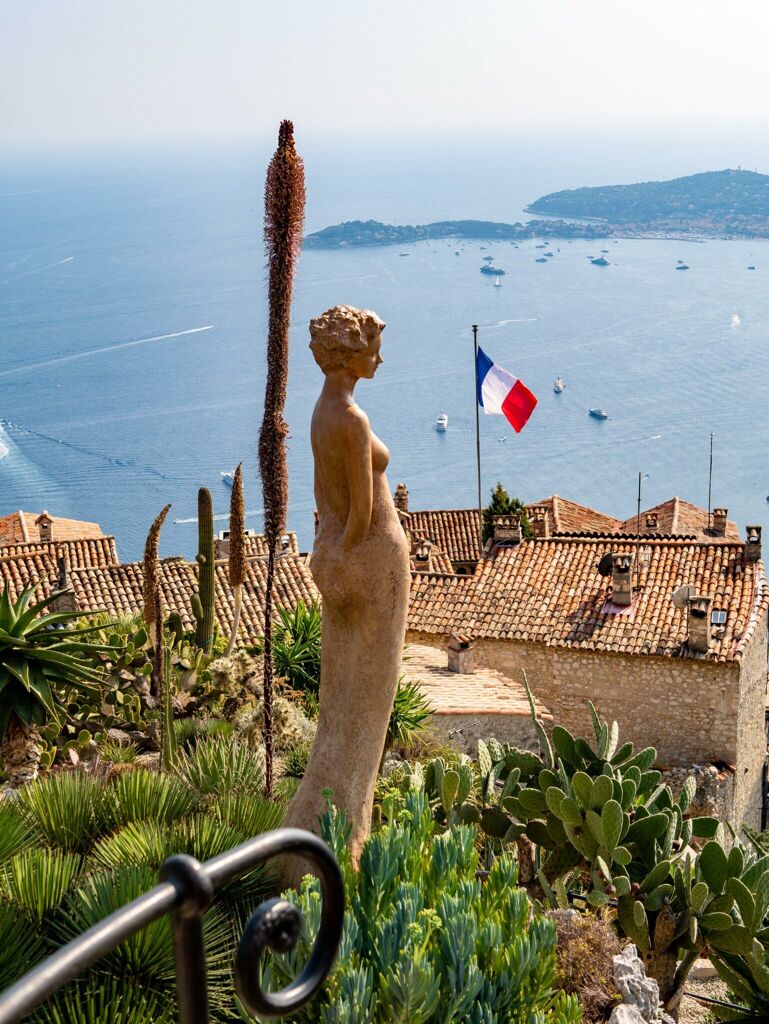 French Riviera & St Tropez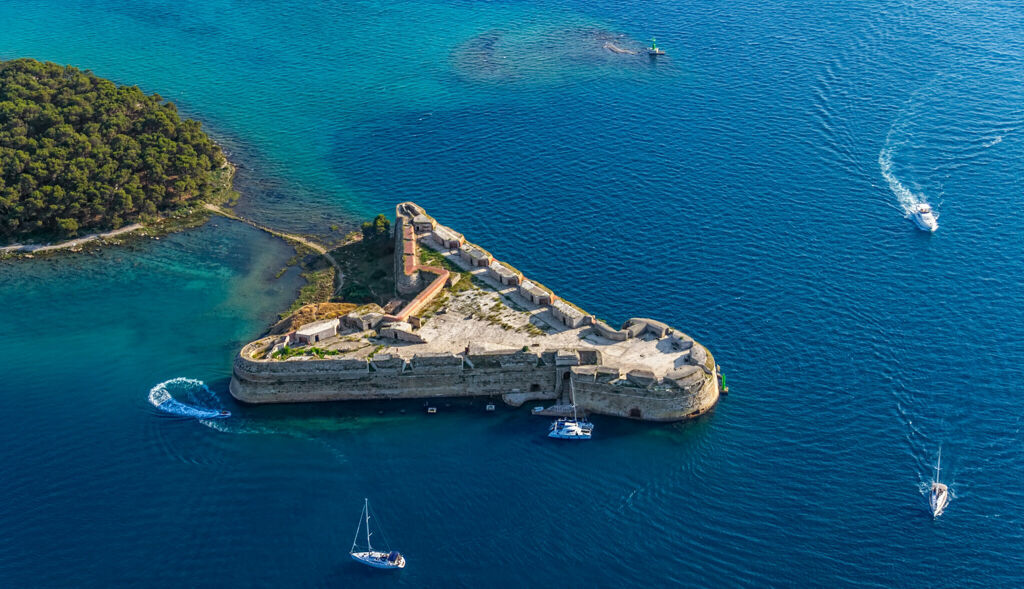 Croatia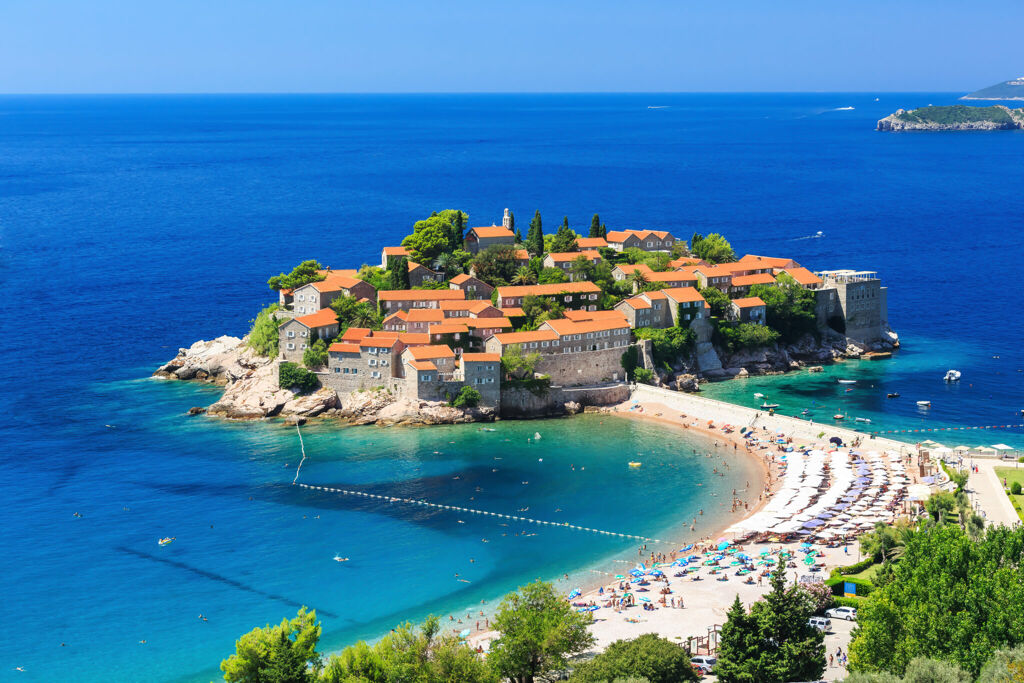 Montenegro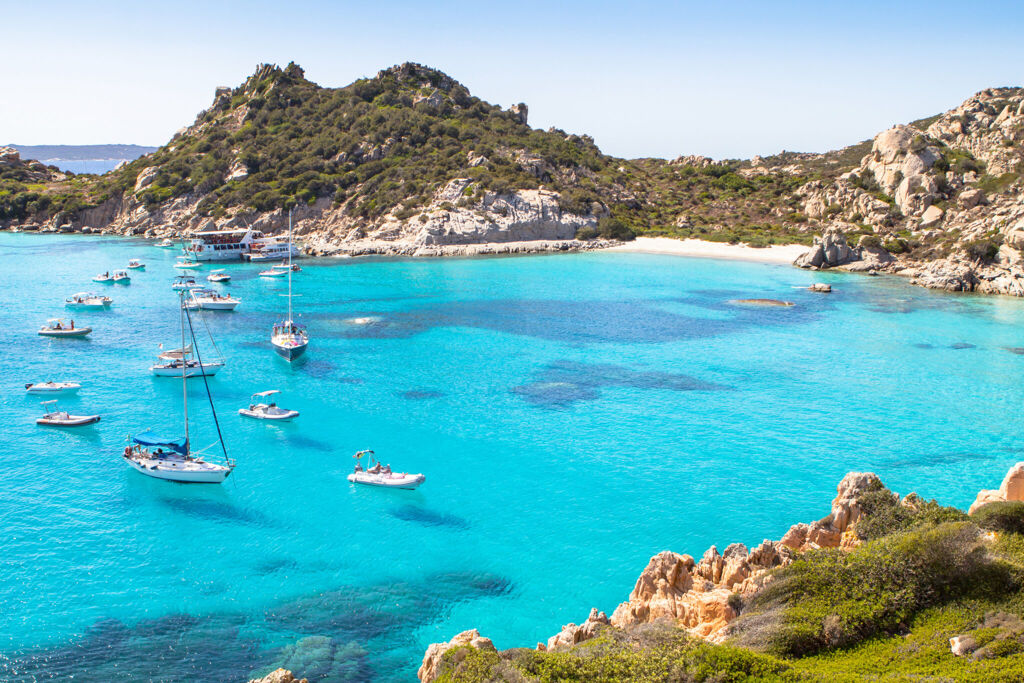 Corsica & Sardinia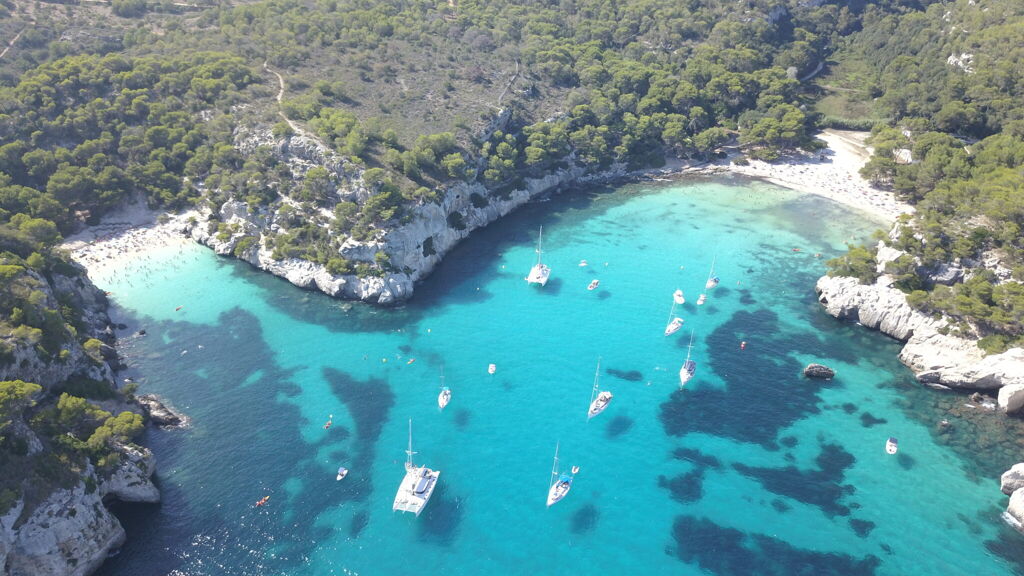 Balearics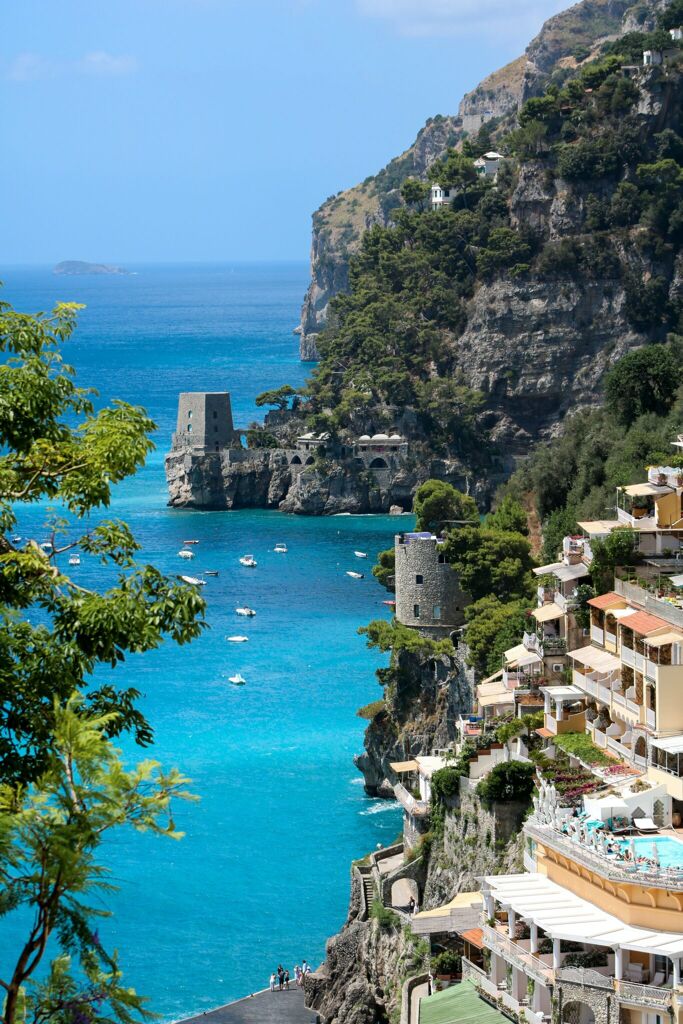 Amalfi Coast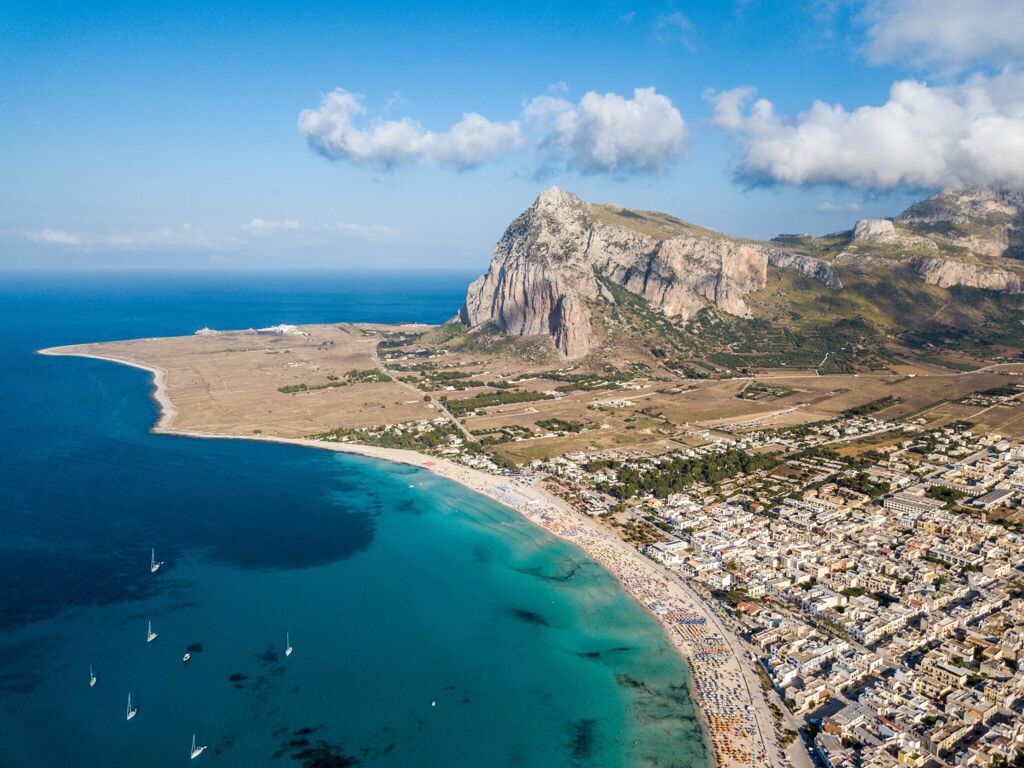 Sicily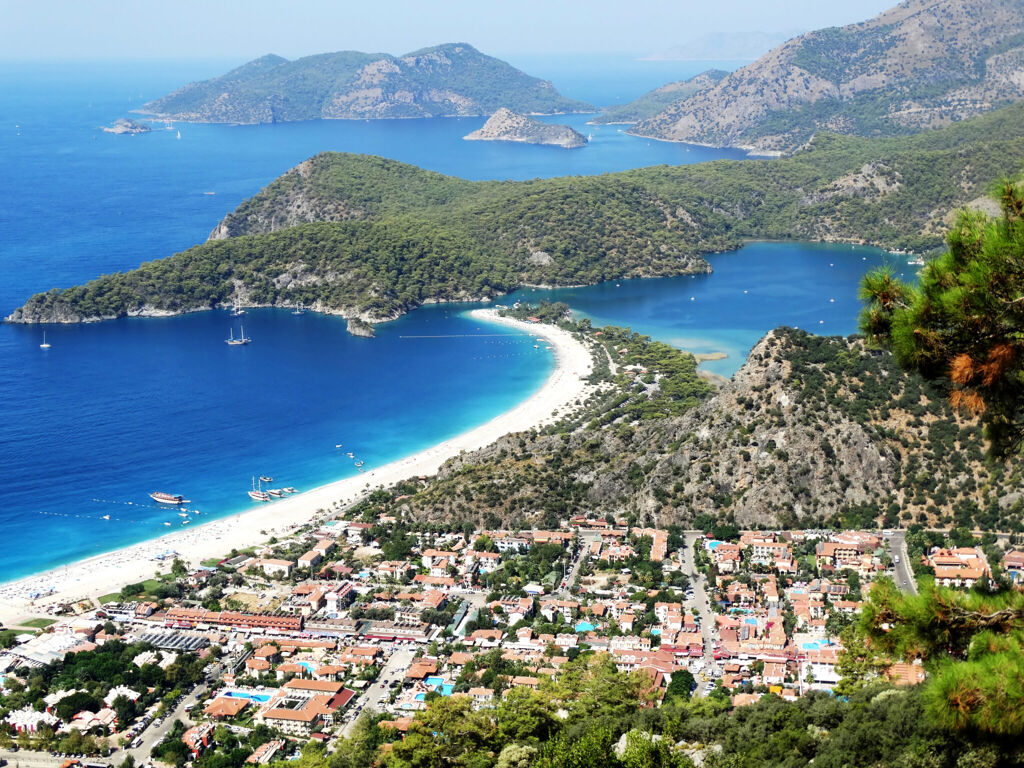 Turkey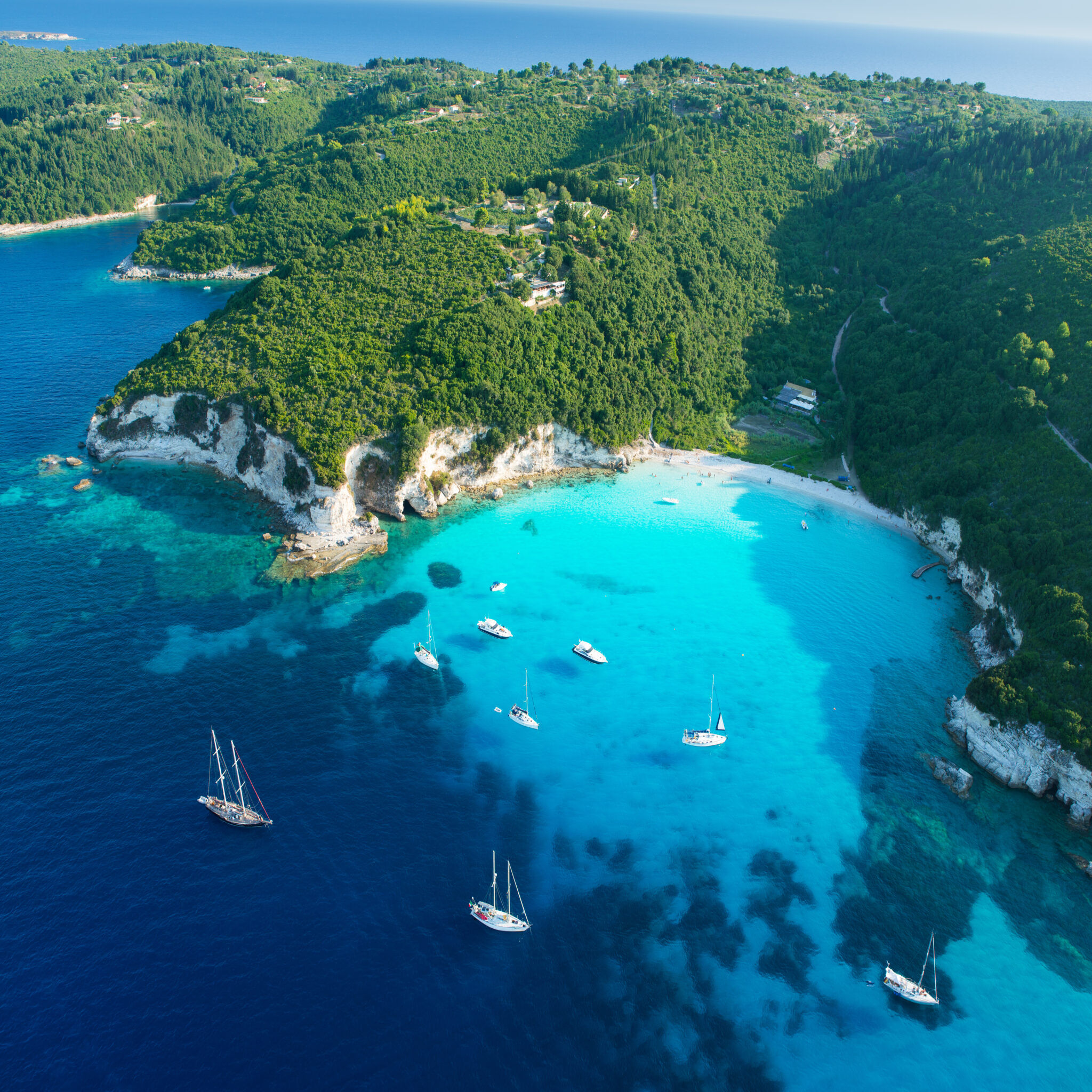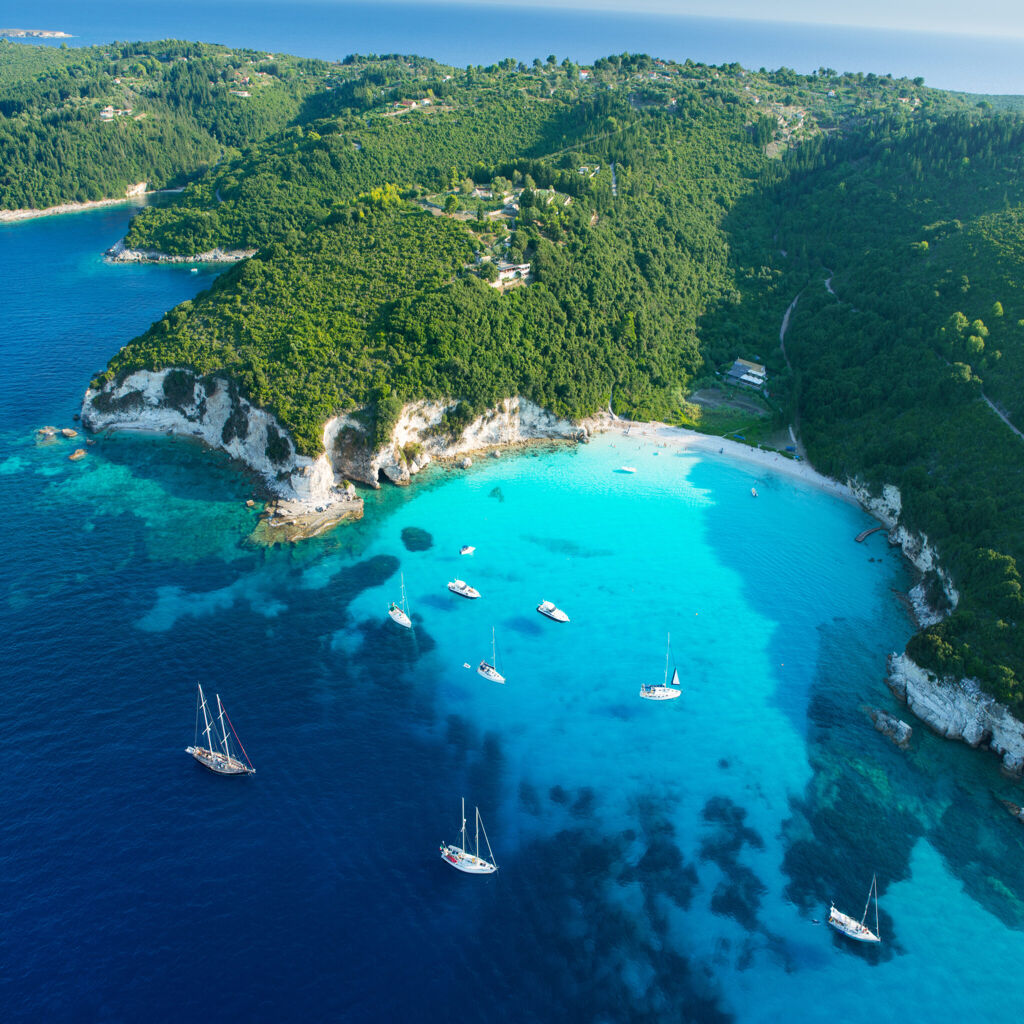 Greece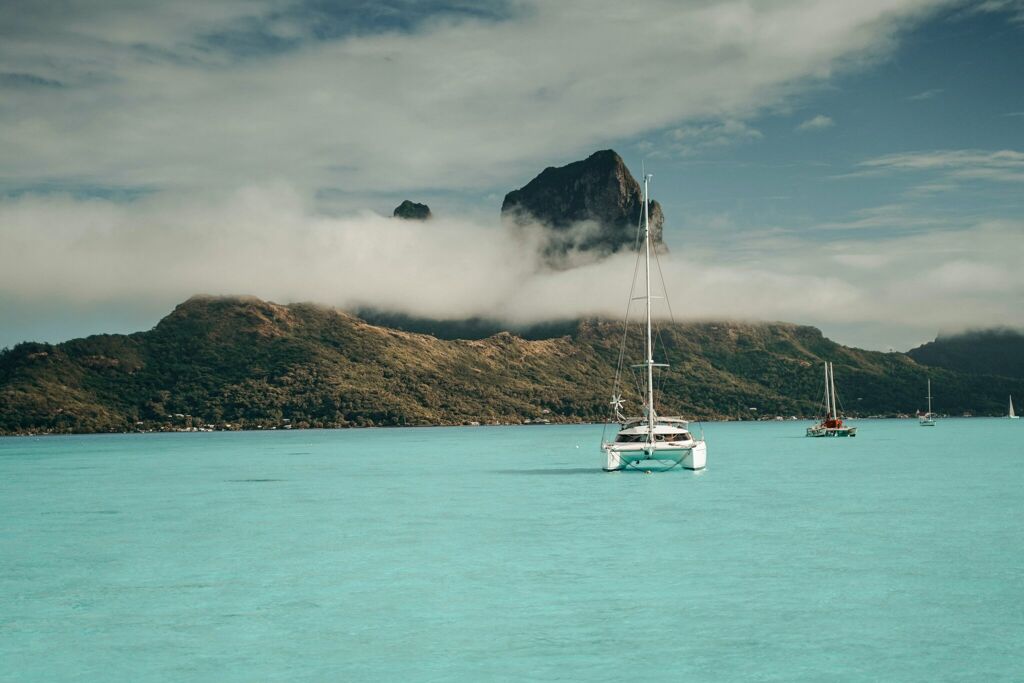 French Polynesia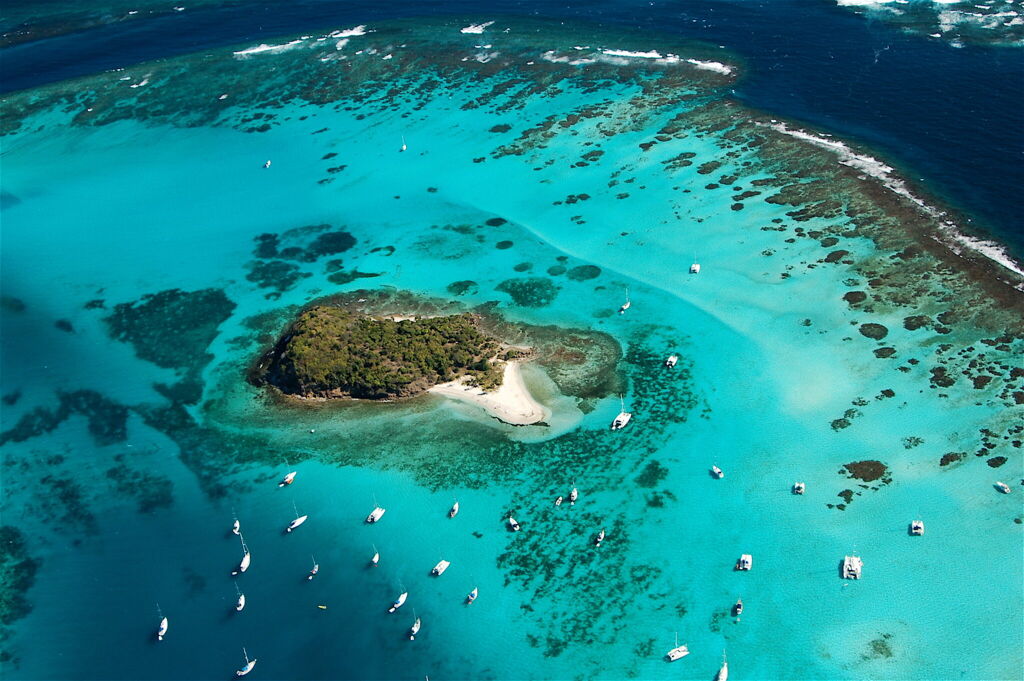 Caribbean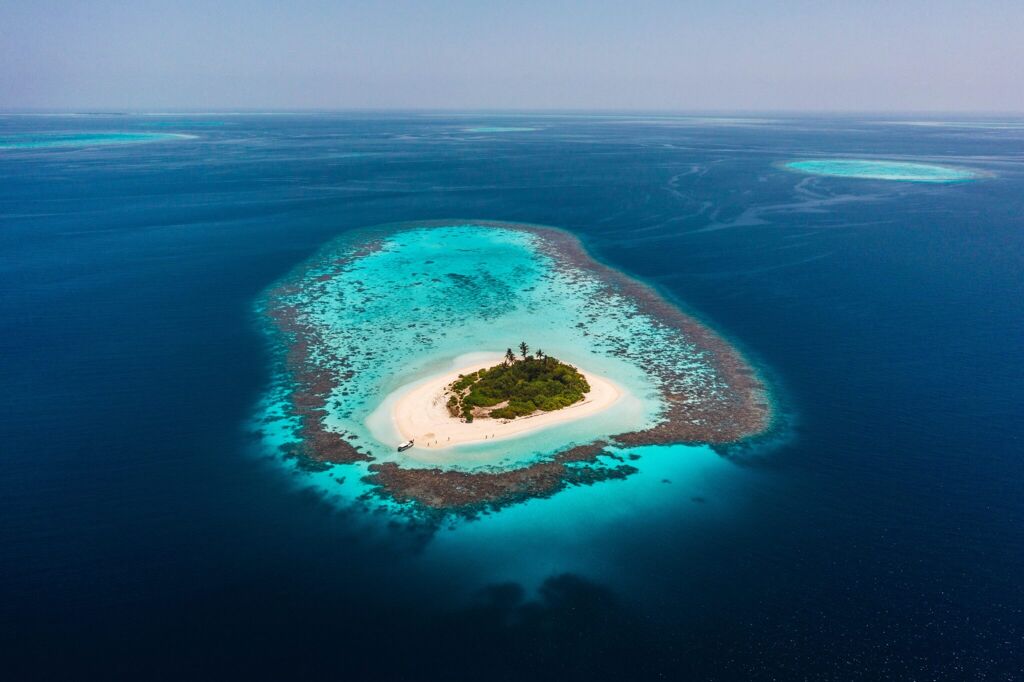 Indian Ocean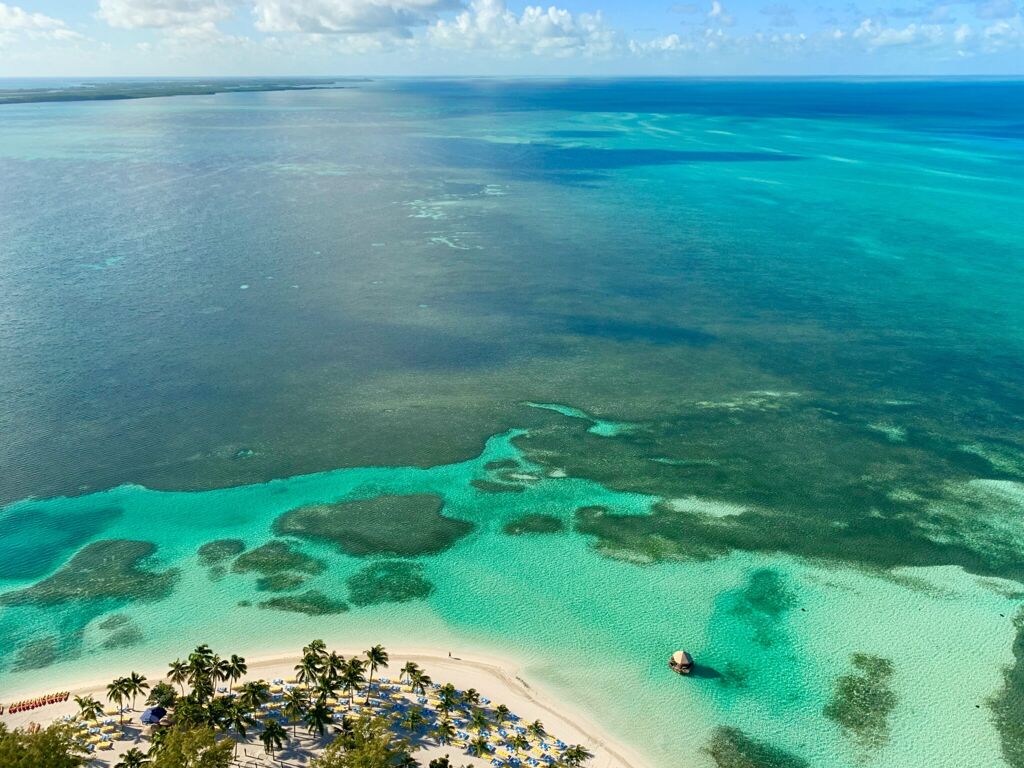 The Bahamas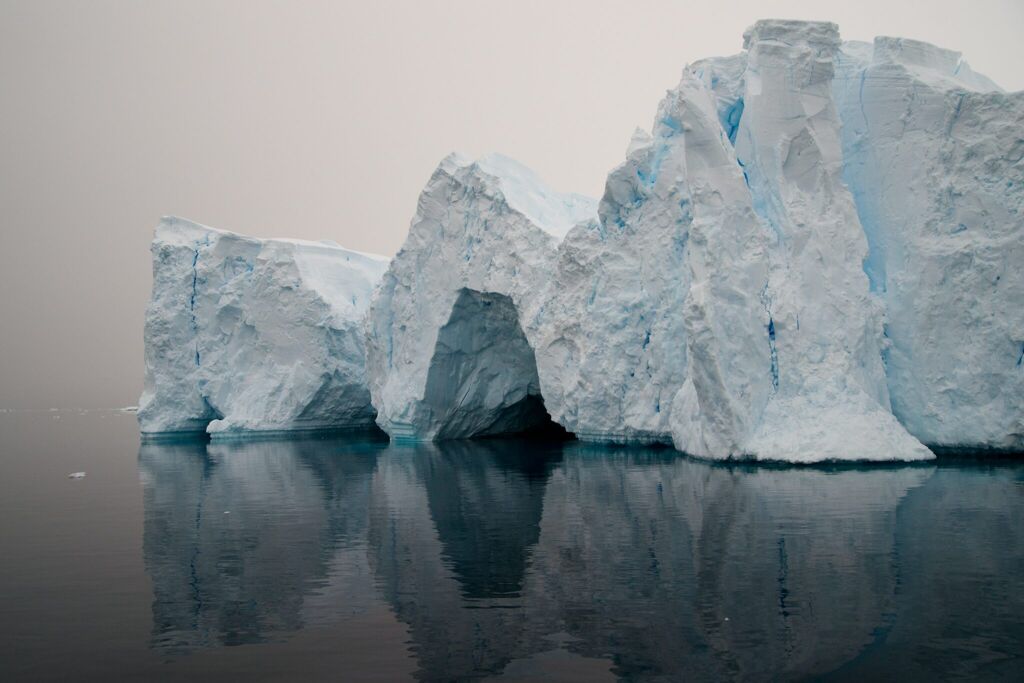 Antarctica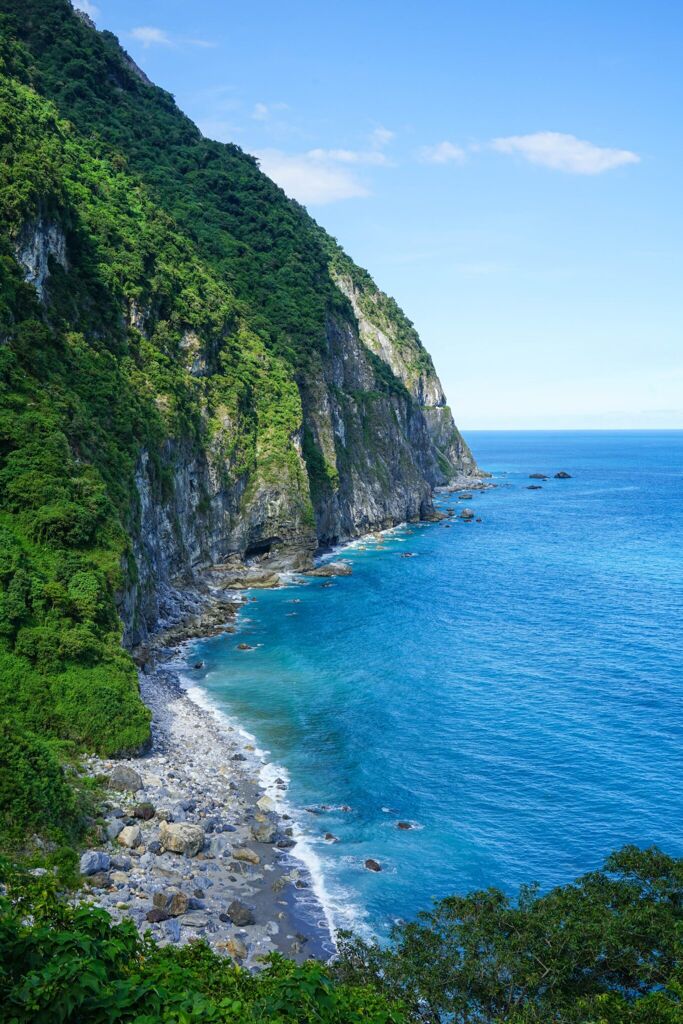 Pacific and Oceania
French Riviera & St Tropez
Croatia
Montenegro
Corsica & Sardinia
Balearics
Amalfi Coast
Sicily
Turkey
Greece
French Polynesia
Caribbean
Indian Ocean
The Bahamas
Antarctica
Pacific and Oceania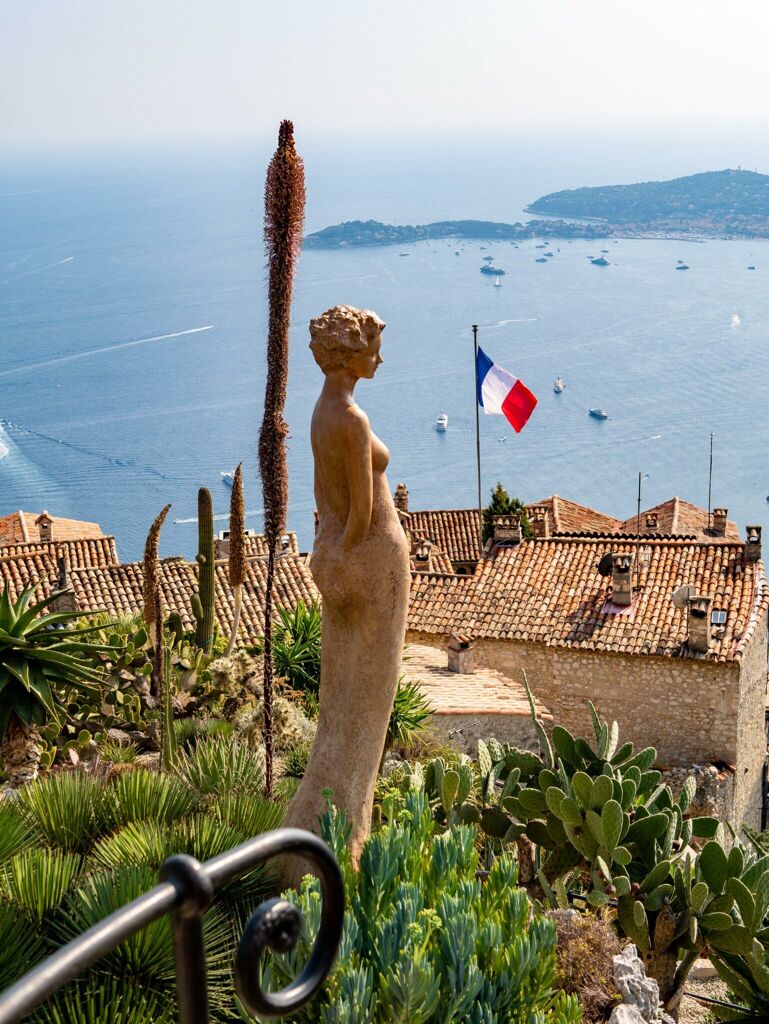 French Riviera & St Tropez
Yachting glamour and luxury have been synonymous for the French Riviera since the 1950s when the towns of Cannes, St Tropez and Monte-Carlo began to welcome the jet-set on their yachts.
The French Riviera covers about 550 miles and got the nickname Cote d'Azur after its strikingly blue waters.
Cannes has a large harbour, a seafront promenade with a beach, and is famous for the Cannes Film Festival, which is one of the most prestigious and oldest film festivals in the world.
Cannes offers visitors an exhilarating nightlife and countless Michelin-star restaurants, where Mediterranean food and wine command serious prices and excellent reviews.
St Tropez is, without a doubt, the most famous resort on the Cote d'Azur. This glamorous town was once just a humble fishing village, and these days it is a synonym for luxury yacht charter, staggering views, a lively social scene, chic shopping, and, of course, fabulous beaches.
Monaco is best known for its glamorous residents, glam casinos, yacht-lined harbour, and the Formula One Monaco Grand Prix motor race.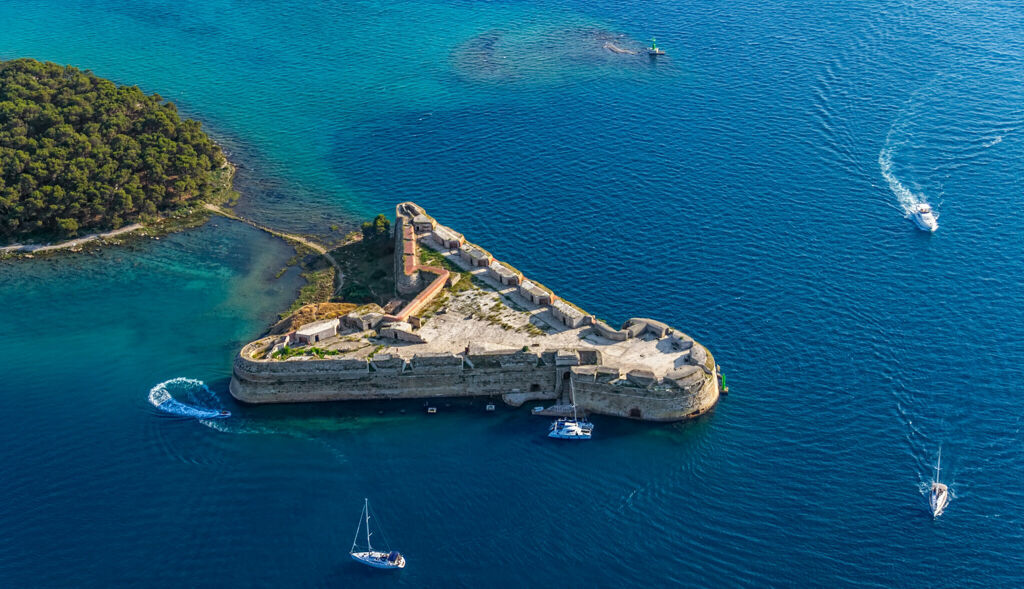 A yacht charter in Croatia offers some of the best superyacht cruising grounds in the world.
With an abundance of historic towns, stunning scenery, nature reserves, national parks, UNESCO-protected sites, and some of the best nightlife in the Mediterranean, Croatia is now among the most popular summer destinations for the yachting community.
Get enchanted by 1244 islands and reefs with many mainland ports and anchorages. There are so many places because of which you'll want to come back. We listed just a few of the main locations where you need to raise sails. Get a Croatia yacht charter to explore this naturally beautiful area replete – it'll be an experience of a lifetime!
Dubrovnik is certainly the most popular Croatian destination among the yachting community. Try to imagine how amazing it is to stop by on a sailing vacation and take a walk in the streets of a mediaeval city, where churches and public buildings mixed with the green-shuttered stone houses take the form of a picturesque image. The best part is that Dubrovnik has relatively remained untouched by the twenty-first century.
Hvar – Luxury hotels, trendy bars and clubs, and elegant restaurants are why they call it the Monaco of Croatia. Hvar Town is the cultural and historical centre, but there are a bit more serene and peaceful spots you'll find in Stari Grad and Jelsa coastal towns. Make sure you unravel Hvar's mystery by the day, as the southern end of the island hides some of its most beautiful and isolated coves.
Pula, Istra peninsula – Istria offers more than just the sea, sunbathed shores, romantic coves, and tiny ports! Istria invites you to follow the fairyland paths leading to the small mediaeval towns crowning her hilly landscape. The peninsula truly is 'terra magica', blessed with unspoiled nature, with the Brijuni Islands as the crown jewel being one of the most beautiful archipelagos in the Mediterranean with rare plant and animal species. This is a land whose long and rich history can be read literally from dinosaur footprints. What else to say but Istria is an ideal yachting destination!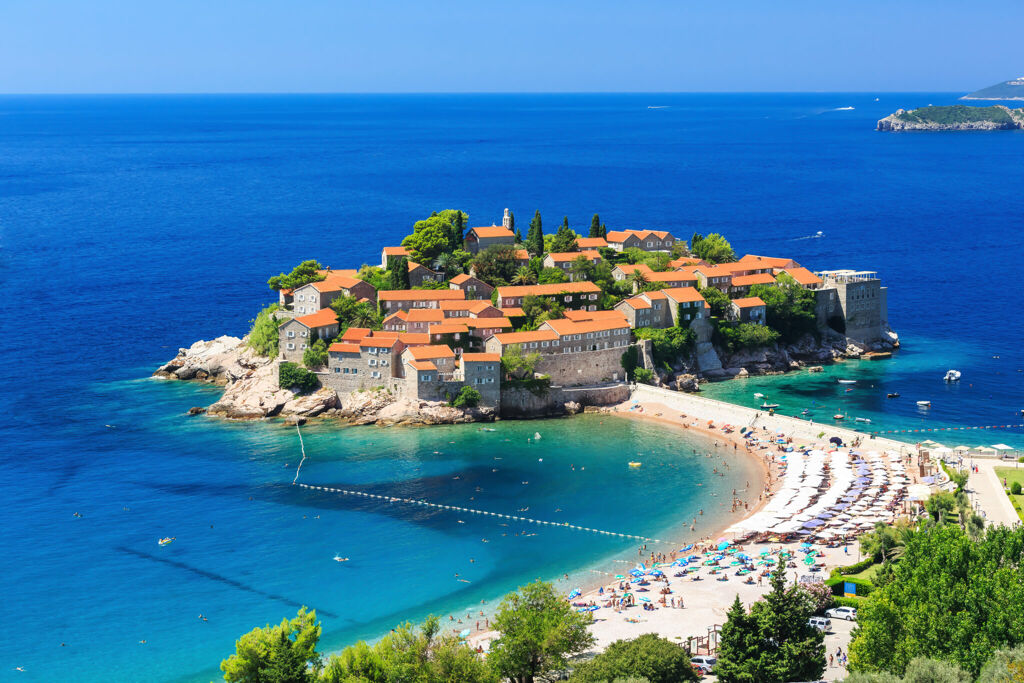 Montenegro with its rich cultural heritage, wonderful variety of landscapes, and unspoiled coastline offers the perfect escape and an alternative yacht charter route.
The coast of Montenegro is a compelling world unto itself, particularly when explored by yacht.
Some fun facts: Montenegro is named for its black mountains, has 117 beaches along 293 kilometres of coastline, and it's a birdwatcher's paradise.
Montenegro's popularity in the yachting community has grown in recent years, and Porto Montenegro is now an exclusive luxury port. Located in the UNESCO-protected Bay of Kotor, Porto Montenegro combines a spectacular lifestyle destination with a world-class, full-service marina and luxury residential village.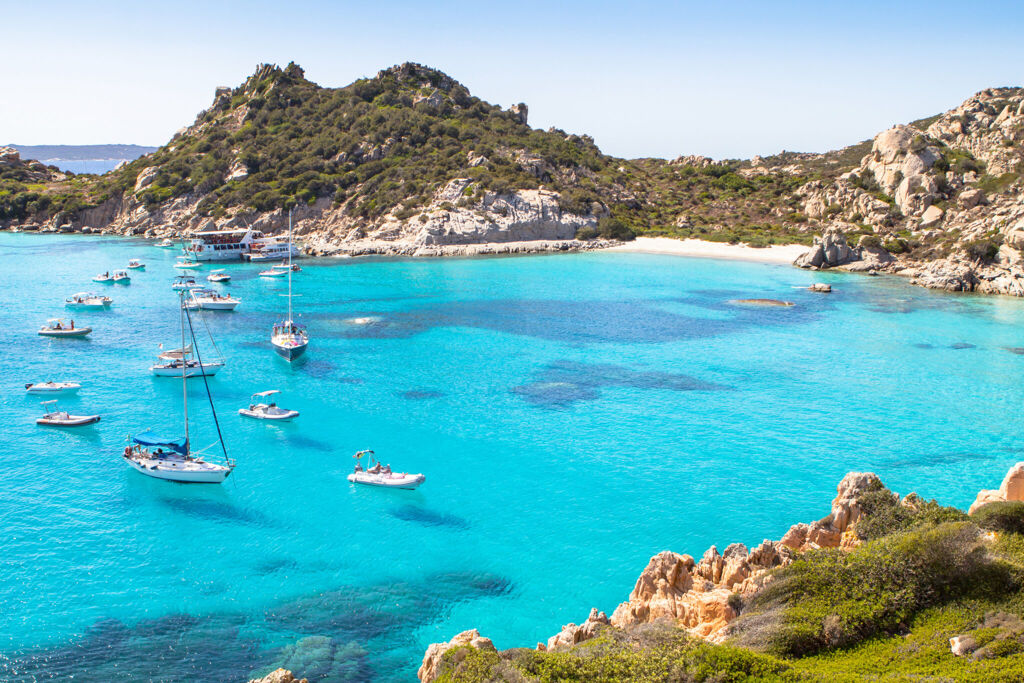 A luxury yacht charter in Corsica and Sardinia offers a tremendous scenic diversity that is complemented by a fascinating history.
Corsica is a natural playground for yachts, as alluring for families as it is for activity enthusiasts.
Neighbouring Sardinia enjoys light, constant breezes, making it somewhat cooler than much of the Mediterranean in summer – and a true yachting haven.
Between Corsica and Sardinia, the Maddalena archipelago is another must-visit destination. This scatter of seven large islands and 55 tiny 'isolotti' has some of the most spectacular beaches in Italy and some of the cleanest and clearest lagoons. Many of the beaches are only accessible by boat, giving a much sought-after exclusivity and tranquillity.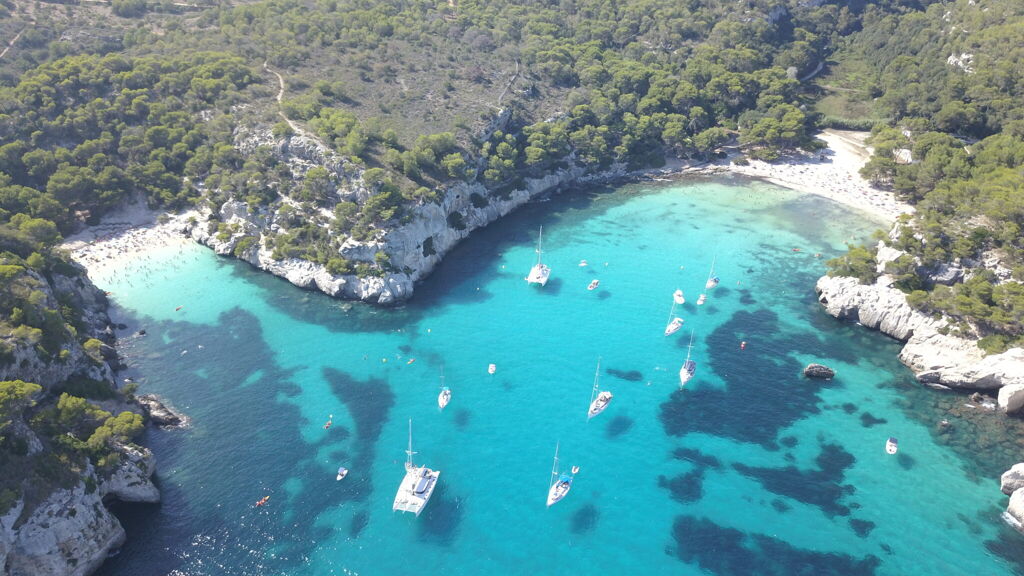 Spain and the Balearic islands of Ibiza, Mallorca, and Menorca offer wonderful sandy beaches, dramatic scenery, charming ports, and world-class nightlife.
Anchor off a serene beach on Formentera, a tiny corner of the world with white sands and turquoise waters. The best thing about the island is there are no crowds.
Explore Menorca's clean, crystal clear waters. Go sailing, windsurfing, water skiing, and scuba diving.
On Mallorca, venture into hidden caves, visit lighthouses with endless views and see unforgettable sunsets.
Ibiza is a heavenly Mediterranean destination so authentic that it can combine the world's most exciting nightlife with a UNESCO World Heritage town and Biodiversity Reserves.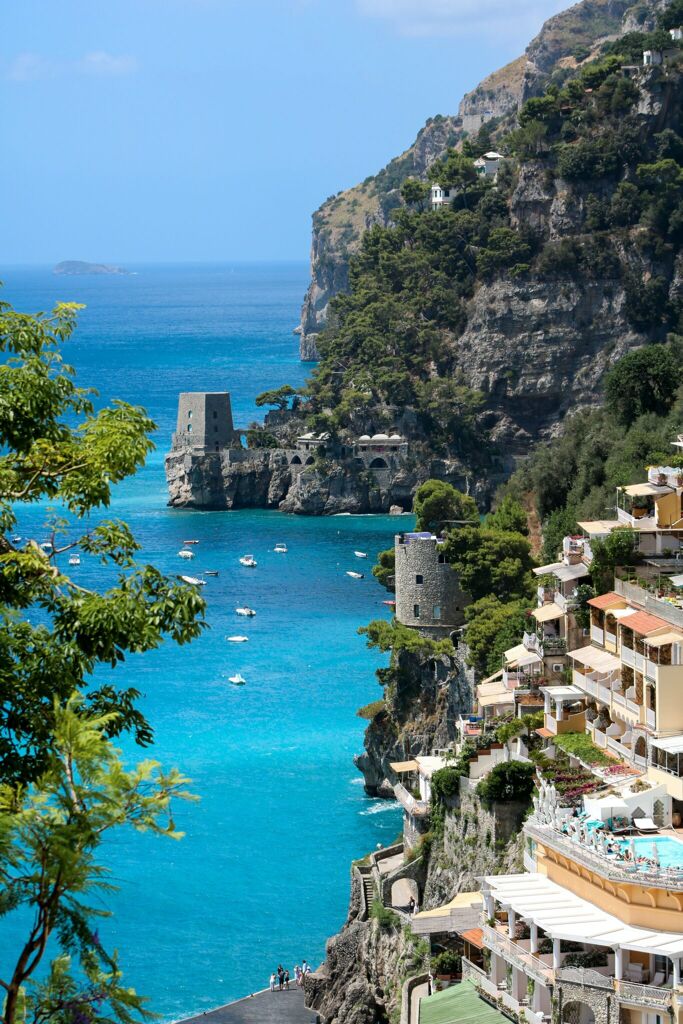 The Amalfi Coast is home to 13 cities and towns, scattered along the 55-kilometre UNESCO-listed coastline that is considered one of the most magnificent in the Mediterranean Sea.
The iconic Italian islands of Ischia and Capri, as well as the towns of Positano and Sorrento, are on your yacht charter itinerary when visiting the Amalfi coast.
The area is bustling with chic boutiques, restaurants, and bars.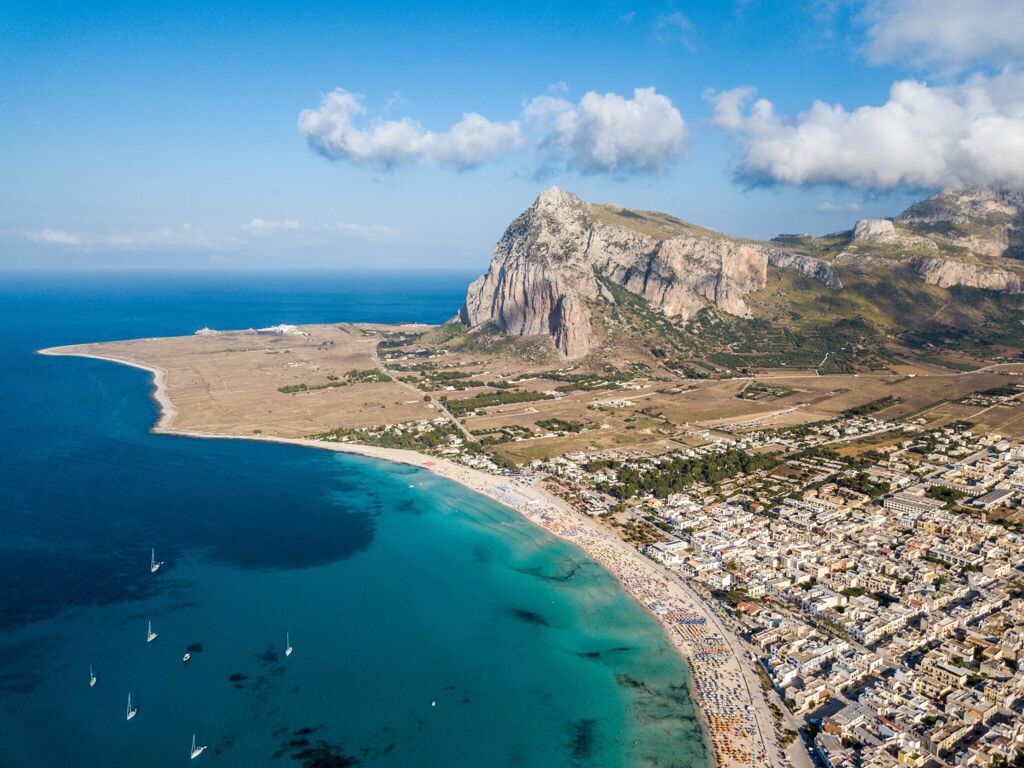 Sicily – the largest island of Italy and the Mediterranean – is a surprising land rich in history and traditions, where arts and cultures are intertwined.
Charter itineraries to Sicily typically start in the port of Palermo on the island's north coast, or in the port of Catania to the east, and end on the other.
On the eastern coast near Mount Etna, the town of Taormina is one of the most well-known with its 'Teatro Antico di Taormina'.
Syracuse is a popular spot with superyachts for a night's berthing.
Cruise around the Vulcano Aeolian Islands, Salina, and Lipari, and explore everything from lava formations to deserted beaches.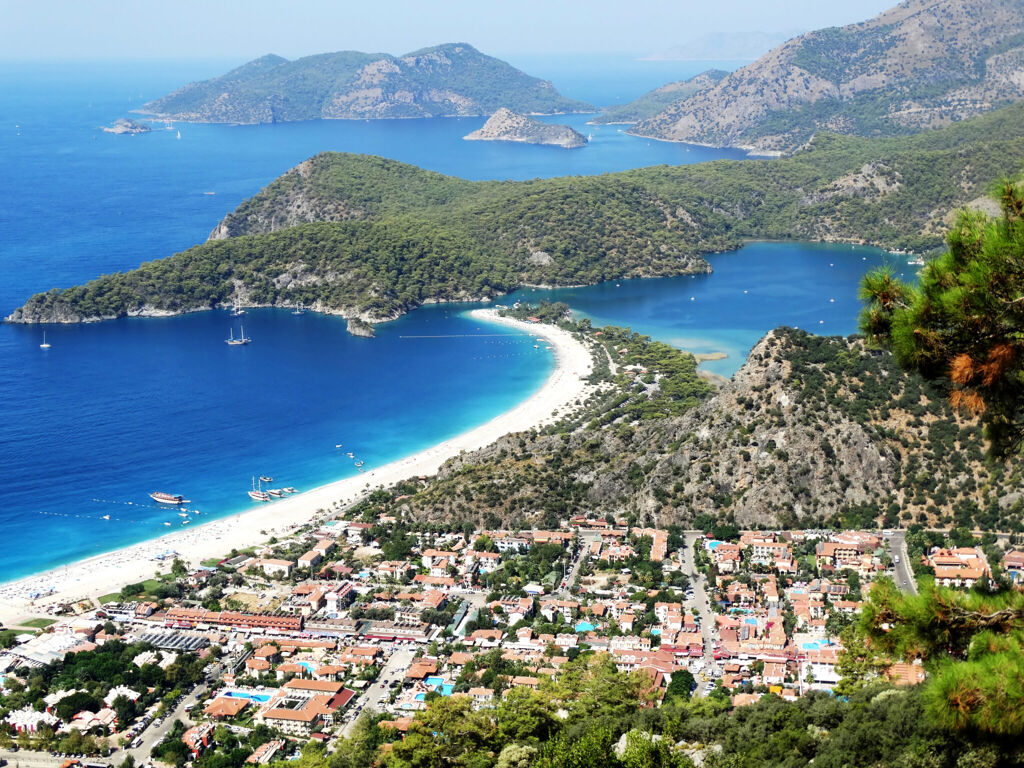 All the way from the bustling port of Fethiye to the resort town of Antalya, this coastline is referred to as the Turquoise Coast for its shiny and ever-so-twinkling blue seas.
The country enjoys long summers that last from May through October, so you are well on your way to comfortably enjoy its sandy beaches and sheer cliffs, as well as hundreds of small secluded hidden coves, making it an epic adventure that's one for the books.
Also, let's not forget the mouth-watering fresh seafood cuisine that's waiting for you.
Most luxury yacht charters in Turkey take place along the southwestern coast, between the Turkish cities of Bodrum and Göcek.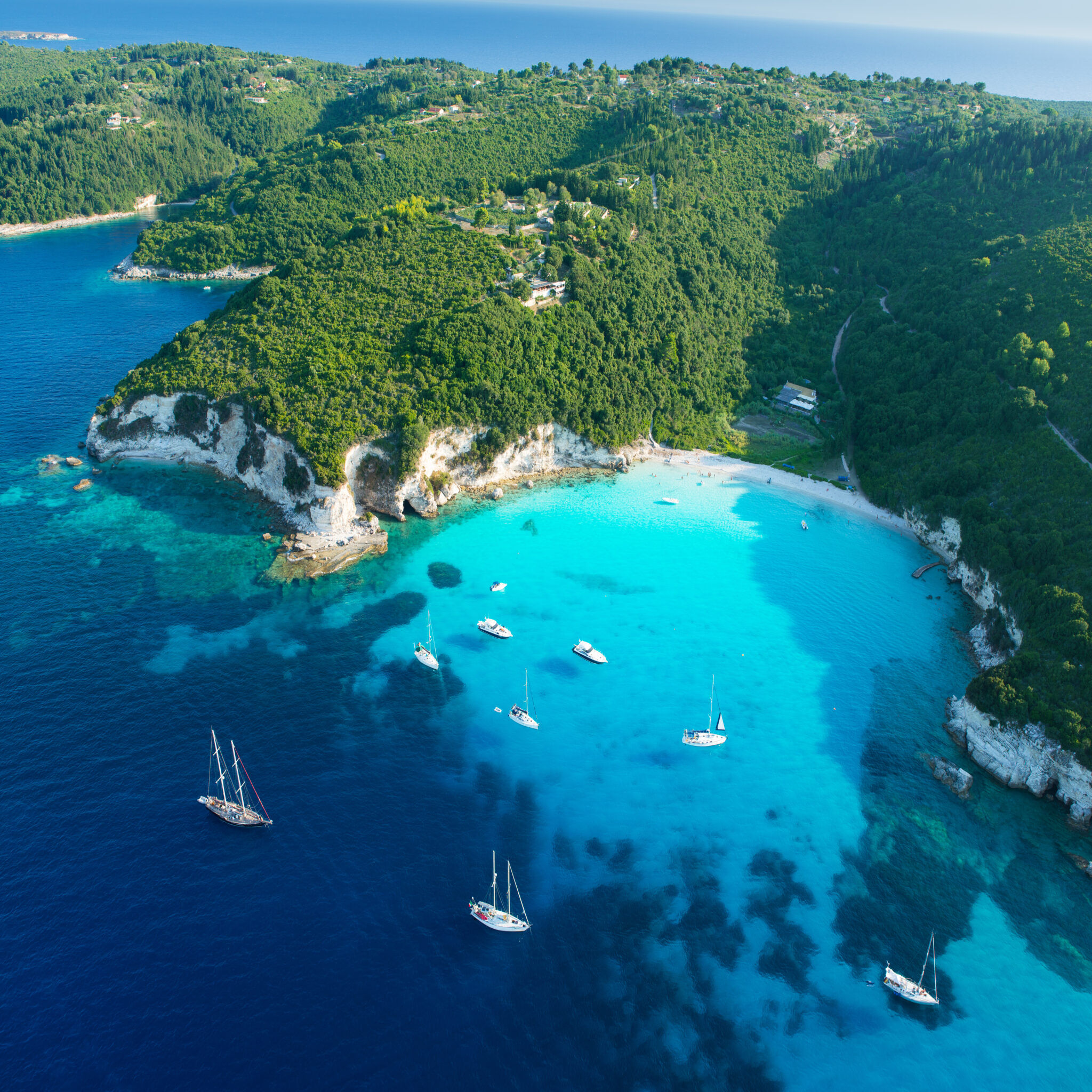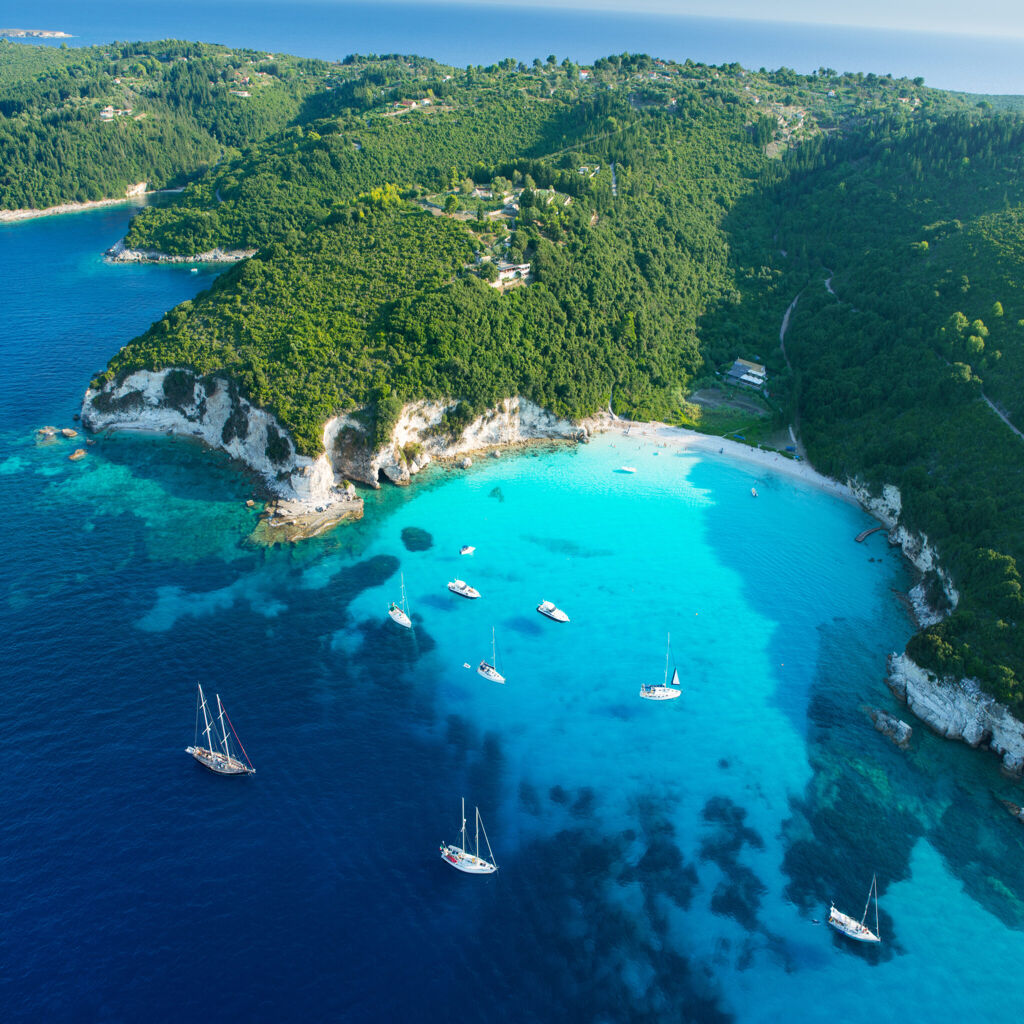 Get a yacht charter in Greece and get ready to embrace its stunning beauty with picturesque views. The beautiful Aegean sunset across the glistening water backdrop is uplifting for the soul.
With over 6,000 islands and a coastline stretching several thousands of kilometres, seafaring lovers have much to explore in this beautiful country, from the black sand beaches to its cultural heritage.
Whether you're a history lover or water sports enthusiast, you'll love a sailing vacation in Greece.
Known as the cradle of Western civilization, Greece is rich in history, with myths and legends dating back centuries.
For those of you who love action-packed activities, there are a plethora of options at your disposal, be it scuba diving, windsurfing, or swimming. After a tiring day spent at the beach, look forward to letting your hair down at the party hotspots in Mykonos.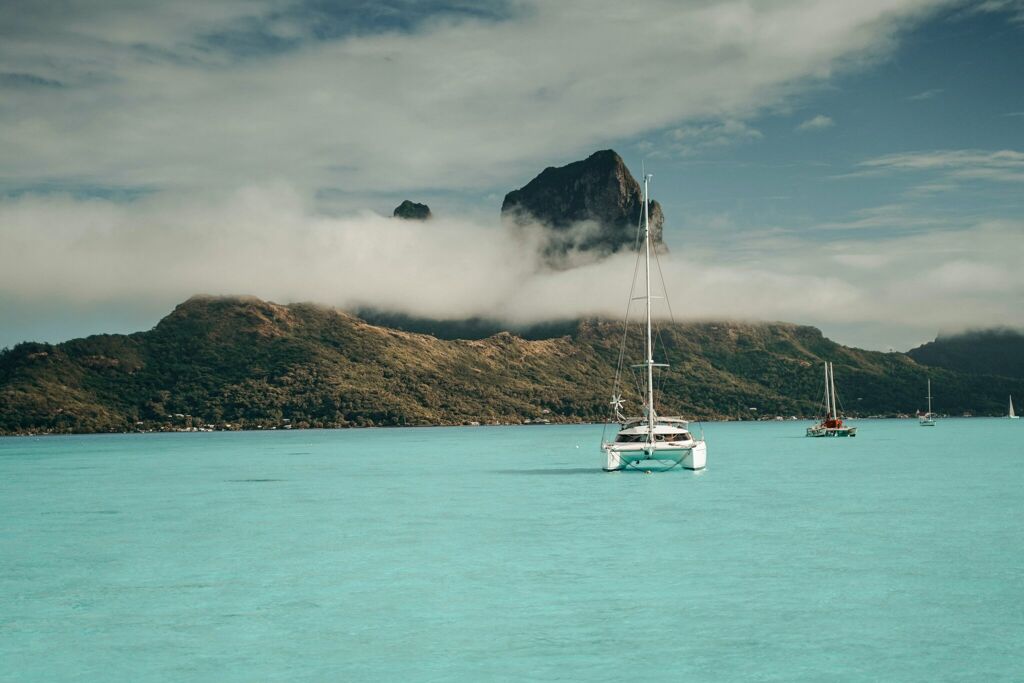 The South Pacific island of Tahiti and its neighbouring islands in French Polynesia may be the closest you will ever come to paradise on earth.
With 118 volcanic and coral islands spread across the South Pacific, French Polynesia is a perfect destination to visit onboard a luxury yacht.
The cruising grounds and shores of Tahiti, Raiatea, Tahaa, and Fakarava all offer something different, from snorkelling to diving, exploring lagoons on kayaks, and sailing dinghies.
The Society Islands are the most popular, known as the Leewards because they lie downwind from Tahiti.
Within the Society group of islands are Bora-Bora, Raiatea, Tahaa, and Huahine. These islands are a must-visit during a Tahiti yachting vacation.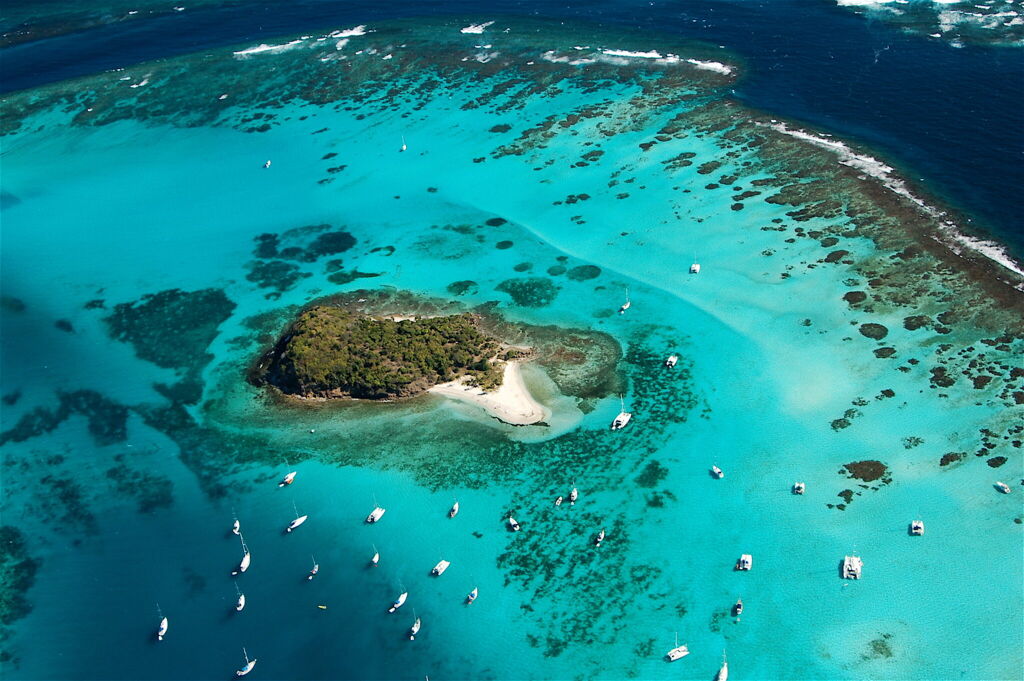 The Caribbean is a group of islands which is located on the Caribbean Sea to the East of North America, simply known as "paradise on earth".
Whether you're planning a family vacation with the whole crew, a romantic getaway for two, searching for calm, preserved waters and short island-hops, or exhilarating blue water passages, the Caribbean is one of the most exciting sailing vacations you could ever experience.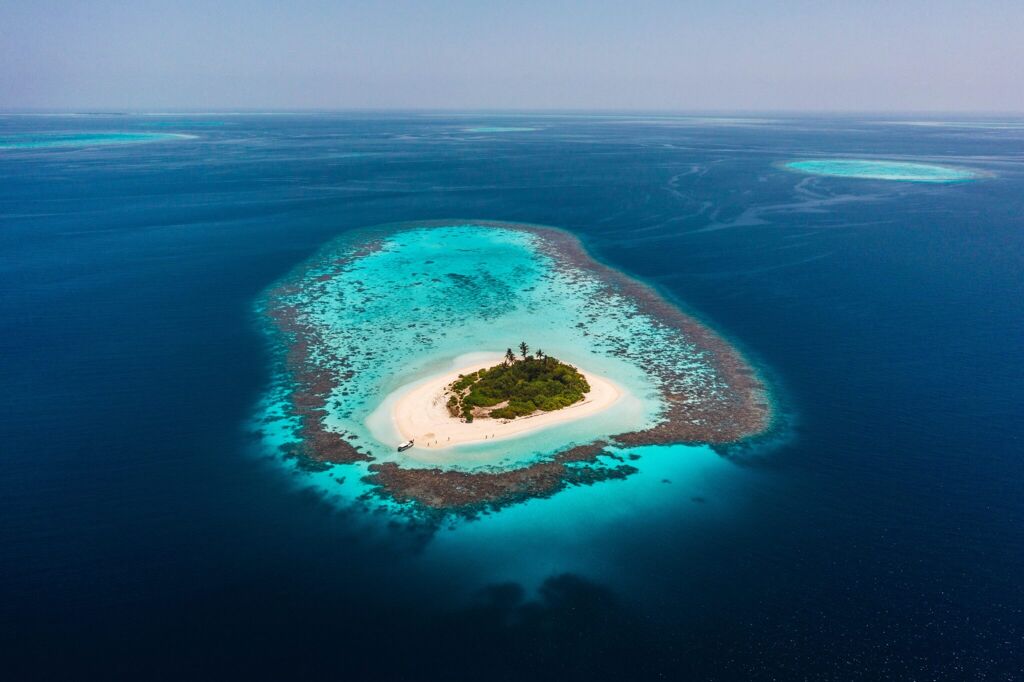 With Seychelles, Maldives, and Mauritius, the Indian Ocean archipelago is for sure one of the most spectacular yacht charter areas on the planet.
Warm, perfectly clear waters offer ideal conditions for snorkelling and diving. The Indian Ocean has unique wildlife and marine life – are you ready to see lush nature, untouched coral reefs, and happy turtles with your own eyes?
There are hundreds of exotic secluded islands that are best to approach with a catamaran. Catamarans with their shallow drafts let you get close to your beach of choice where you can bask in the tropical sun and listen to the sound of nature.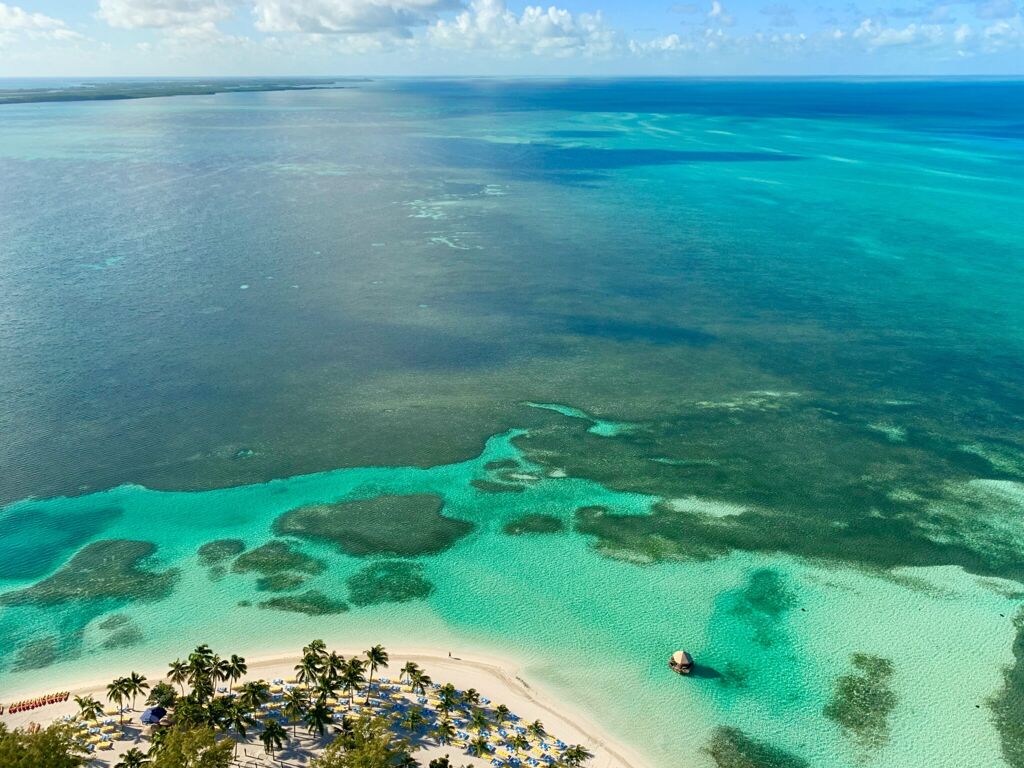 Once a destination that was luring pirates, the Bahamas are now a luxury yacht charter destination.
Welcoming five-star marinas are the first thing that will tell you that you can experience true boujie lifestyle during your yacht charter in the Bahamas. You can be surrounded by large cruise ships but also with nothing but nature in a secluded, private, sandy cove.
The Bahamas can be literally translated to "shallow sea", which there is a plenty of around 700 coral islands. Because of this, you will even have the possibility to encounter the swimming pigs! They simply love splashing around in the turquoise sea – and we know you will love it too.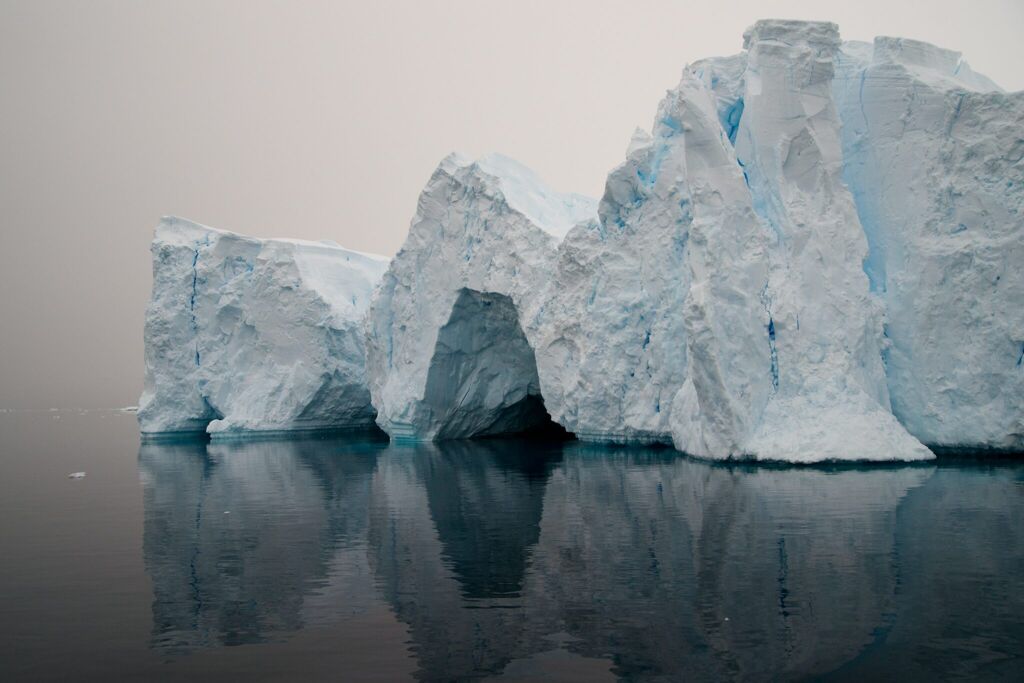 Some yacht charters are the complete opposite of what the majority is used to. Sailing in Antarctica is truly a class by itself.
Swap the usually hot summers and flip-flops for the unparalleled once-in-a-lifetime yachting experience in the cold. Watch the magnificent glaciers and icebergs pass you by as you break the waves of the cold sea, and see whales, seals, and penguins in their untouched habitat.
Such an expedition is not for the faint of heart, so you must be an experienced sailor and have a crewed yacht charter to do a sailing expedition in Antarctica.
Luxury yacht charters in Antarctica start from South America and include travelling to the South Shetland Islands, Deception Island, Antarctic Sound, Tickle Channel, and many more.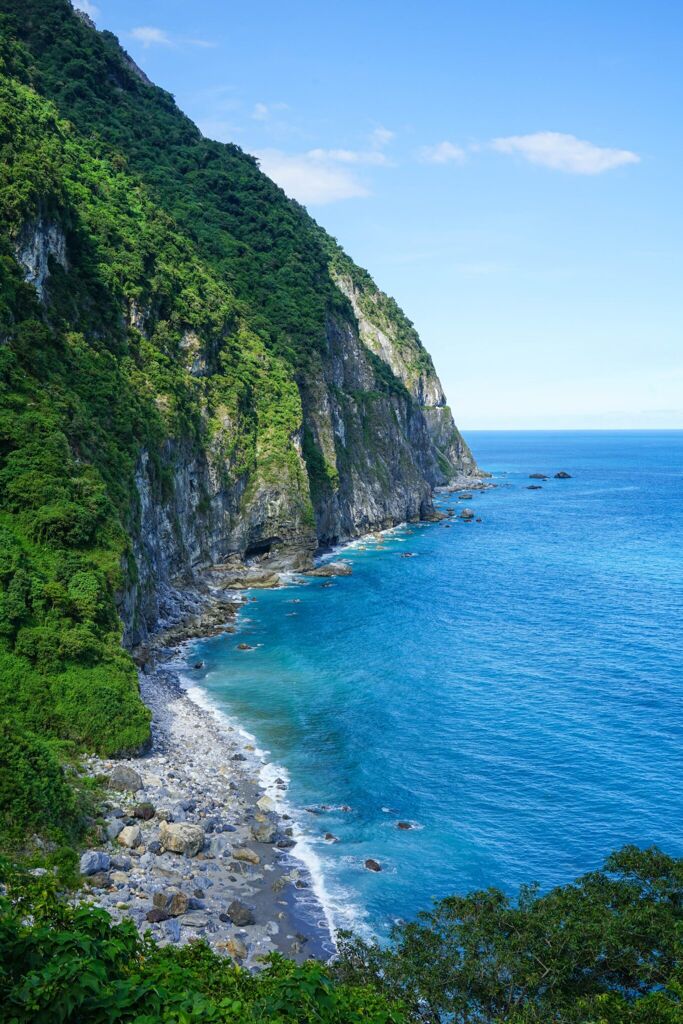 The Pacific and Oceania are vast sailing destinations and there is so much you can visit.
Since the Pacific Ocean accounts for around a third of our planet's area, you can easily decide to escape the reality and choose a private yacht charter in Alaska, East Asia, Hawaii, New Zealand, or Australia.
Explore the natural wonders of tropical Polynesia, scenic Fiji, the marvellous Cook Islands, and the incredible Great Barrier Reef. There are thousands of miles of exotic islands and diverse wildlife.
Unlimited luxury yacht charter options in the Pacific and Oceania are waiting for you, and we are ready to offer you the best-tailored luxury yacht charter experience!
French Riviera & St Tropez
Croatia
Montenegro
Corsica & Sardinia
Balearics
Amalfi Coast
Sicily
Turkey
Greece
French Polynesia
Caribbean
Indian Ocean
The Bahamas
Antarctica
Pacific and Oceania
–
Choose the Perfect Boat Type for Your Luxury Sailing
Live it up on the most elite of vessels
Not sure what type of yacht best suits your requirements? Our brokers will advise you on different options that will be most suitable for you.
Here you will find introductory information about the different types of yachts that are offered, including everything from a luxury motor yacht to luxury sailboat experiences.
Depending on what you're looking for, you may find crewed motor yachts from 1 up to 15 cabins and their size tends to range from 20 ft to 400 ft including multiple decks.
These beautiful vessels are perfect for a luxurious vacation – you can easily visit a new destination every day!
Motoryachts come with different features depending on your demands such as a helipad, swimming pool, jacuzzi, beach club, cinema, spa, gym…
Let us find you a dream motoryacht for your dream vacation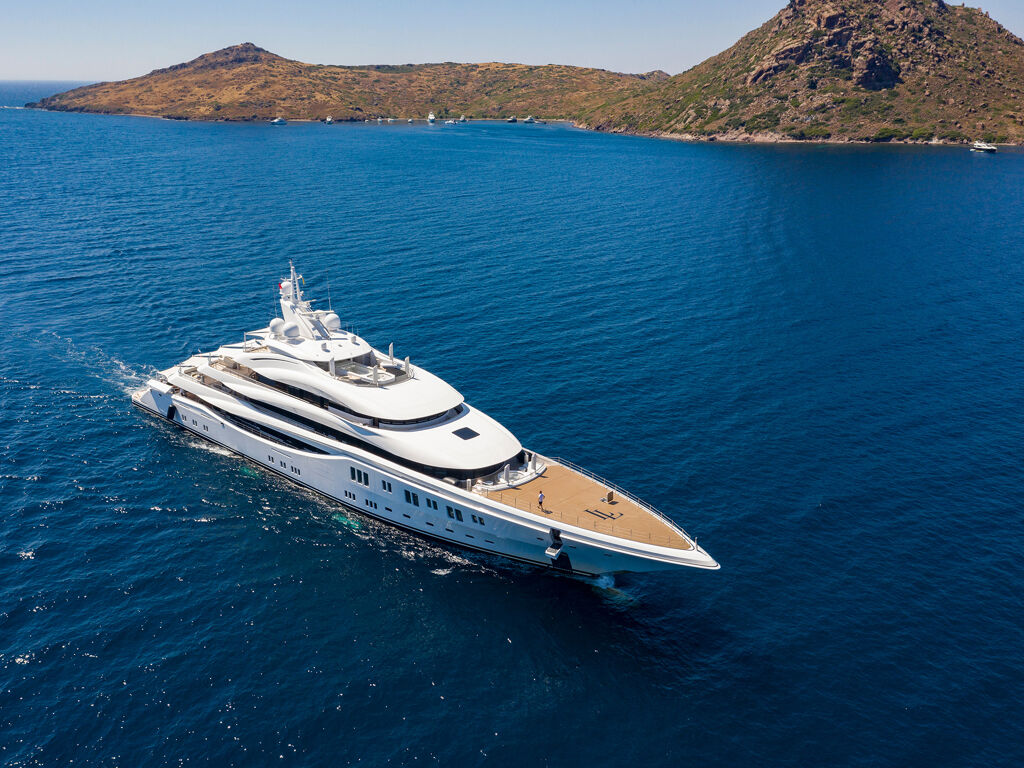 There's nothing more freeing than catching wind on the sea. If you're looking for a traditional kind of sailing upscaled with an all-inclusive experience, you should opt for a luxury crewed sailing yacht.
Crewed sailboats are quintessential boat types perfect for all sailors, less experienced, leisure, and professional sailors who like to have the best of both worlds and more freedom onboard.
Our expert team is here to attend to your needs and offer you the unrivaled crewed sailing yacht service.
Your incredible crewed sailboat experience is just a click away!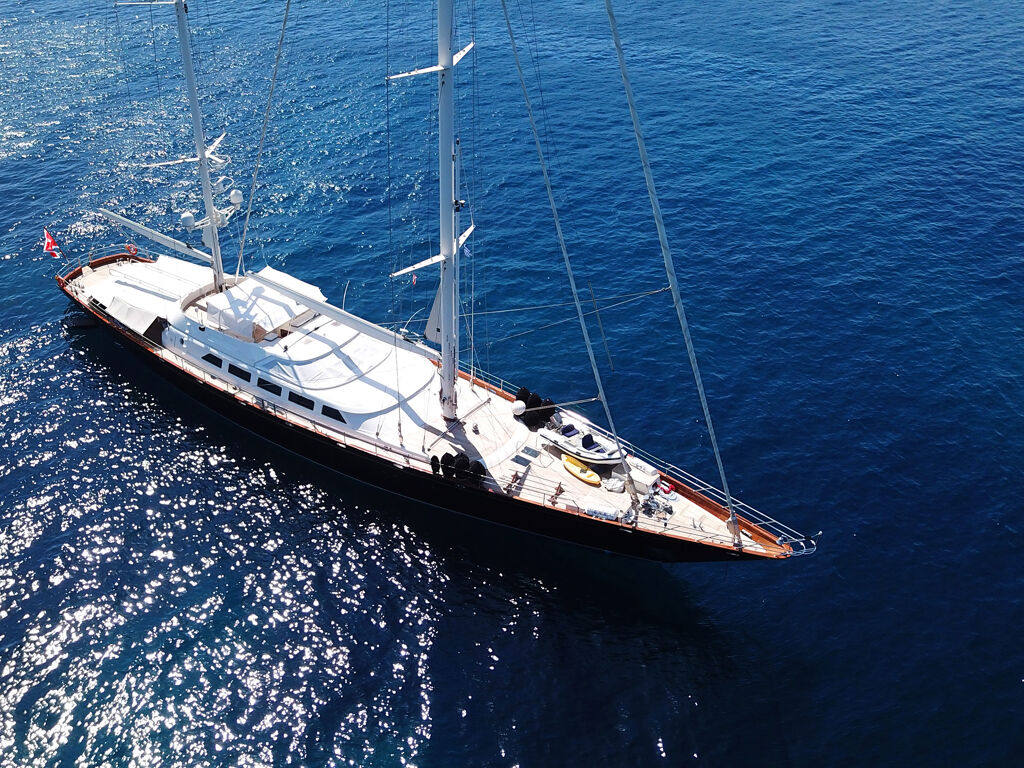 Explore the coastline of the Mediterranean on a crewed gulet.
Gulets are charming traditional wooden vessels that originate from Turkey.
They can easily fit 10-15 guests, which is why they are perfect for big families and groups of friends.
No matter their size, gulets will amaze you with their space that exudes comfort and tranquility onboard. They are taken care of by the professional crew that also takes care of your overall satisfaction.
Choose a gulet sailing holiday and trust us when we say you will have an extraordinary adventure!
Getting in touch with us is the first step aboard your charming gulet!
A catamaran is a top choice if you're looking for a smoother luxury sailing experience compared to sailboats. Since the size ranges from 38 to 70 feet, this is the right vessel for bigger groups or families.
With a crewed luxury catamaran, you can combine sailing and comfort while an experienced crew takes care of the navigation, meals, and keeping the boat in tip-top shape.
Because of their design and shallow draft, crewed catamarans can take you closer to your newly discovered hidden coves.
We'd love to arrange your ideal sailing holiday on a crewed catamaran!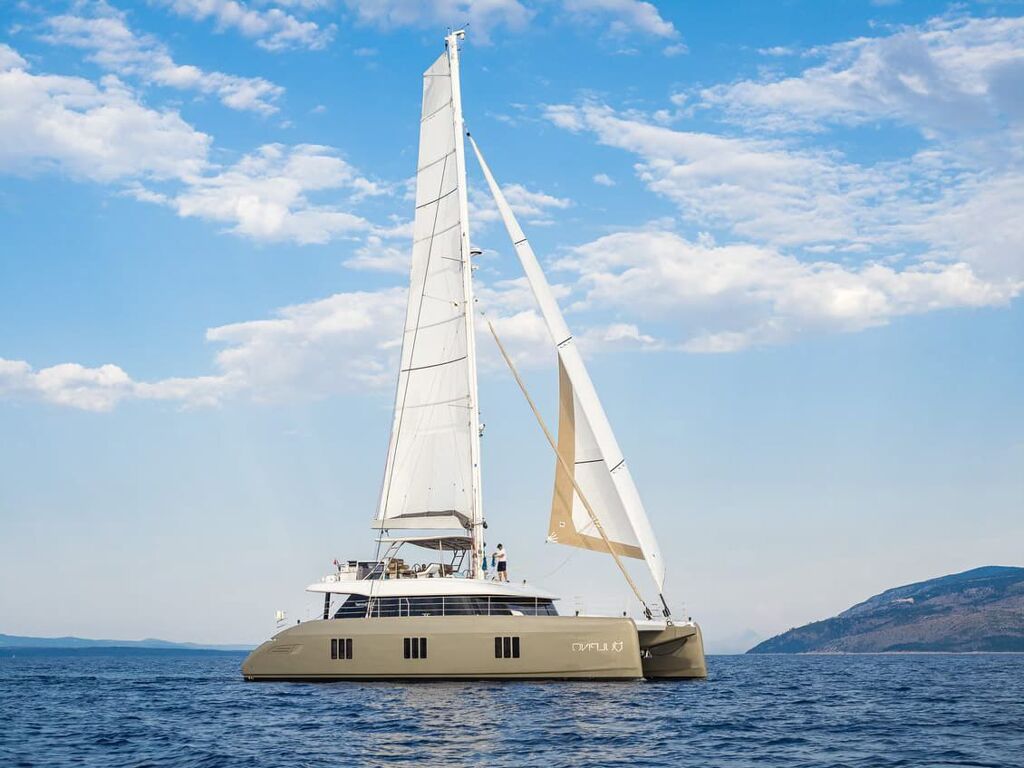 Our Crew is Passionate About Delivering Five-Star Hospitality
Attending to your needs 24/7
There are many things that make your yacht charter the dream vacation, but in the end, the crew is the one that delivers the ultimate yacht charter experience. Our crews are passionate about delivering five-star hospitality.
The crew will be onboard 24/7 taking care of you, so it is important that you find a yacht with the best crew to suit your preferences.
You can choose to have a skipper and hostess to cover all your needs, including providing food and drink for your holiday. This allows you to fully relax and enjoy spending time with your friends and family on your luxury sailing yacht.
What are crew responsibilities and roles?
The crew will begin working for you as soon as you make an inquiry for one of the boats from our portfolio.
Our charter broker will contact the captain and start working on your wishes regarding where you want to go and what to do during your yacht charter. If you don't know where you want to explore, our crew can help with that too.
Even if you don't have a destination in mind, you and your family likely have expectations from your luxury yacht charter trip. Do you want to relax and unwind on sandy shores? Explore coves? Or, are you looking to dock in more bustling cities or visit more amusement parks to keep the kids entertained?
No matter the case, our team can help make your dream luxury sailing holiday a reality.
Captain
In charge to take you to luxury destinations
Captains are friendly, welcoming, and highly experienced sailors with professional accreditations and certifications.
They have extensive knowledge of the local destination and are responsible not only for a very expensive piece of machinery but also for the well-being and lives of those on board.
Besides that, captains are responsible for sailing, mooring, checking the weather forecasts, and plotting the route.
Hostess
In charge of provisioning and cleanliness
The primary duties of a hostess are taking care of the cleanliness and tidiness inside of the boat.
If there is no chef, she is also in charge of preparing meals. The hostess will serve breakfast and lunch along with refreshment drinks during the day and an afternoon snack.
She will also take care of the groceries, propose daily menus, and be in constant communication with the captain.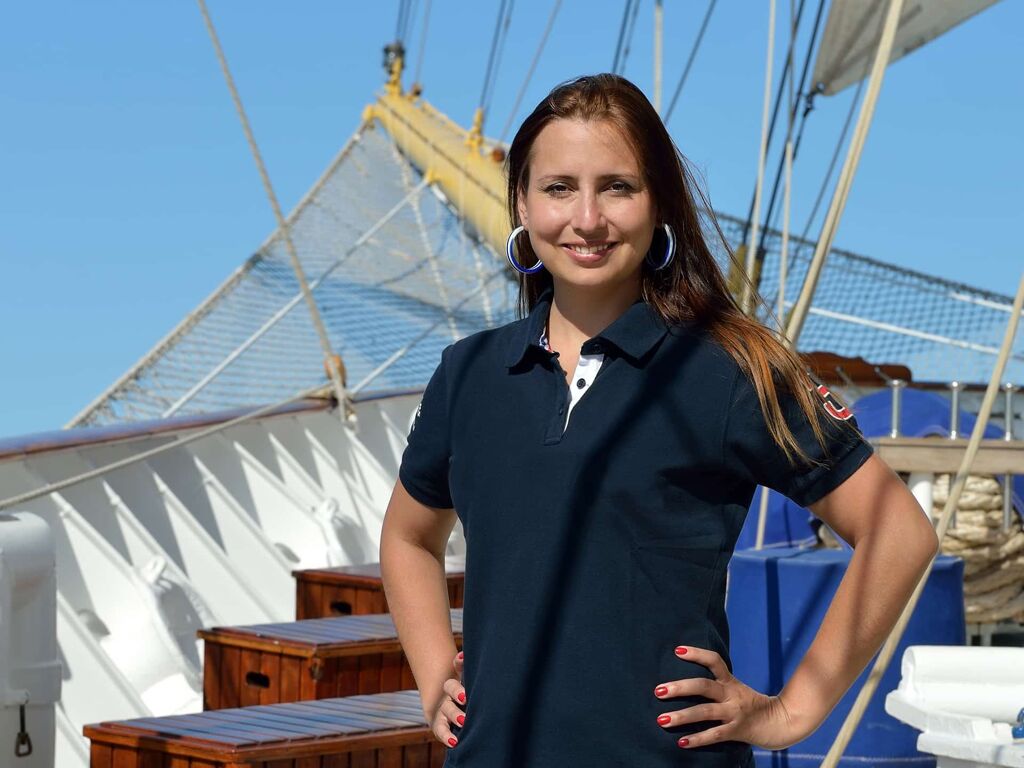 Chef
For your utmost gourmand experience
A good meal makes everyone feel better, so a good cook is an important part of the crew! All cooks who work on yachts are educated professionals who are very good at their job.
As you can imagine, the chef will prepare all the meals during the day according to your wishes and the menu you have agreed to prior to the charter.
You will receive a preference list to fill in the type of food and ingredients you prefer, and the chef will plan accordingly. It is also important to mention any allergies!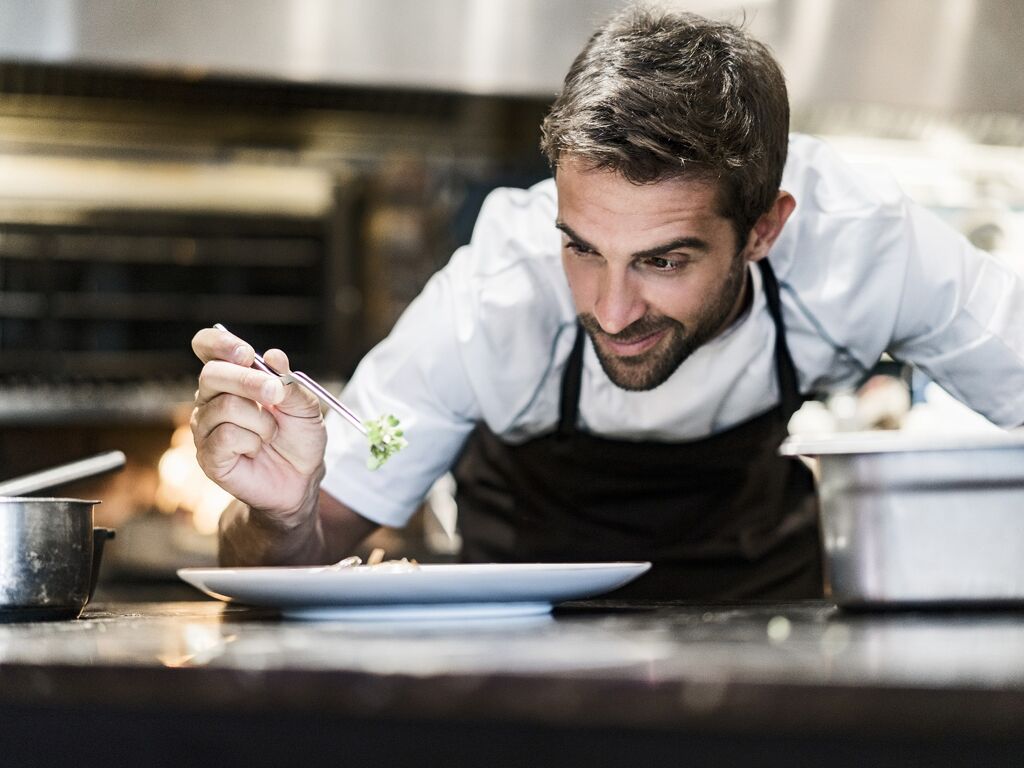 About Us
Personal assistance at your fingertips
Your perfect vacation is so much more than sandy beaches, romantic sunsets and raising sails. Take a key to unlock the door for all that really matter – special moments with family or friends; an unforgettable experience doing whatever you want on sea and land!
Personalized approach
Deep down in your heart, there is a great passion for an extraordinary luxury sailing vacation. We're your little helpers to make it happen!
Your Sebastus agent will listen and organize a personalized sailing vacation with all activities that bring out the best of who you are, giving rise to an unforgettable experience. This includes exploring every corner while still finding time for some well-deserved rest.
Wake up all your senses with an unforgettable luxury sailing vacation designed just for you!
Carefully selected finest fleet and crew
Sailing vacations are a treat for the soul and you should have the time of your life during one.
We believe that you deserve nothing but excellence, which is why we put great effort into selecting only top-quality fleet and crew.
You can count on enjoying every corner of the boat and our crew will share their rich local knowledge.
Support while sailing
Our friendly agents are always there to provide support and guidance for you!
Sail away knowing that for every mile you go in search of adventure – you can count on our support.
Give us a call and we'll give you a hand with any challenge on your way.
Kruna Šolić Sutlović
traveler, polyglot and dreams planner
Kruna has devoted her many nautical years to organizing sailing trips mainly for the Latin American, Spanish, and Italian market. Lively spirit, contagious smile, and wide nautical knowledge are Kruna's traits that make sailors want to book the next sailing vacation as soon as they're done with the current one!
She's an free-spirited traveler with a huge interest in museums and cultural heritage.
Basically, she's your all-in-one agent and tour guide.
Contact phone: +385 95 668 7014
Email: ksolic@sebastus.com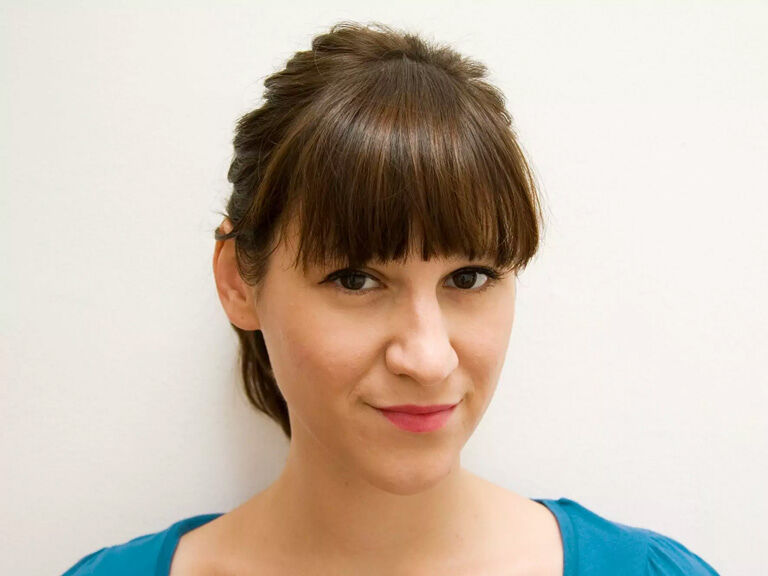 Irina Matošević, CEO
skipper, teacher, sailing champion, gourmand & hedonist
Irina holds all the ropes of sailing. With more than 15 years in the yacht charter industry, she knows exactly which boat will be a perfect match for any client and that is the reason why she booked thousands of them in her professional career.
As a lead instructor of the sailing school, she trained many people who became passionate and experienced sailors.
Before joining Sebastus, she was a skipper. A skipper is the heart of the yacht and Irina is the heart of Sebastus. The best part is that she knows all the hidden places you'll love and she makes unforgettable sailing vacation routes.
Contact phone: +385 95 6687 012
Email: imatosevic@sebastus.com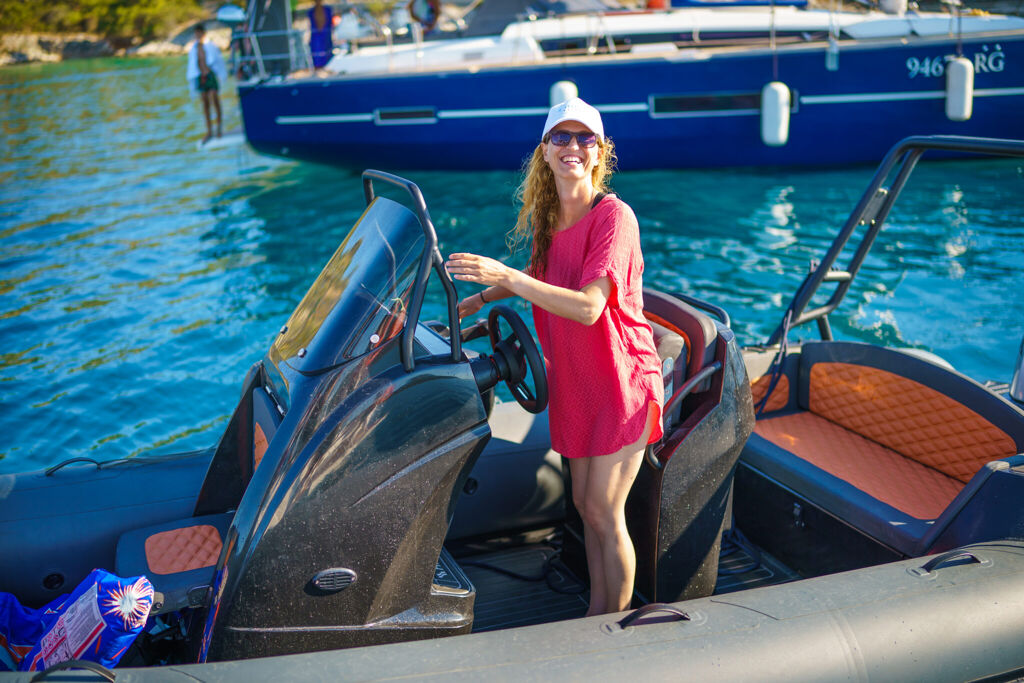 First step to your luxury crewed sailing vacation