5 reasons why you don't want to skip a skipper
Last update: Thursday, October 26, 2023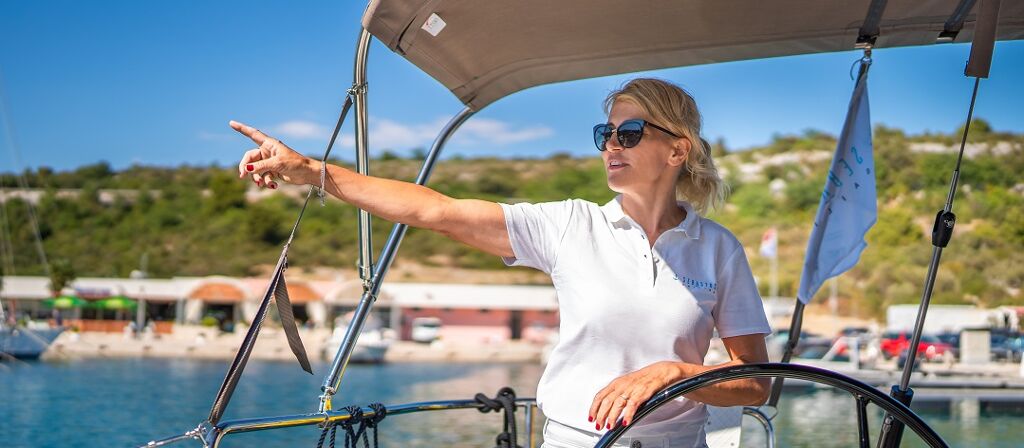 If you're sailing for the first time or you have no valid navigation license, it's strongly recommended to hire a professional skipper. Lack of experience is something you don't want on board, but even if you are sailing for quite some time think about hiring a skipper so that you can relax and simply enjoy an exquisite journey.
Who is a skipper?
A skipper is a person who has command of a boat. Besides sailing and making time for you to relax, lie on the deck or enjoy time with friends and family, this person has lots of duties on board. Take a sneak peek at what to expect if you decide to hire a skipper.


1. Safety comes first
Skipper plays important role in safety. This person takes care of the safety of the vessel and the whole crew. The skipper will fully brief the passengers on the location of all the safety equipment, especially the location of lifejackets and how to use them. It is good to have someone educated in first aid on board. That is one of the skipper's basic knowledge. Some of them have a bit wider understanding of medical care so that they can help you during your sailing adventure if you need it.
2. Skipper plans a route to perfection
Think about all the amazing hidden jams you may find while sailing. There are so many bays, islands, and islets that are off-limits for most tourists. Believe us, you don't want to miss amazing places that make sailing one of a kind experience filled with privacy, natural beauty, and lots of memories to take home with you.
Keep in mind that a skipper is a person that knows lots of places you want to see, explore and enjoy. This is the main reason why a skipper plans a route to perfection. Experience makes a good skipper. All the places he or she knows will make your holidays unforgettable.
Don't have a license or sailing experience?
Set sail with a skilled skipper!
3. Knowledge on board
Some people like to have more active, while some people want a more relaxed vacation. Try to combine it and in that golden middle, you'll find peace and an energy boost. Let the skipper monitor weather, tides and local conditions, while you enjoy your free time. There are plenty of things to do for a more active vacation, like swimming, hiking, and exploring places on your route. Don't waste energy on taking care of the vessel, while you can enjoy time with your loved ones.
The skipper will be more than happy to show you how to operate and maintain all the equipment on board, but let them take care of that most of the time. It is a fun activity, but take advantage of your free time for finding a wave of peace and enjoying little things in life.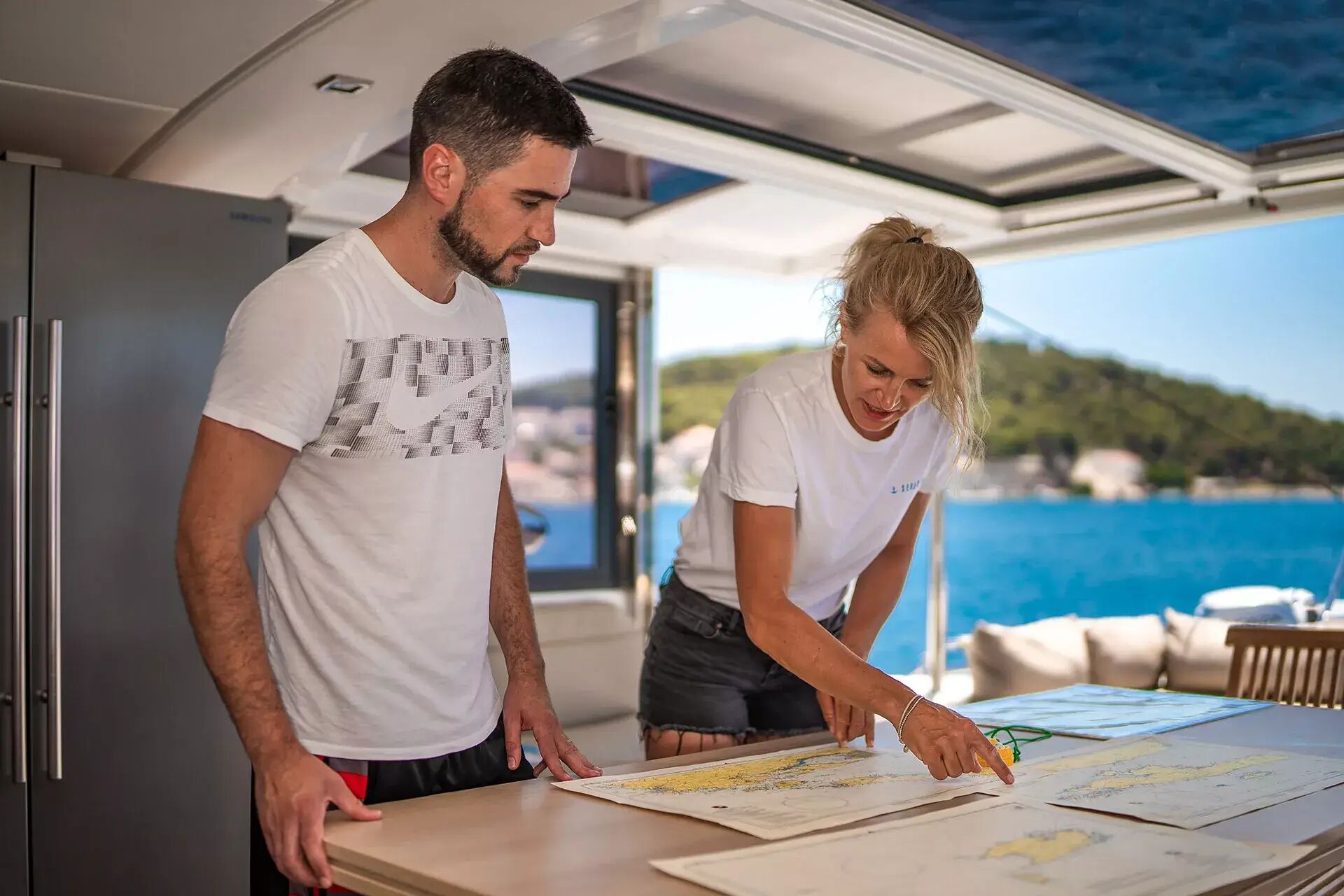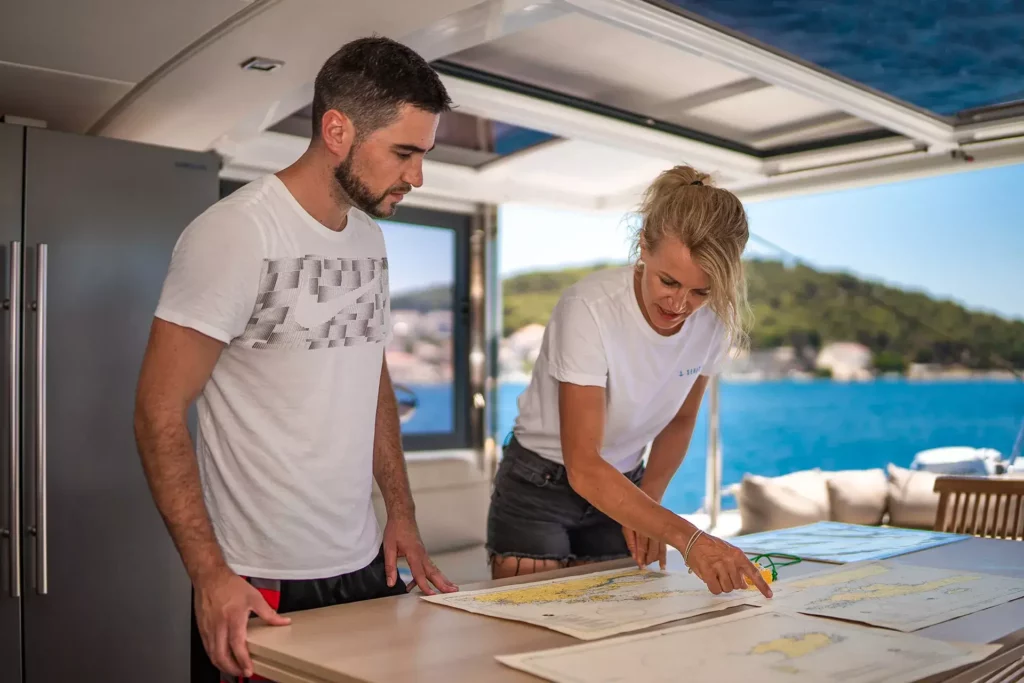 4. Skipper has local expertise
Hiring a skipper has lots of advantages, but one of them you'll appreciate is local expertise. Instead of exploring with the help of a smartphone where to dine and have a drink (or two), what to see, which beaches and bays to explore – ask your skipper.
This person is an amazing asset at your disposal. Skipper loves to advise on this kind of thing that can make your sailing adventure even more unique and magnificent experience.
5. Stress-free sailing experience
A skipper is so much more than a person who drives the boat. There are many important rules and we think that the quality of your holidays depends in significant part on the skipper's professionality and disposal to be helpful. Having someone else in charge of taking care of the vessel and crew will make time for reading a book, finding peace, meditation while watching a sunset on the deck of your boat, or simply quality time with your family.
Don't worry, the skipper won't disturb your privacy. After all, we're talking about a professional that is at your disposal to be helpful and present when you need him or her. Also, this is a person who is discreet when you want to have some alone time and respects it. The price range for a professional skipper per day varies from 150 to 220€, depending on the country and the boat's size. But since you're looking for a life-changing and relaxed time with your loved ones – it is so worth it!