Lefkas route
This is a 7 day (Saturday – Saturday) sailing trip starting from Lefkas and is meant for people who want to experience the Ionian area.
Please note that all restaurants and activities listed are suggestions only, and are not included in the price. The trip can be changed according to your wishes, i.e. stopovers can be added or removed.
The itinerary depends on the weather conditions and other unpredicted factors and can be changed accordingly.
Starting point: Lefkas
Arrival: We can arrange a transfer from the airport to the marina for you. The transfer is not included in the price.
About: The fertile islands of the Ionian sea – covered in pine, cypress, and colorful fields of flowers – are in direct contrast with the adjacent barren mountainous mainland of Greece. Their temperate climate, lush vegetation, beautiful mountains, and
breathtaking beaches will provide the perfect surroundings for your sailing holidays. Sailing in the Ionian Sea from Lefkas is ideal for relaxed sailing vacations since the distances between the islands are short and the weather is always peaceful. Lefkas is the fourth biggest island of the Ionian Sea and has some of the best beaches in Greece.
Wonderful beaches, secluded bays, small villages with tranquil mooring, and of course the typical white, steep cliffs will make your sailing holiday one to remember. Lefkas marina is located 30 km from the Preveza International airport.
The plan for the first day is to arrive on a Saturday in Lefkas and get to the Marina. Your check-in on the boat will be at 5 p.m. and you sail out right away to our first destination, Meganisi.
From Lefkas marina, you will sail past Sparti island and continue to Skorpios, the private islands of the famous Onassis family. While cruising the coastline of the island you can see the Onassis family beach with its taverna and Jacky Onassis's pink, private villa.
Untouched by tourists, Meganisi is one of those Greek islands that boasts an unspoiled beauty. The island's beaches are secluded and unorganized. Some of them can be reached on foot while others can be accessed only by boat. Agios Ioannis, Spilia, and Barbarezou are the most popular beaches in Meganisi. Vathy, where the port of Meganisi also lies, is the most picturesque village on the island.
Activities
Church of Agios Ioannis – built before 1477 AD. Raided by pirates.
Hiking – Many old footpaths cross the island and lead to tiny chapels, small settlements, secluded beaches and hilltops.
Gastronomy
Marinata – Mediterranean cuisine with delicious Greek dishes
O Stavros – Family run restaurant serving traditional Greek food with freshest ingredients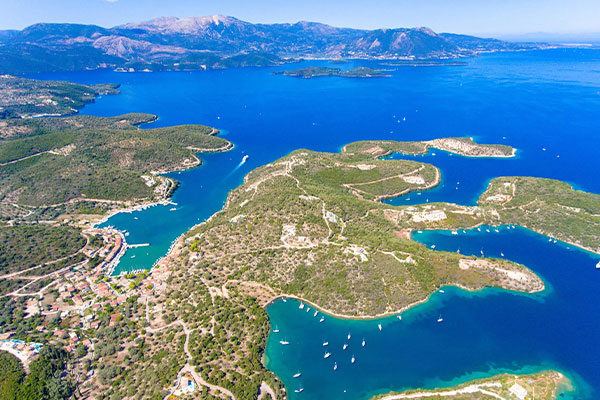 Kalamos is most probably one of the least known inhabited Greek islands most definitely it is not a conventional island. Island is very mountainous and has only two settlements by the sea – Kalamos and Epis. Even at the first sight from a distance, Kalamos captivates by its unusual, wild landscape.
Activities
Walk from Kalamos to Episkopi through an untouched, authentic landscape
Rent a bike and visit the southern end of the island, the abandoned settlement at Head: old mills, stone threshing, dilapidated houses, half-ruined windmills
Gastronomy
George's Restaurant – family run restaurant serving seafood and Greek cuisine
Zephyros bar – Pub, Wine Bar
Voskopoula Restaurant – by the beach. Serving seafood and greek cuisine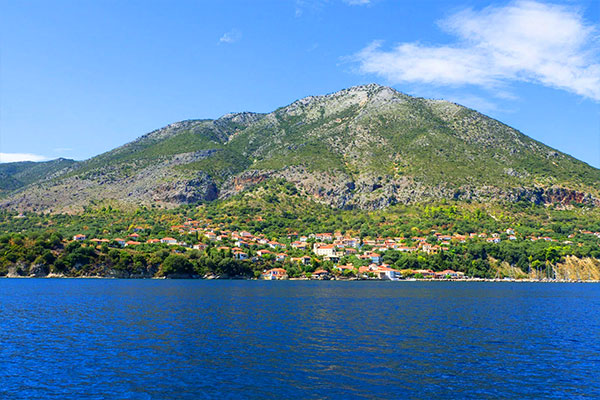 A short sail from Kalamos to Kastos. Perfect day to enjoy the sun, swimming and sightseeing Kastos.
Kastos is a low-lying, long, and narrow little island covered in olive trees and at which dozens of boats sailing over the Ionian Sea moor safely each day. It has only fifty permanent residents. There are only a few roads on the island, and it is for this reason that there are no cars.
Activities
At Kalikerimi there is an olive grove with very old olive trees – several hundred years old!
At Ayios Aimilianos, a little to the north of the port of Kastos, there is a small cave, Fokotrypa (Seal Hole). It is around 30 meters deep with a little sand within it.
The island's pathways provide for pleasurable walks and are generally quite accessible and straight.
Gastronomy
El.a Cafe Bar – perfect place to grab a drink
Taverna Bellos – Restaurant with Mediterranean and Greek cuisine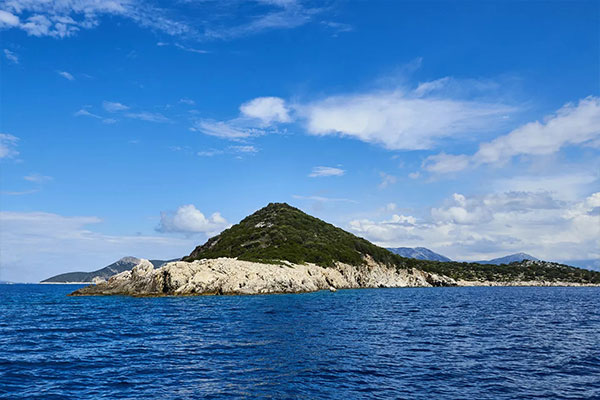 On your way to Vathi, sail to Atokos and swim at the beautiful beaches of this uninhabited island. Atokos is a deserted island with beautiful beaches on the South and East coast and impressive cliffs. Sail all the way to the south tip of the island stopping at the beaches along the way.
Later on, sail towards Ithaca and moor at Vathi, the capital of the island. The harbor of Vathi is considered one of the safest natural harbors in Greece. Modern Ithaca is generally identified with Homer's Ithaca, the home of Odysseus, whose delayed return to the island is one of the core elements of the Odyssey's plot. Apart from its mythical essence, though, Ithaka boasts incredible beauty. Its laid-back character, emerald waters, and lush greenery make it one of the heavenly Greek islands for those who seek relaxation.
Activities
Enjoy a day under the hot sun on one of the stunning Ithaca beaches Sarakiniko, Filiatro, and Gidaki
Walk around picturesque villages Kioni and Vathy
The Monastery of Panagia Kathariotissa, located on top of a mountain with a breathtaking view of the Ionian Sea, is the main sightseeing in Ithaca
Gastronomy
Taverna Trehantiri – Try Greek cuisine and fresh seafood
O Batis – Excellent seafood and local wines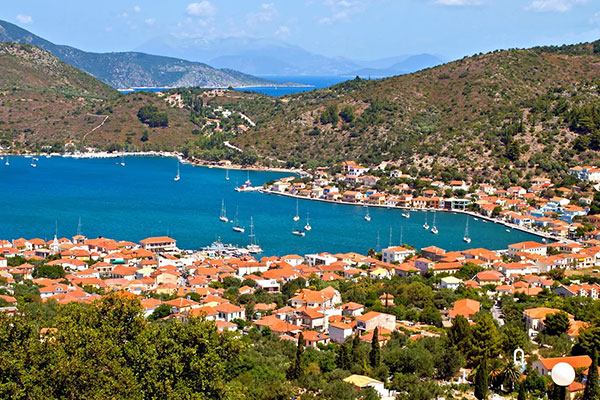 Day 5
–
Kefalonia – Fiskardo
Kefalonia has inspired many with its beauty and has been the filming location of the famous movie "Captain Corelli's Mandolin". Indeed, wherever you set your eyes on, you'll see nature at its best!
Worldwide famous for its scenic Kefalonia beaches, dramatic landscapes, and delicious food, the island attracts and fascinates thousands of visitors. Indigo bays, enchanting villages, white dazzling sand, exciting activities, mysterious caves, and lively atmosphere create an exotic holiday paradise in the middle of the Ionian sea. Fiscardo may well give the impression that it is a laid-back and relaxing place to stay. This is entirely true! However, Fiscardo is a great place for families with young children and teenagers too. Being a small village, children can wander around in relative safety without being too far away at any time.
Activities
Walking – there are many nice walks from Fiscardo all in an area of unsurpassed natural beauty (The Lighthouse Walk, Emblisi, Dafnoudi and many more)
E-Bike Tours
Gastronomy
Odysseas Taverna – Great seafood cuisine with vegan options
Acqua Beach bar
Apagio restaurant – Enjoy Greek cuisine with great view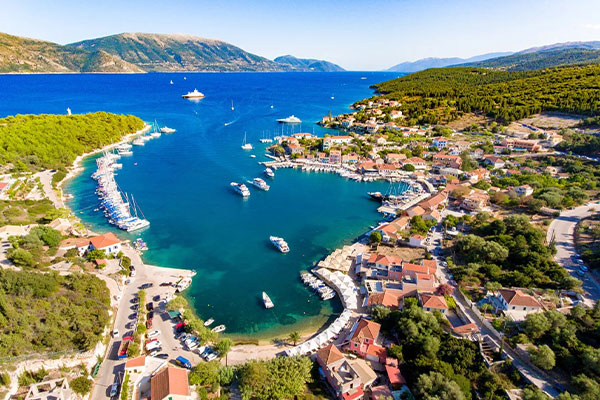 Sivota is one of the most beautiful bays in Lefkada, located 32 km south of the capital town. The settlement lies around a blue crystalline cove amidst verdant hills and lush green forests overlooking the Ionian Sea. The lovely port of the village provides a safe shelter for private yachts and quite close is also the main beach.
Today, Sivota is probably the most popular tourist resort in Lefkada. It is fairly quiet during the day and much more lively at night. Sivota hosts some gorgeous beaches with amazing waters and white sand, extremely famous for their breathtaking beauty and the wild background. Most of them though are accessed by boat.
Activities
Walking the town and shopping
Gastronomy
Sivota Bakery Cafe – tasty breakfast and delicious ice cream
12 gods – sensational seafood menu and great service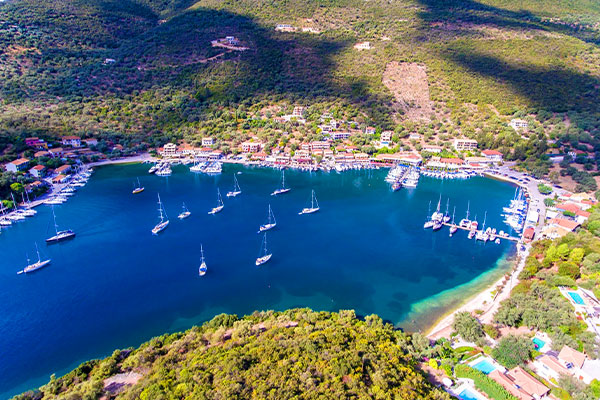 Continue sailing at the clear blue waters of Lefkas and finish the day at Lefkas Marina where you can explore the town of Lefkas and stroll around the alleys.
Finish your day with a wonderful dinner at a lovely local tavern.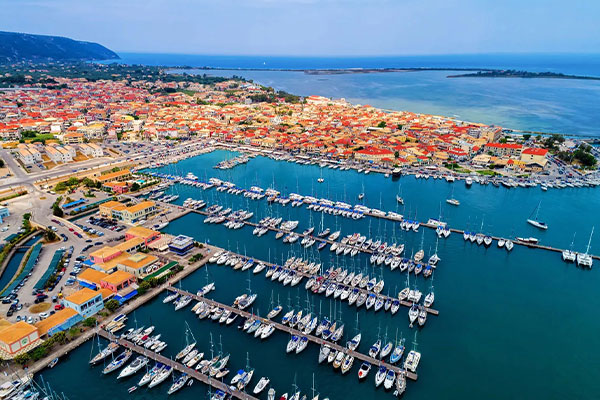 Picking a boat type
Picking out the type of boat to go with will generally come down to your budget, the group size, and preferred method of sailing. Moreover, different sailboats available can be chartered independently or with a fully-staffed crew.
Find your yacht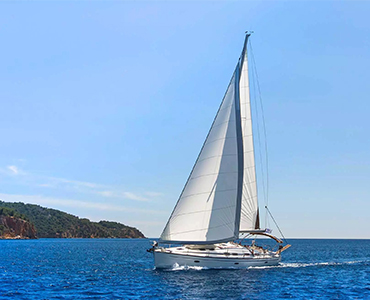 Sailboat
2-12 people
The most popular boat for active travelers and couples. They offer the classic sailing experience and tend to vary in size from 30-64 feet.
Starting from 1000 EUR pw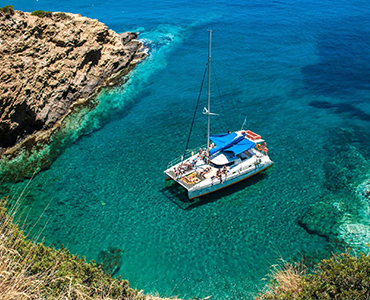 Catamaran
2-12 people
This offers a more smooth sailing experience compared to the normal sailboat and are the perfect choice for bigger groups or families. The sizes often range from 38-70 feet, with the average being around 42 ft.
Starting from 3500 EUR pw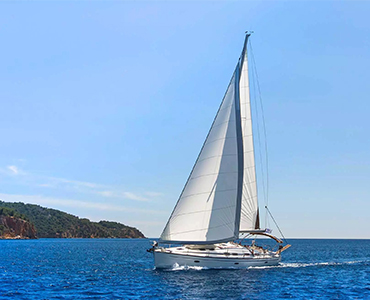 Starting from 1000 EUR pw
The most popular boat for active travelers and couples. They offer the classic sailing experience and tend to vary in size from 30-64 feet.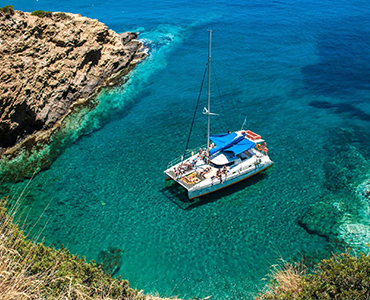 Starting from 3500 EUR pw
This offers a more smooth sailing experience compared to the normal sailboat and are the perfect choice for bigger groups or families. The sizes often range from 38-70 feet, with the average being around 42 ft.
Interested in Lefkas route?
Are you interested in visiting Lefkas and explore its secret coves and beaches? We have answers to those questions and many more. So don't hesitate to get in touch with our friendly team today!