Saronic gulf route – Perfect family getaway!
This is a 7 day (Saturday – Saturday) sailing trip starting from Alimos marina in Athens and is meant for people who want to experience the Saronic gulf islands.
Please note that all restaurants and activities listed are suggestions only, and are not included in the price. The trip can be changed according to your wishes, i.e. stopovers can be added or removed.
The itinerary depends also on the weather conditions and can be changed accordingly.
Starting point: Athens
Arrival: We can arrange a transfer from the airport to the marina for you. The transfer is not included in the price.
About: All the Saronic Gulf islands have something special in their style and a truly relaxing atmosphere. Since the islands are very close to Athens and the Athens airport, it makes them a perfect destination for many even for only short vacations.
The crystal water, the relaxing atmosphere, and the long history are the most distinctive characteristics of Saronic Greece, which have a different character each. Amazing architecture, elegant mansions, and many activities ideal for family vacations…
Day 1
–
Athens, Alimos marina
Alimos Marina is one of the largest marinas in Greece with 1000 permanent positions. The Marina is located South West of Athens, 15 Km from the city center and 30 km from El. Venizelos International Airport.
The plan for the first day is to arrive on a Saturday in Athens and get to the Marina. Your check-in on the boat will be at 5 p.m. and you will spend the night there. You can explore Athens, the historical capital of Europe!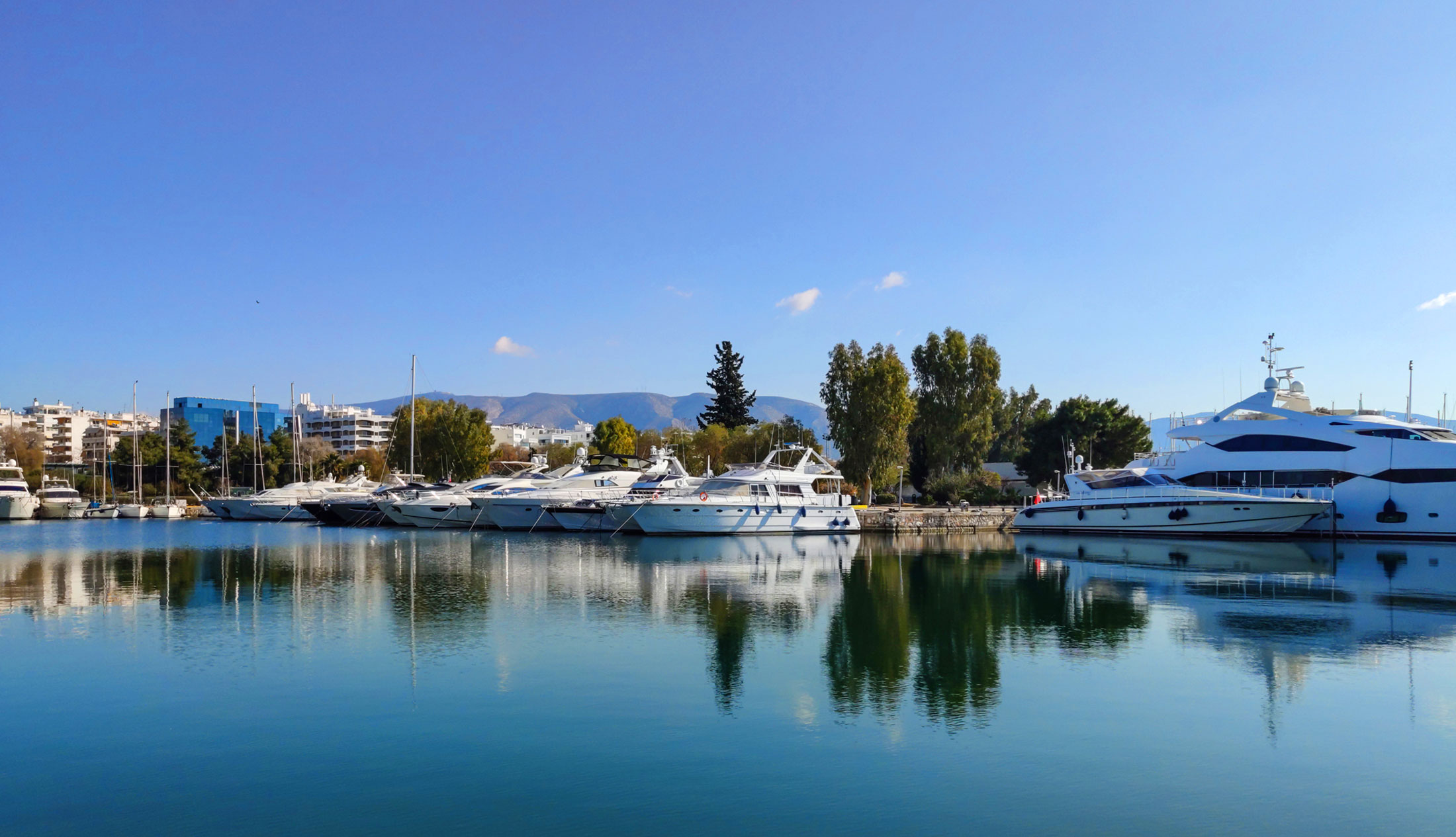 Epidaurus is an area of mainland Greece which is found in the Peloponnese region. The most important sight in Epidaurus Greece is the Ancient Theatre.
However, this is also a lovely region for holidays. Many nice villages and beaches can be found in close distance to the ancient site, such as the seaside village of Ancient Epidaurus, a charming fishing place with a couple of small beaches, fish taverns, and studios.
Activities
Visit Church of Agios Nikolaos – this lovely church is located on a hill above Epidaurus and can be seen from any spot of the port
Ancient theatre – the most popular ancient theatre in Greece. It has great harmony and acoustics, this theatre was built in phases from the 4th till the 2nd century BC. In summer, you can see many theatrical performances there.
Gastronomy
Restaurant Mouria – a family owned business. The kitchen is traditional and hasn't changed since the 1954.
To Perivoli tis Gogos – amazing atmosphere among orange trees, exceptional service and incredible food
To Kalogerikon – a lovely Greek Taverna offering authentic freshly prepared food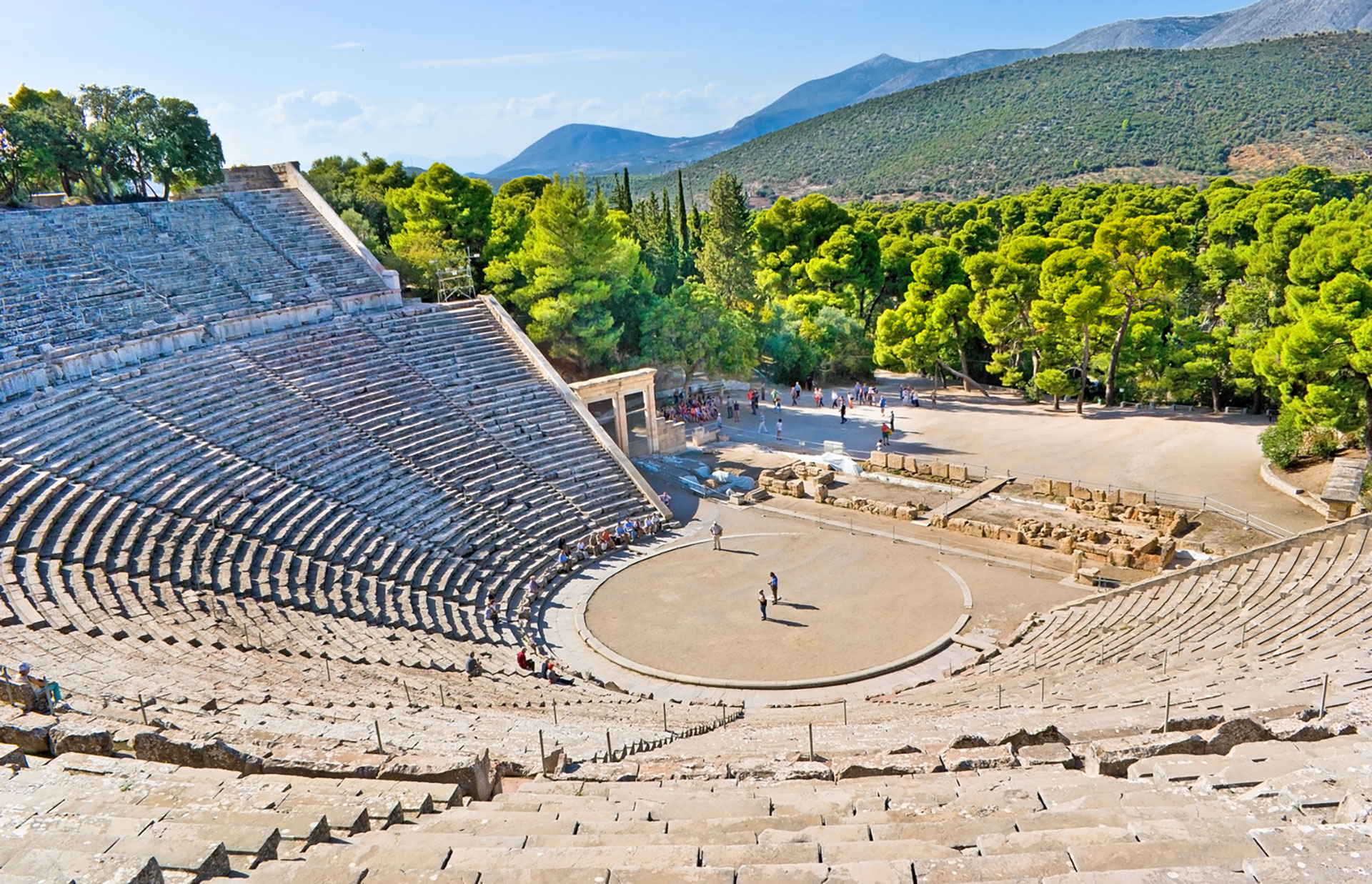 Hydra is a tourist hub where vehicles are prohibited so public transport is by a donkey or water taxis. The main city, Hydra Port, stands out for its picturesque little streets and noble houses designed by Genoa and Venetian architects. Near the cathedral, in the middle of the dock is where you can find Douskos Tavern whose pleasant patio is a great place to enjoy Greek food.
Activities
Donkey back riding – Go on one of Hydra's guided donkey-riding tours that cover the island. You can visit from monasteries and relax at sandy beaches.
Hydra's Architecture – Explore the town of Hydra and discover its amazing architecture, hidden alleyways and picturesque nature.
Gastronomy
Restaurant Omilos – Greek cuisine with fresh ingridients
Restaurant Steki – Taste delicious homemade recipes, appetizers, special pasta with seafood, and much more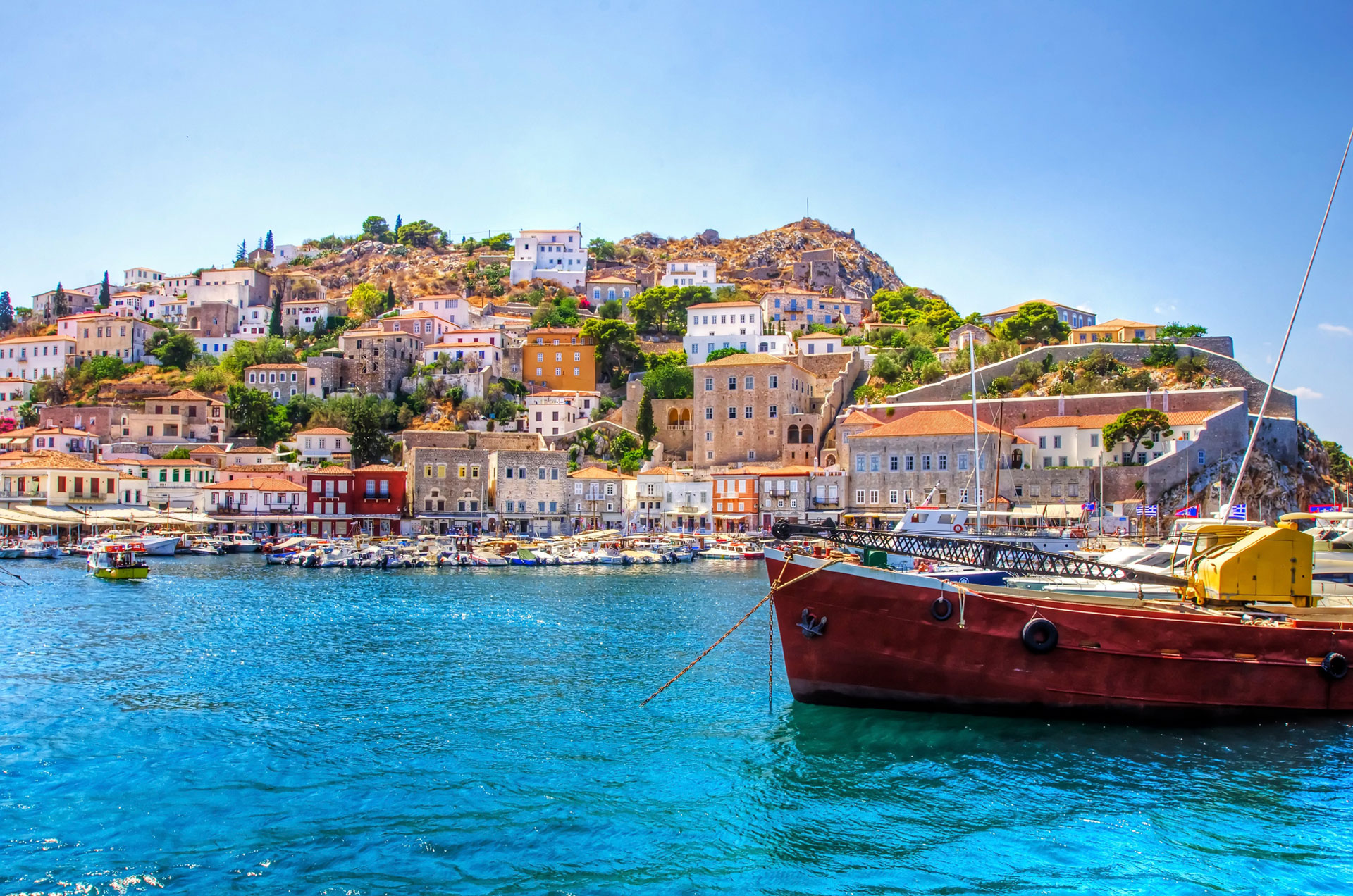 Spetses island is one of the popular Greek islands not only for the Greeks who crave a weekend getaway but also for international travelers. It is an island of beautiful nature, perfect beaches, and complex history. At Poseidon Square near the harbor, visitors are welcomed by a statue of the Greek War of Independence heroine Laskarina Bouboulina. Her house, transformed into the Laskarina Bouboulina Museum, is located in the backstreets nearby.
Activities
Horse back riding – discover some special places of Spetses on the back of a horse.
Cave of Bekiris – you can go by boat. It has a tiny, sandy beach inside and formations of stalactites and stalagmites.
Gastronomy
Restaurant Liotrivi – excellent quality of food and extensive wine list
Restaurant Patralis – quick and friendly service, Mediterranean cuisine
Restaurant Water of love – local specialties and excellent wine list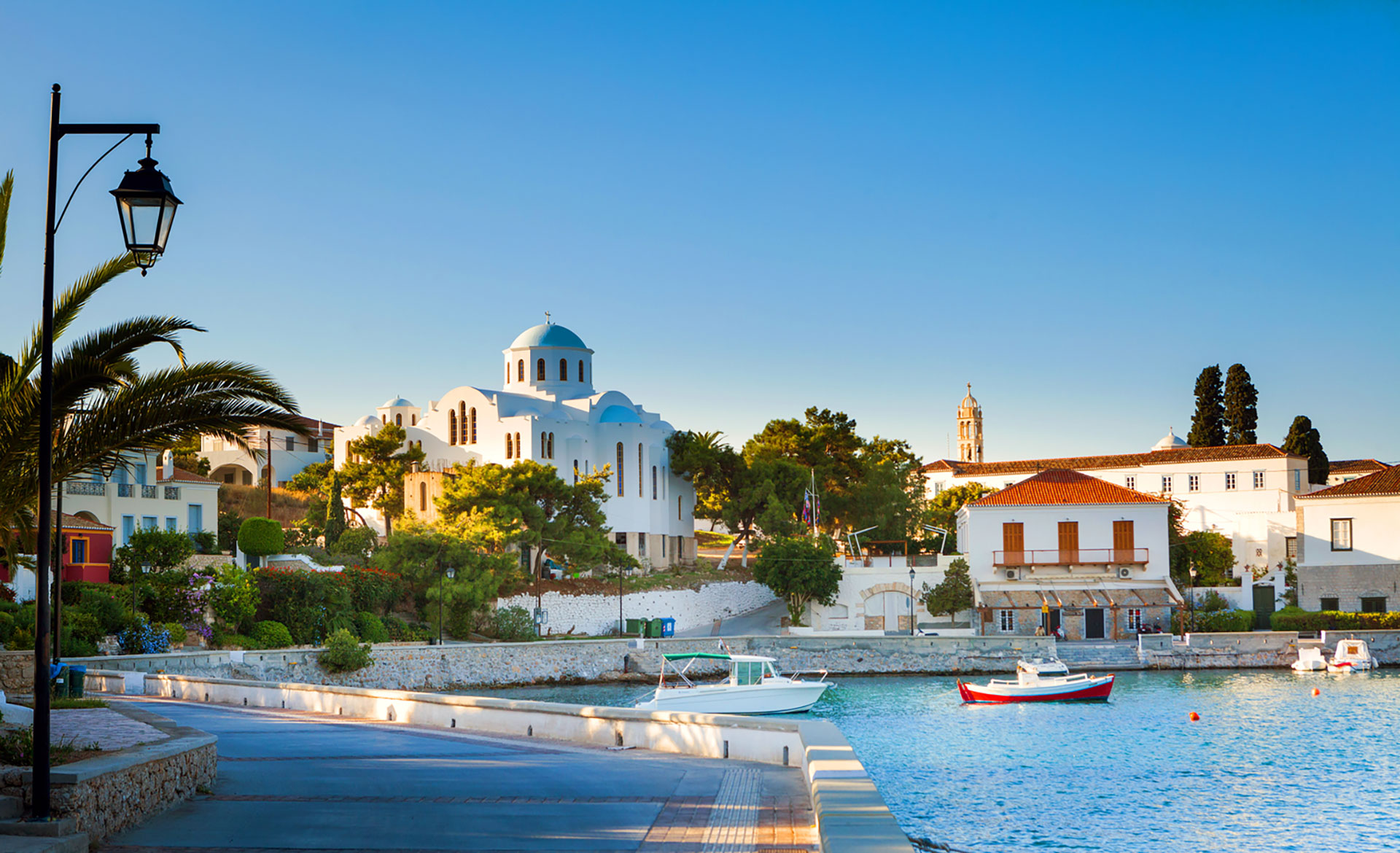 Poros is a little island in the heart of the Saronic Gulf, close to Aegina and Agistri. Its proximity to the rest of the Saronic islands also makes Poros island Greece the perfect base for island hopping in Greece. Sightseeing is a must in Poros island and the most important is the historical Monastery of Zoodochos Pighi, surrounded by lush greenery. Love Bay and Askeli are the two most important beaches on the island. You can visit the temple of Poseidon and the Archaeological museum.
Activities
Love Bay – coarse sandy cove around three kilometres west of Poros Town. Shallow and pure water
Lemon Forest – colorful plots of lemon and orange groves, amounting to one large forest that you can stroll through
Gastronomy
Restaurant Karavolos – Lovely family tavern with local cuisine (great Moussaka)
Restaurant Oasis – great lamb dishes and excellent atmosphere
Restaurant White cat – beautiful location with great view – especially during sunsets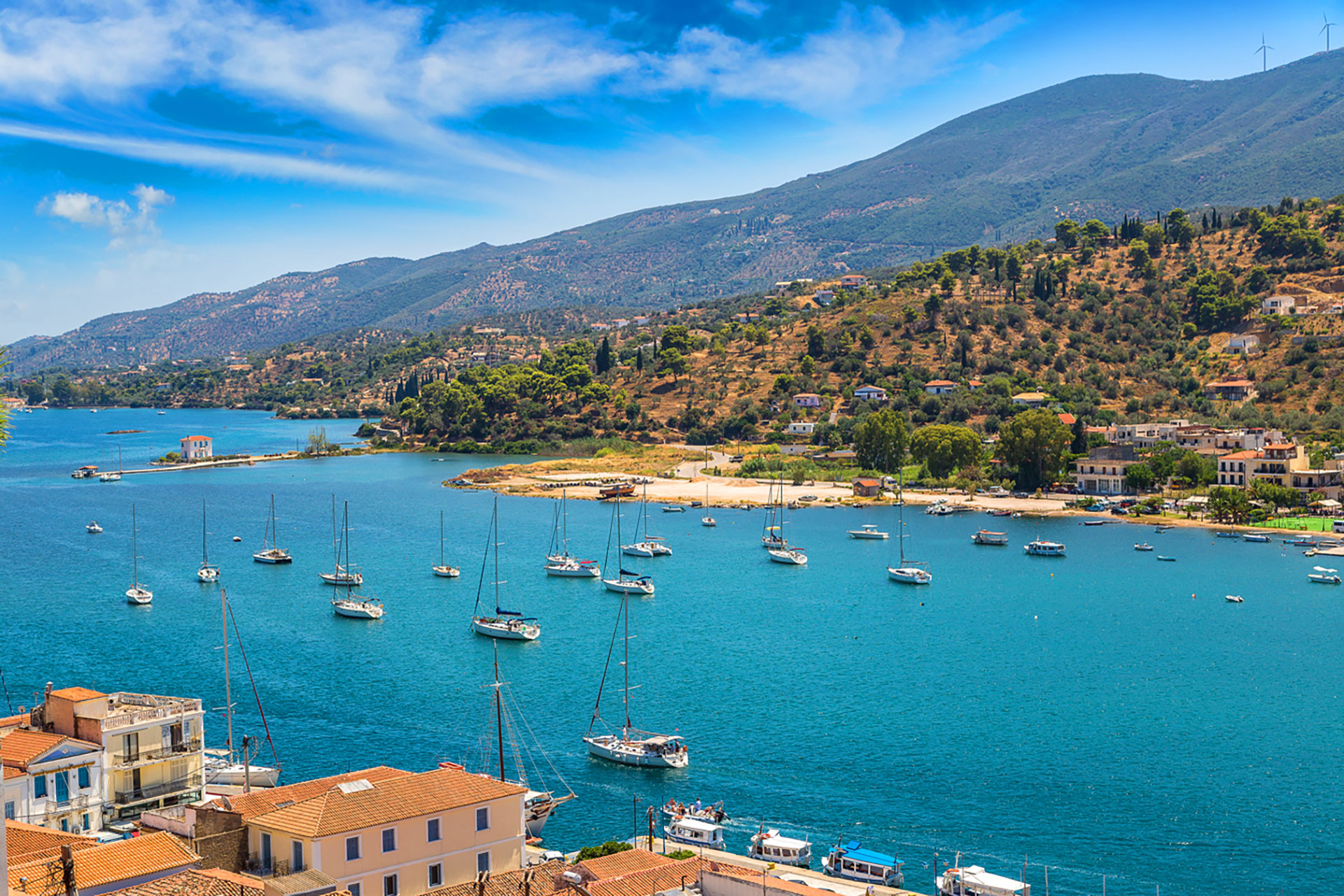 Aegina is an idyllic island very close to Athens. Aegina has many archaeological monuments, picturesque villages, and beautiful beaches. The most impressive archaeological site of the island is the Ancient Temple of Athena Aphaia, dating back to the 6th century BC. Visit the Temple of Athena Aphaia, Temple of Apollo, Tower of Markellos, and Monastery of Agios Nektarios.
Activities
The Temple of Aphaia – Doric temple dedicated to the goddess Aphaia is Aegina's top attraction and one of the most important archaeological sites in all of Greece
Best pistachios in the world – be sure to taste them! Stroll the colorful Aegina streets in search for those tasty treats
Gastronomy
Restaurant Kriton Gefseis – a wonderful taverna with a delicious Crete cuisine and cheerful team
Restaurant Floisvos – delicious and fresh seafood and great sunset view
Restaurant Remetzo – great octopus dishes and excellent service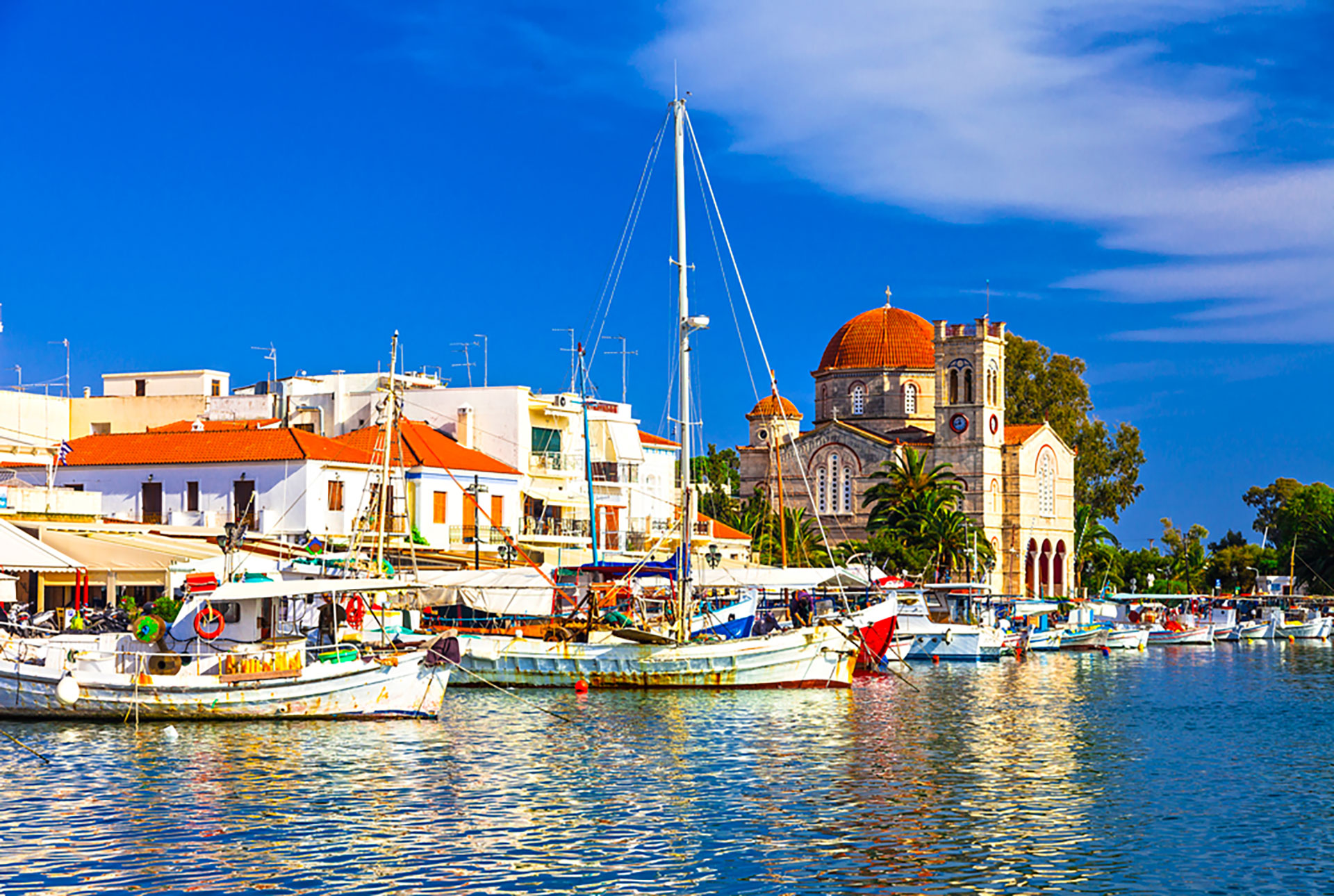 Day 7
–
Athens, Alimos marina
After a beautiful week of sailing and exploring the Saronic islands, it is time to get back to Alimos marina. Make sure you spend days swimming and sunbathing before getting back to the marina. The evening is the perfect time to go to Athens again since we are sure you did not have enough time to see it all the first time.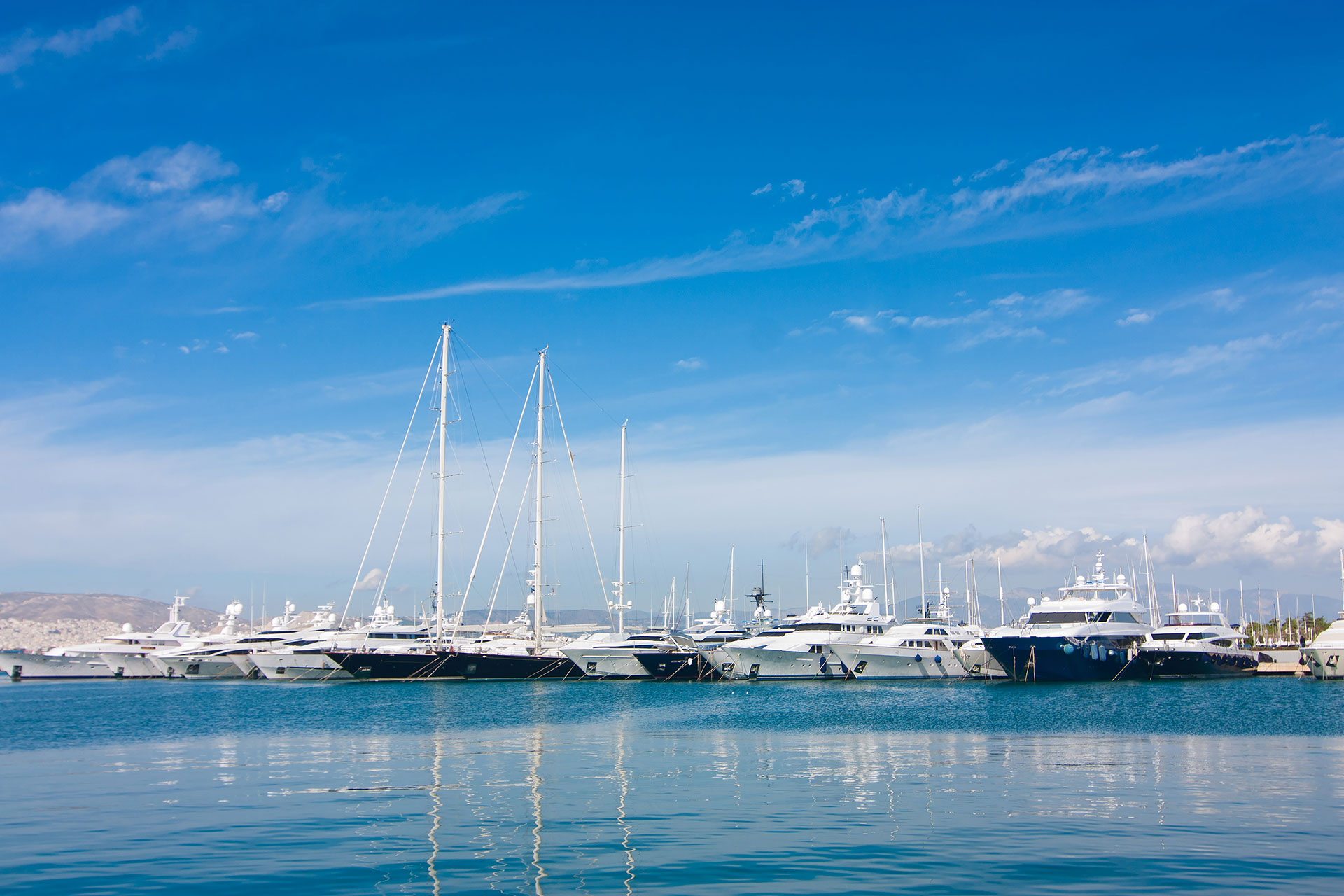 Picking a boat type
Picking out the type of boat to go with will generally come down to your budget, the group size, and preferred method of sailing. Moreover, different sailboats available can be chartered independently or with a fully-staffed crew.
Find your yacht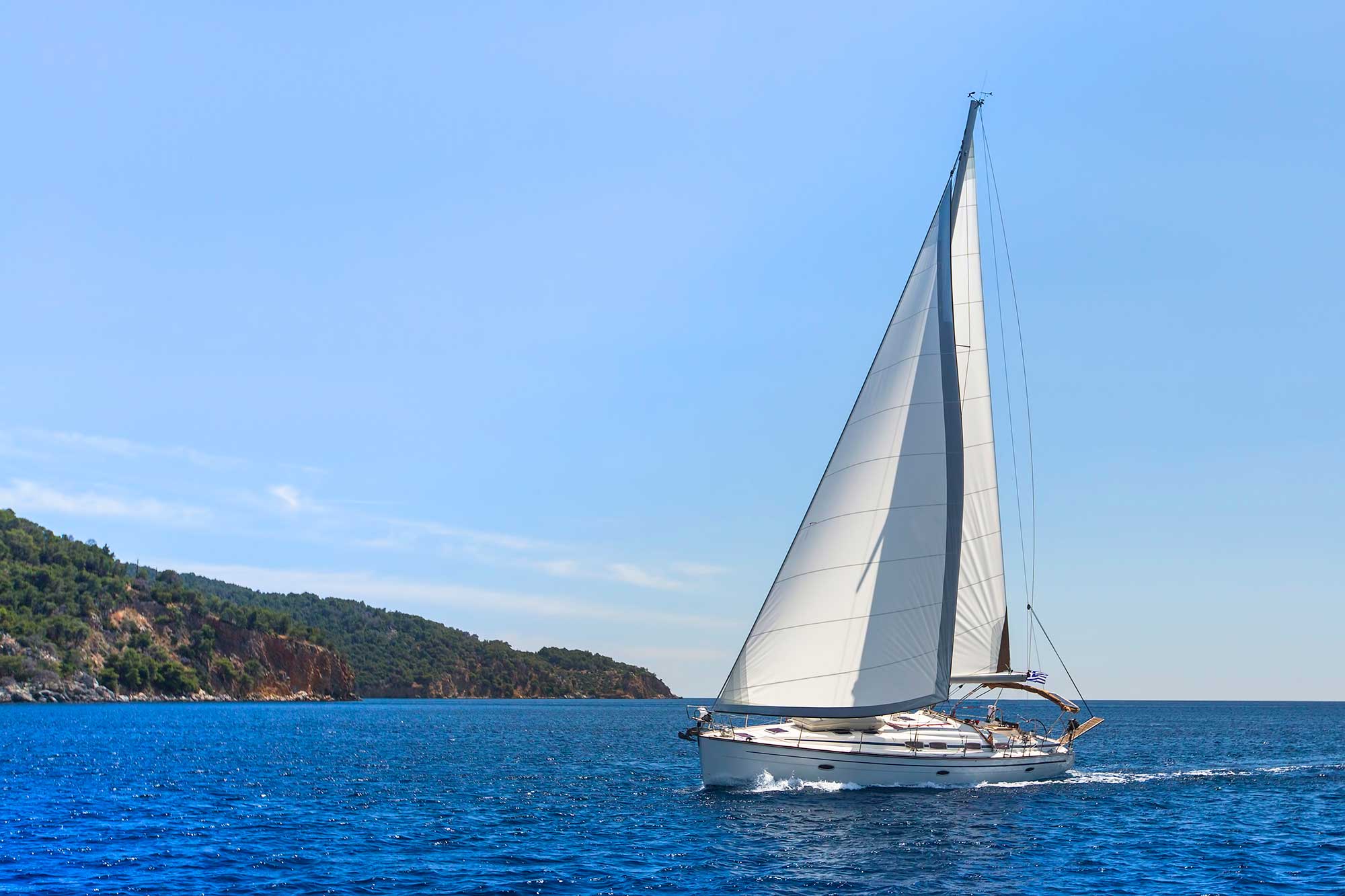 Sailboat
2-12 people
The most popular boat for active travelers and couples. They offer the classic sailing experience and tend to vary in size from 30-64 feet.
Starting from 1000 EUR pw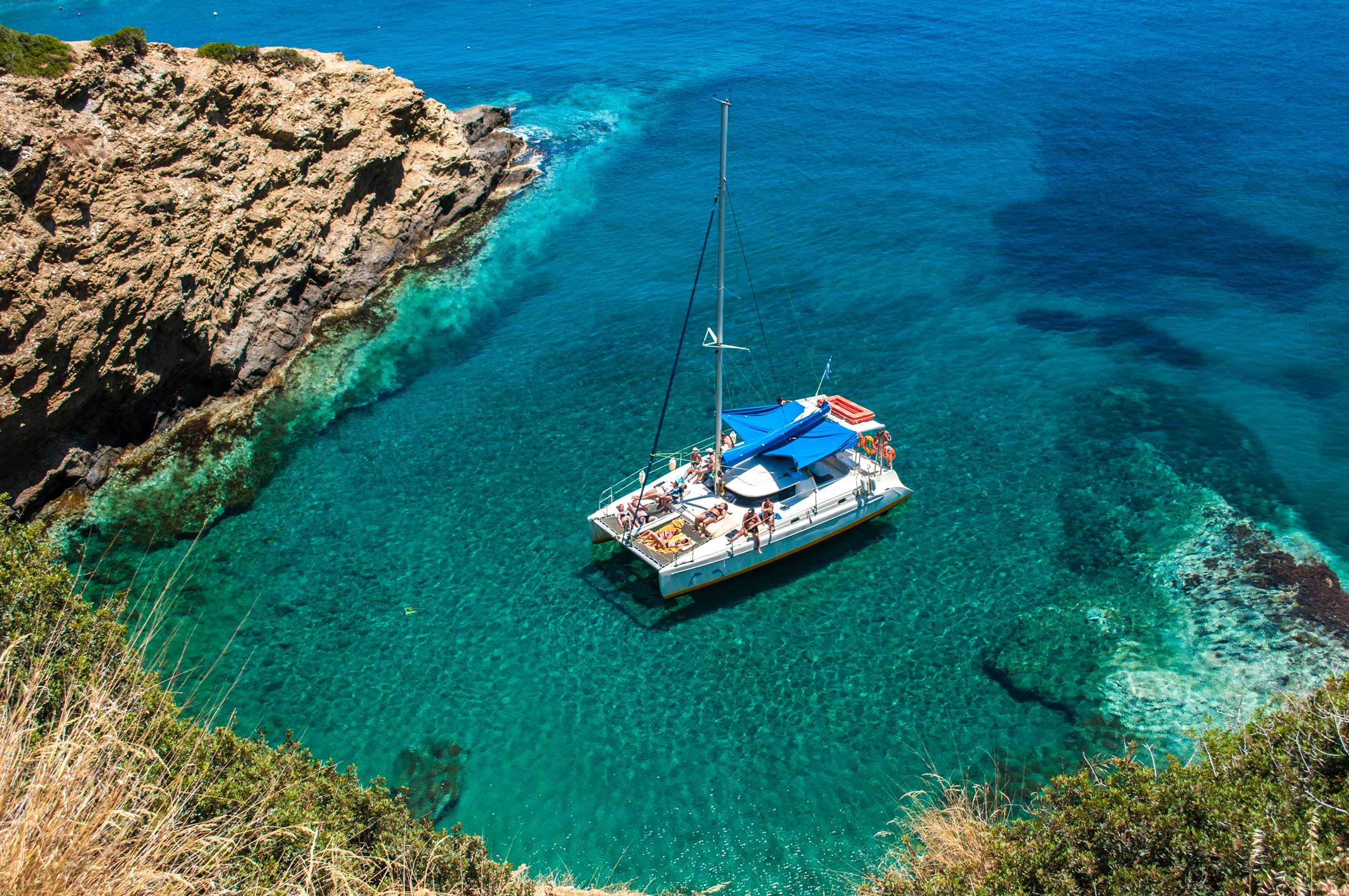 Catamaran
2-12 people
This offers a more smooth sailing experience compared to the normal sailboat and are the perfect choice for bigger groups or families. The sizes often range from 38-70 feet, with the average being around 42 ft.
Starting from 3500 EUR pw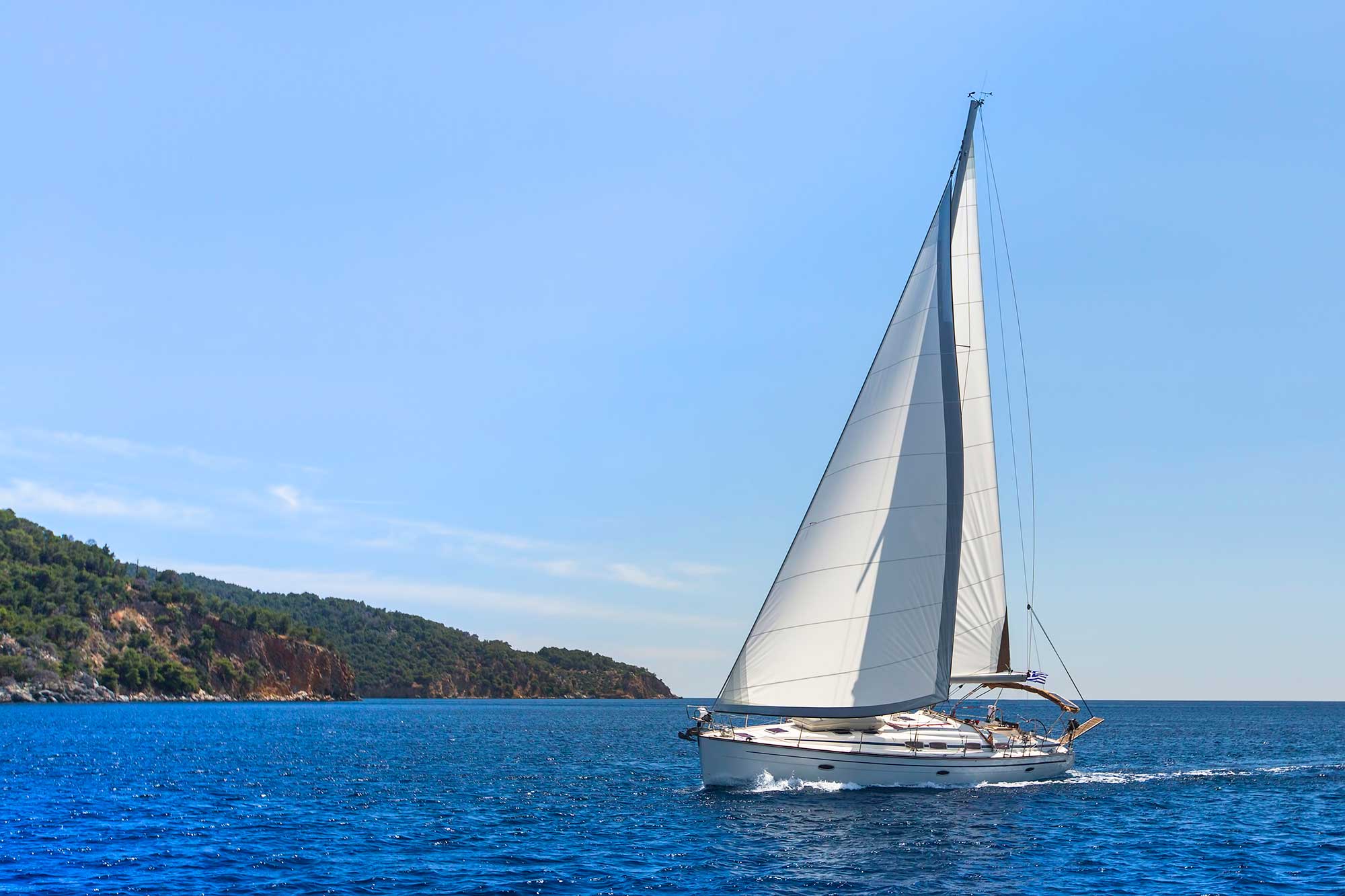 Starting from 1000 EUR pw
The most popular boat for active travelers and couples. They offer the classic sailing experience and tend to vary in size from 30-64 feet.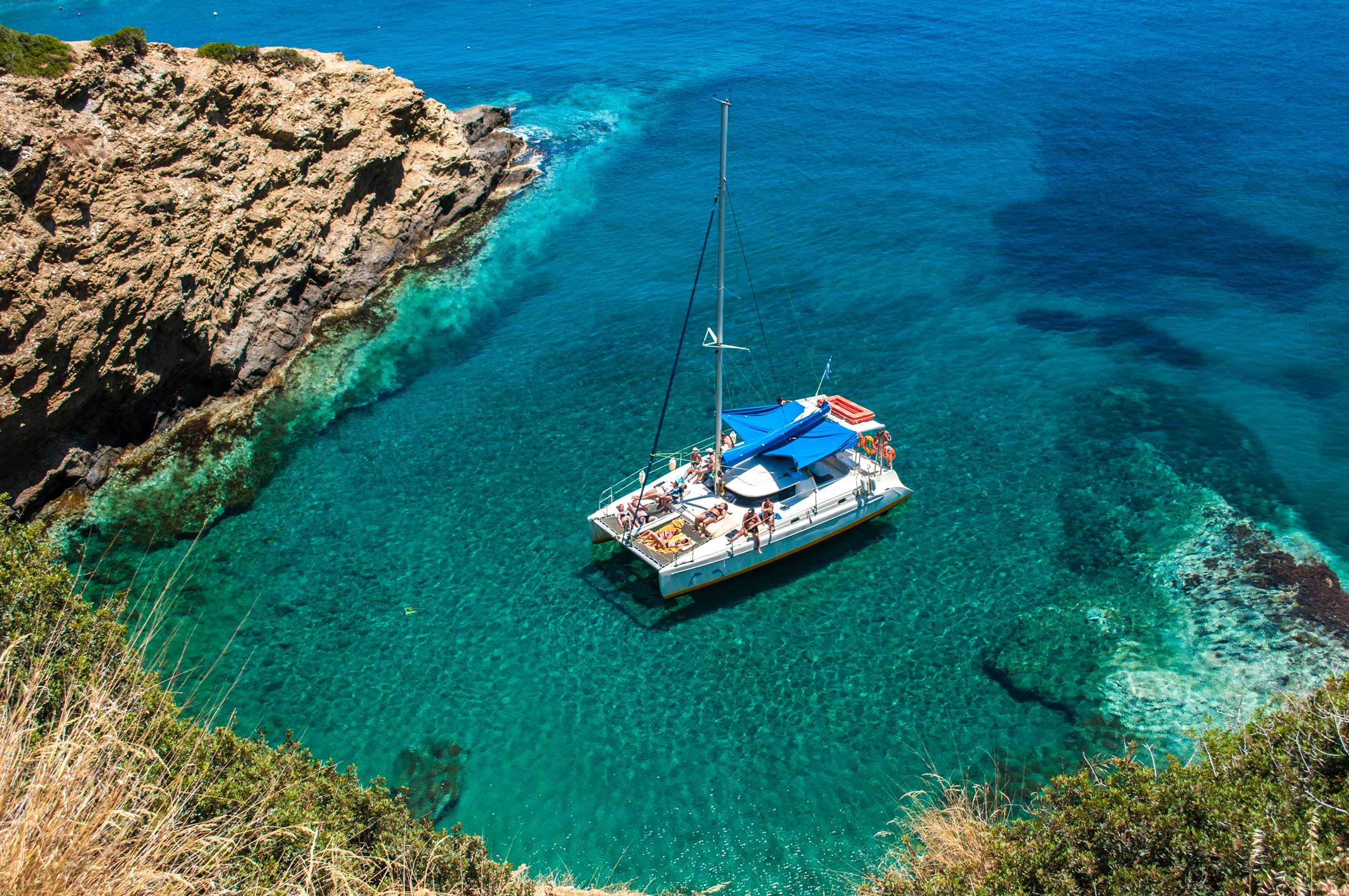 Starting from 3500 EUR pw
This offers a more smooth sailing experience compared to the normal sailboat and are the perfect choice for bigger groups or families. The sizes often range from 38-70 feet, with the average being around 42 ft.
Interested in Saronic gulf route?
Are you interested in visiting the Saronic gulf and explore its islands and beaches? We have answers to your questions and many more. So don't hesitate to get in touch with our friendly team today!