Trogir sailing route – 7 days of nature and Croatian cuisine
This is a 7 day (Saturday – Saturday) sailing trip starting from Trogir and is meant for people who love food and sailing. The plan for the first day is to arrive on a Saturday in Trogir and get to the Marina. Your check-in on the boat will be at 5 p.m. and you sail out right away to our first destination, Primošten.
Please note that all restaurants and activities listed are only suggestions, and are not included in the price. The trip can be changed according to your wishes, meaning stops can be added or removed.
Starting point: Trogir
Arrival: We can arrange a transfer from the airport to the marina for you. The transfer is not included in the price.
About: Trogir is a UNESCO World Heritage Site or as some call it the Little Venice of Dalmatia. It is in close vicinity with the airport and city of Split, and its cultural heritage combined with nautical importance has made Trogir one a deservedly well-visited destination. We will leave the sightseeing for the last day of your sailing trip and start this sailing adventure right the first day.
Primošten has preserved the atmosphere and all the architectural features of a medieval Mediterranean fishing village. It ranks among the most picturesque small towns on the Adriatic, with a number of typical Dalmatian narrow streets in the old town core on a small, hilly peninsula. It is famous for its beautiful beaches and its rich tourist offer.
Activities
15th Century Church of St. George in Old Town Primosten
Our Lady Of Loretto Statue
Gastronomy
Restaurant Mediteran – fine Dalmatian cuisine, sincere, simple and, at the same time, imaginative dishes
Restaurant Kamenar – the restaurant has opened its doors in 1974 and since then cherish the tradition of recognizable Dalmatian cuisine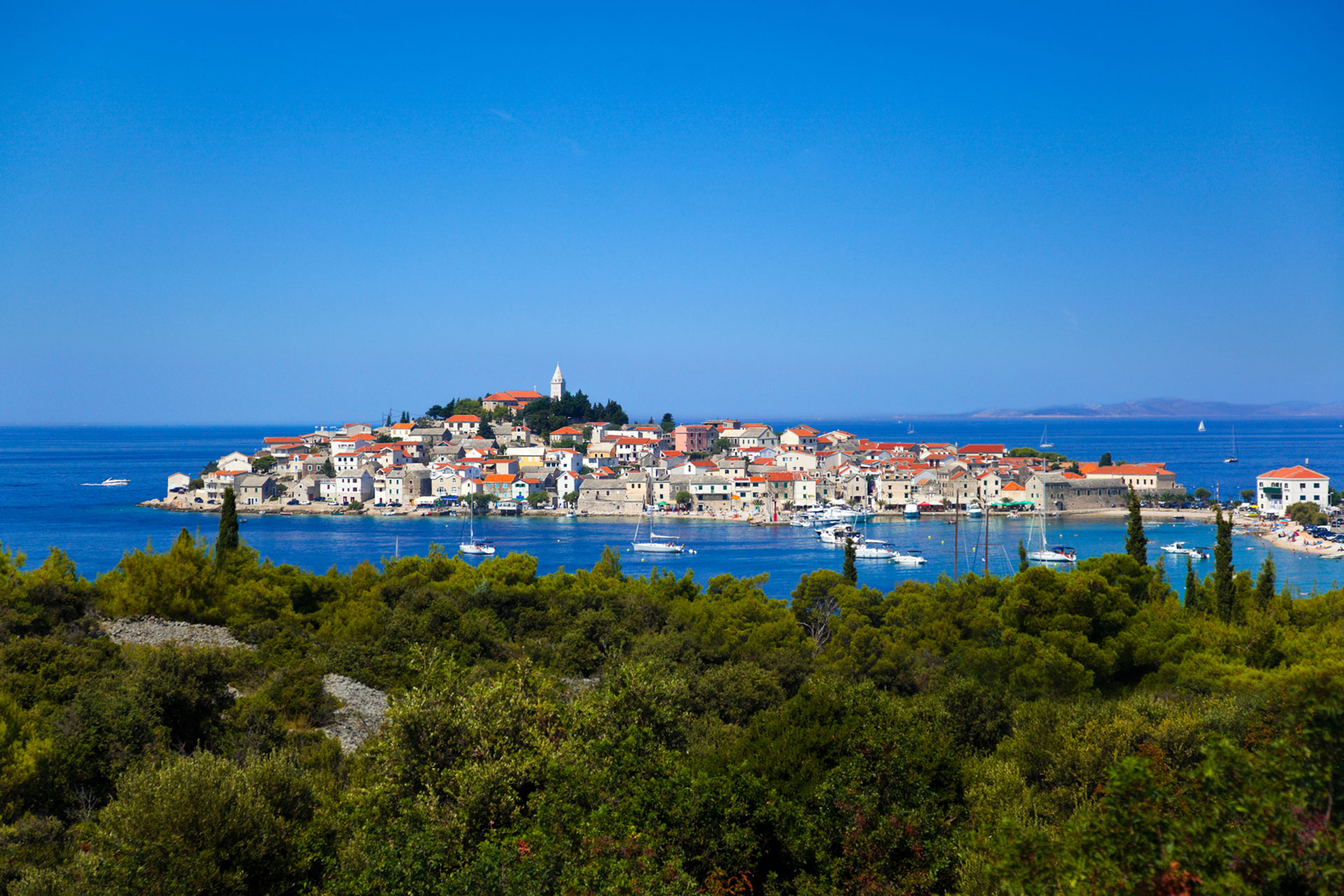 Day 2
–
Skradin, Krka waterfalls
Skradin is a romantic Mediterranean town with narrow cobbled streets, passages, arches, and stairs and is located at the entrance to Krka National Park. The entire town of Skradin is a protected cultural heritage monument.
Activities
Visit Krka national park is a must when you are staying in Skradin. The top attractions of the Park are magnificent waterfalls, including the famous Skradinski Buk falls which are one of Croatia's most famous sights
Visit one of the famous Skradin wineries
The Historic Vehicle Museum and Industrial Heritage Museum
Gastronomy
Restaurant Cantinetta – the imperative of restaurants is the natural and seasonal foods that they try to present on their own way on the dinner table
Restaurant Skala – restaurants offer views on marina and bridge which connects the north and south Dalmatia. Enjoy the famous Skradin's risotto, grilled food, food on a spit, traditional food prepared under a baking lid or "peka", sea and river fish, shellfish and various deserts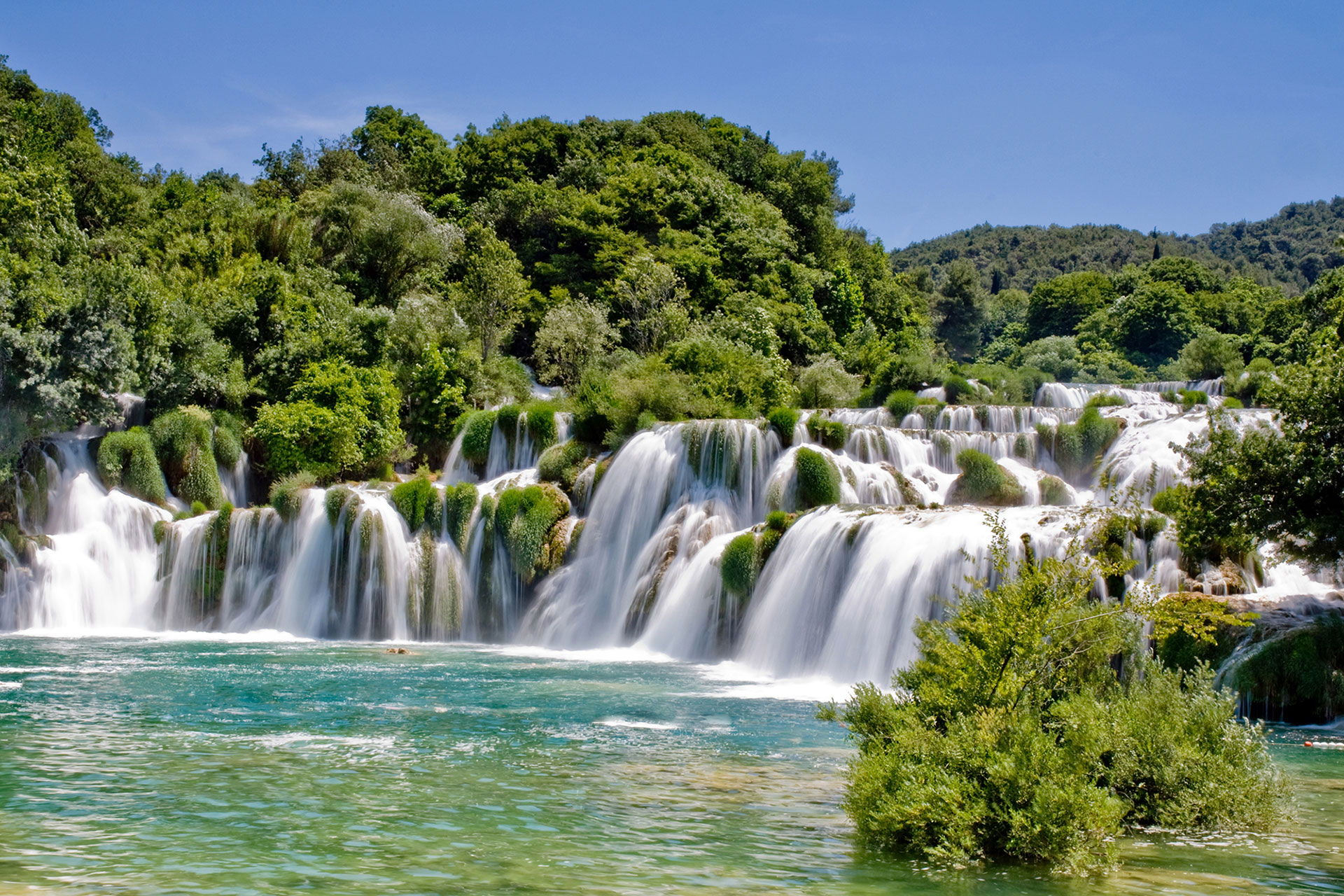 The town of Murter is very rich in history. It was first mentioned in the 13th ct. Today, Murter is a town of about 2000 inhabitants and a popular tourist destination.
Authentic stone-vaulted streets, simple dwellings, stone walls covered with ivy, combined with modest but innovative ingenuity have all served to preserve the story
of Murter from vanishing into the history books. The town is surrounded by numerous islands and part of them create the beautiful National park – Kornati.
Activities
On Vršina hill there is a Church of St Roko from the 18th ct. and it can be reached by a very narrow road or by a staircase from the main road. From there you will have a wonderful view of the whole Murter and Betina from here
Walk around the town – Murter island is famous for its excellent figs. There are many fig trees in the center of town you can pick for free
Visit the beautiful coves and beaches, we recommend visiting the beaches Slanica and Čigrađa
Gastronomy
Fine food Murter – a cosy restaurant with a very different concept than the remainder of the surrounding culinary scene
Tic Tac restaurant – one of the oldest restaurants in Murter that started in 1971 and since then the restaurant is "a role model in innovation and quality"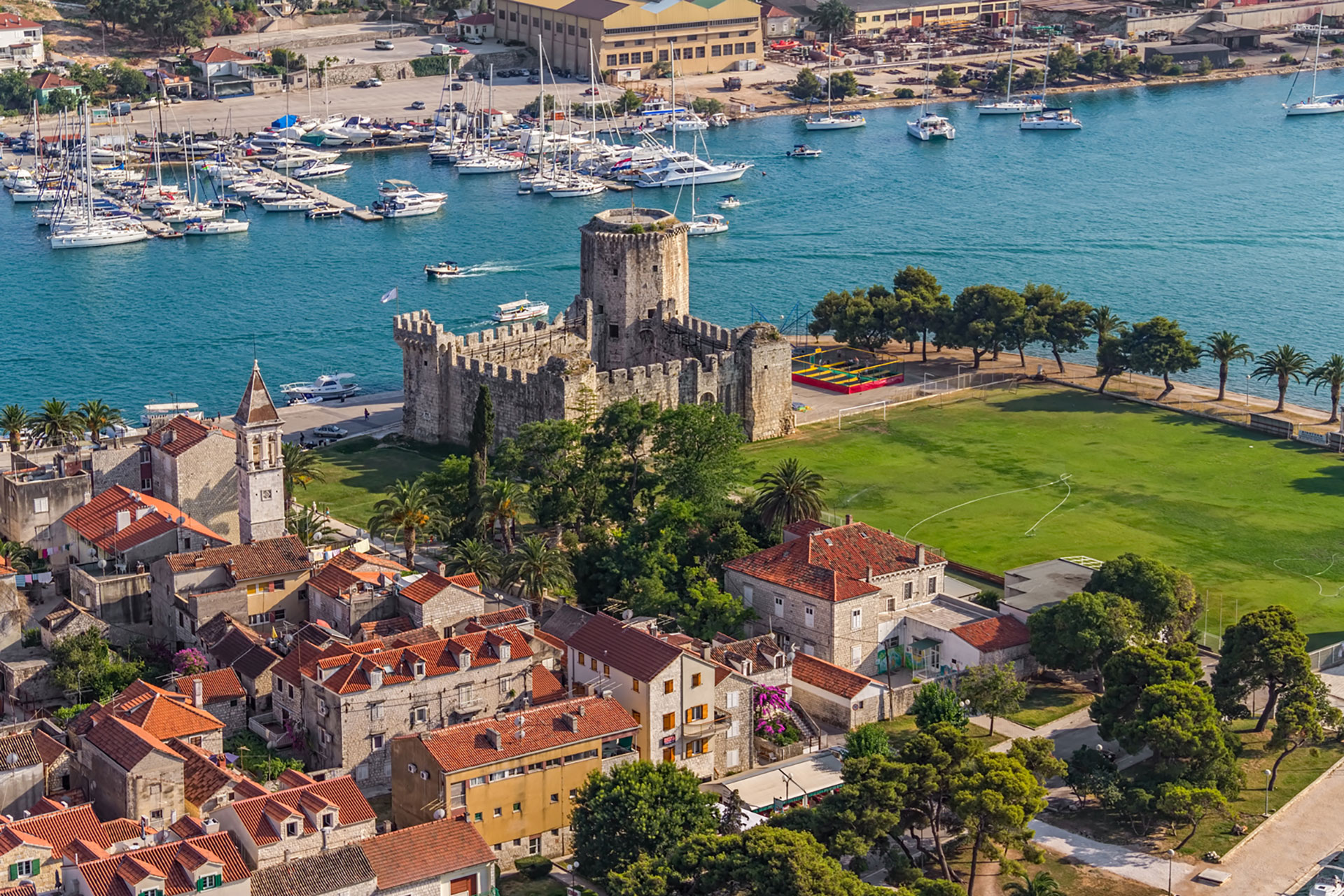 Day 4
–
Kornati National Park (Piškera)
The Kornati National Park is often mentioned as a "nautical paradise" with its 89 unforgettable islands, islets, and reefs. Kornati islands are one of the top Croatian
attractions and a highlight of your sailing route. There are no permanent residents of the islands and most of the area belongs to the people of Murter island who come to tend the olive groves, the vineyards, and orchards. After a whole day sailing and exploring the archipelago, spend a night in Marina Piškera.
Activities
Piškera is an uninhabited island with a marina and two restaurants. After a whole day sailing, swimming and being active you will probably just want to relax and maybe take a short walk
Gastronomy
Konoba Jadra – taste fresh seafood and enjoy beautiful view of Kornati
Restaurant Kliff – near ACI marina, cozy, traditional Dalmatian restaurant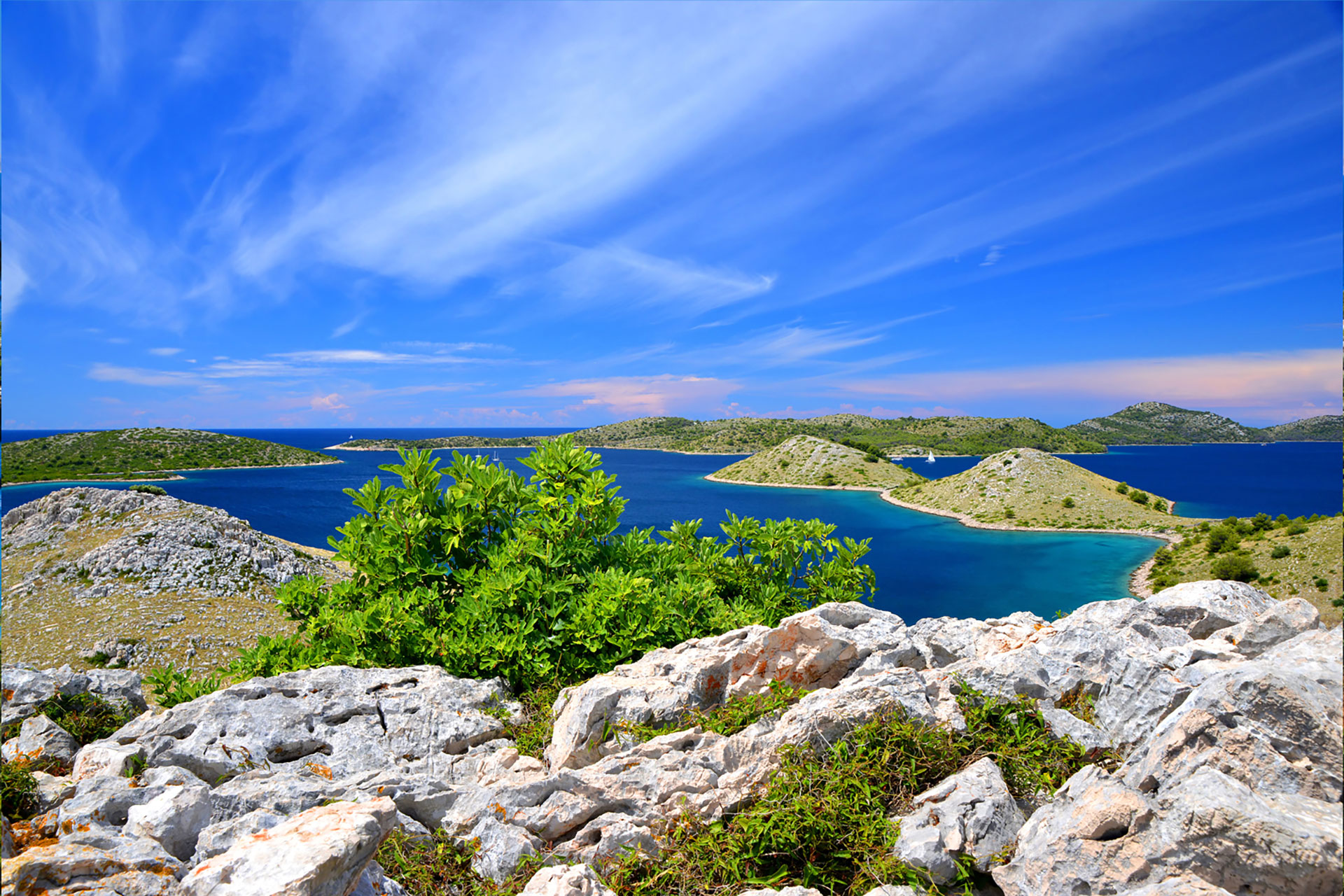 Kaprije is a rare car-free oasis full of clean air and clear turquoise water. You can freely enjoy the untouched nature and the sound of the sea and waves. The island
was named after the plant ''kapar'' and which was probably abundant at the time of island settlement.
Activities
Church of St. Cross – Gothic church built in the early 15th century. During summer the church houses modern art exhibits
Diving attractions – one of the most attractive wrecks in the Adriatic: the warship Francesca da Rimini from 1944 which is located at a depth of 38-50m on the north side of the island. Diving in Croatia is only allowed for licensed divers and only in guided groups with one of the Croatian licensed diving centers
Gastronomy
Konoba Adriana – a big variety of seafood made in traditional recipes
Liberty Restaurant & Lounge Bar – enjoy great food and exquisite drinks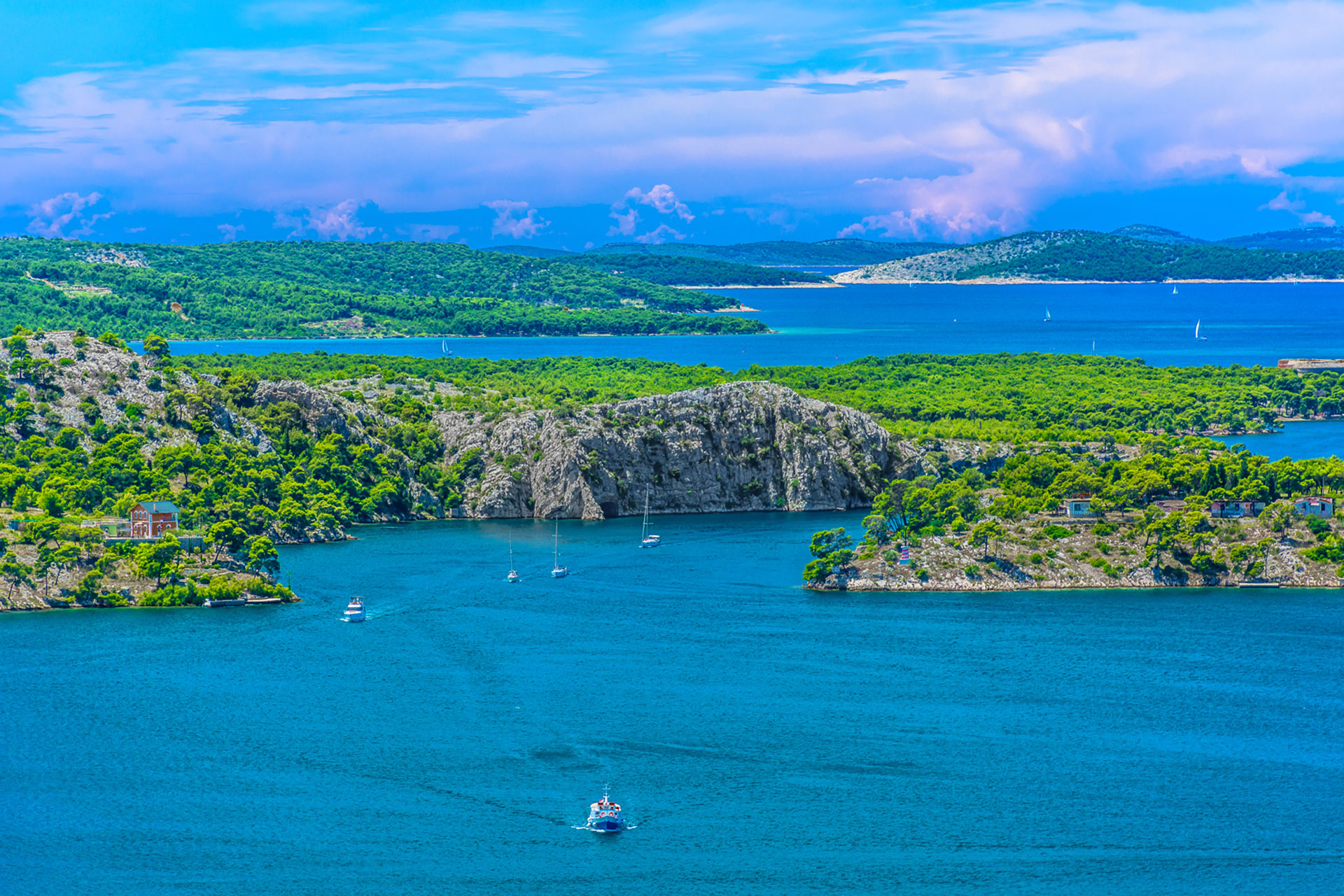 Day 6
–
Maslinica, island of Šolta
Šolta is undoubtedly one of the must-see destinations on this route. It is an island famous for its olive trees and olive oil making traditions as well as honey making
tradition, made from wild rosemary. Locally it is called Olintio and it has been in use since ancient times. Maslinica on the island Šolta has just been awarded the "Best Authentic Coastal Destination (small town)" where you can enjoy spectacular sunsets.
Activities
Take a Private Bike Tour of Maslinica
Book a Secrets of Šolta – Off the beaten track tour
Gastronomy
Restaurant Martinis March – excellent choice for fine dining
Šišmiš beach bar – try fresh seafood and a mooring in front of the bar
Other than visiting restaurants you can take the Wine, Honey & Olive Oil of Šolta Island – Tasting Tour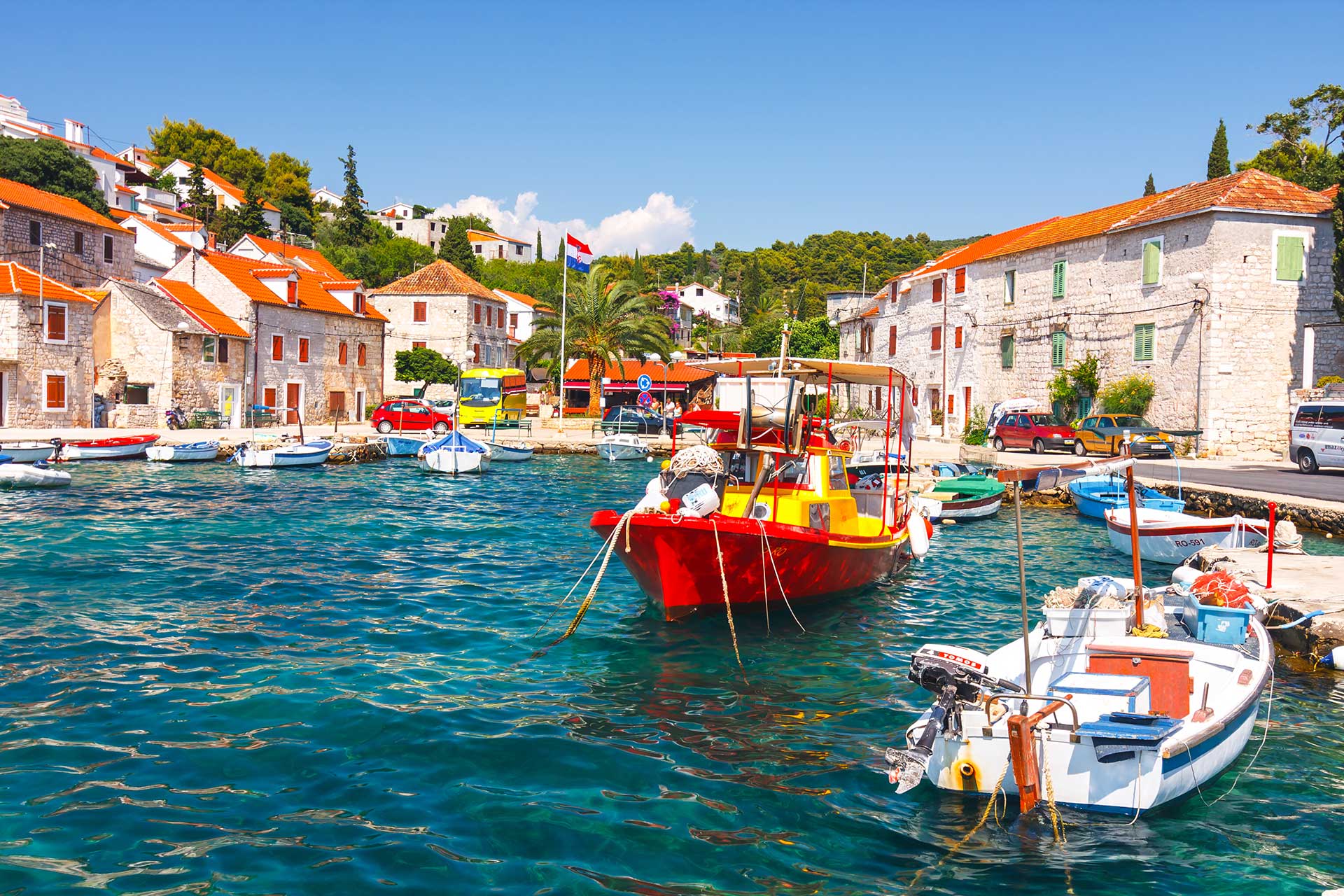 We recommend having an early breakfast and head towards Trogir (of course stop on your way back for a nice swim and sunbathing). Trogir is very rich in culture and history and home to a number of fascinating historic sights that we suggest visiting while there.
Activities
Visit the Trogir Cathedral
Kamerlengo Castle and St. Mark's Tower
The Civic Museum
St. Dominic Monastery
Gastronomy
Restaurant Don Dino – discreet, homely and unique…
Calebotta Bar & Restaurant – combination of modern tones that are incorporated in the preserved perspective construction from the early 19th century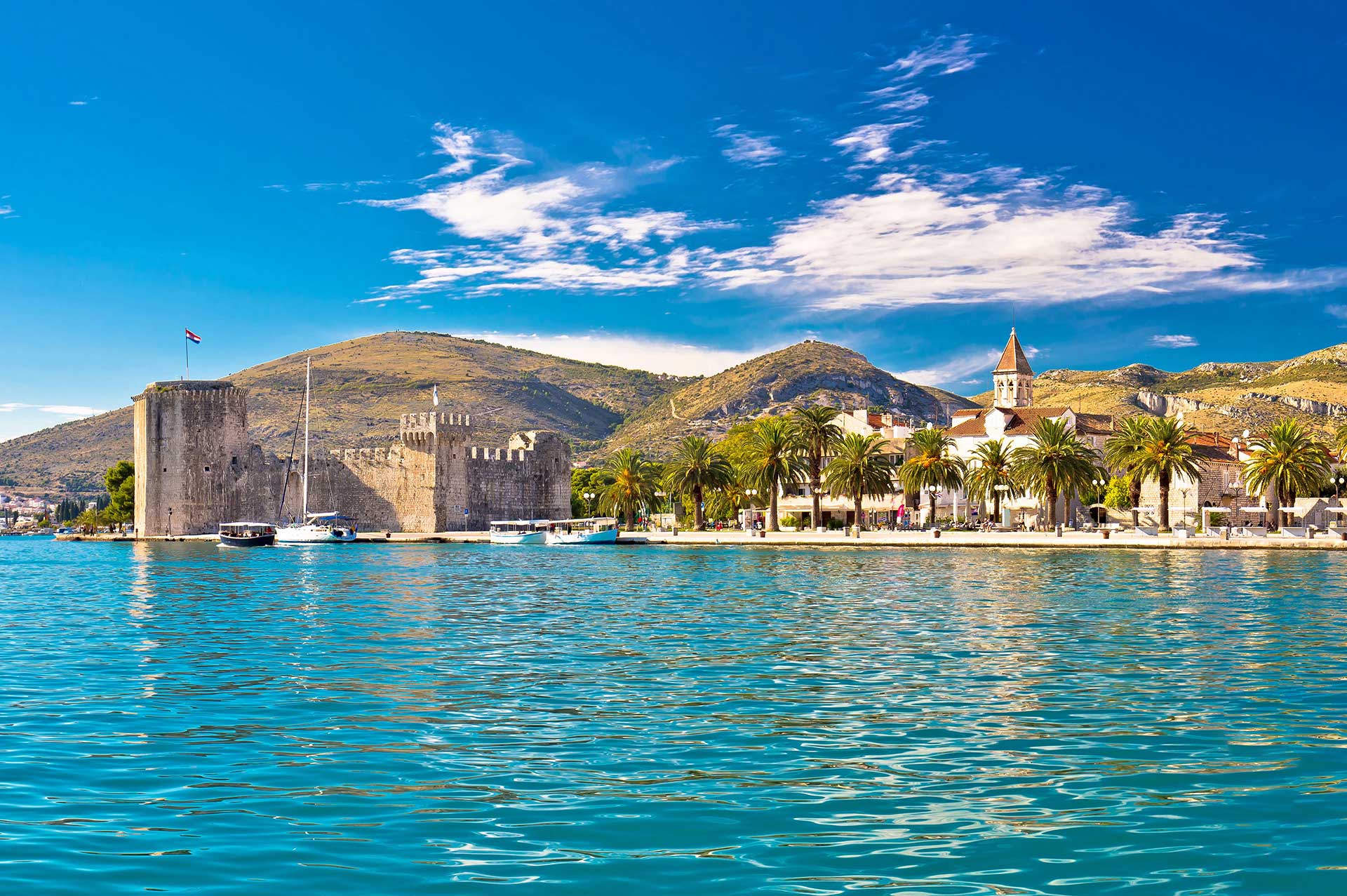 Picking a boat type
Picking out the type of boat to go with will generally come down to your budget, the group size, and preferred method of sailing. Moreover, different sailboats available can be chartered independently or with a fully-staffed crew.
Find your yacht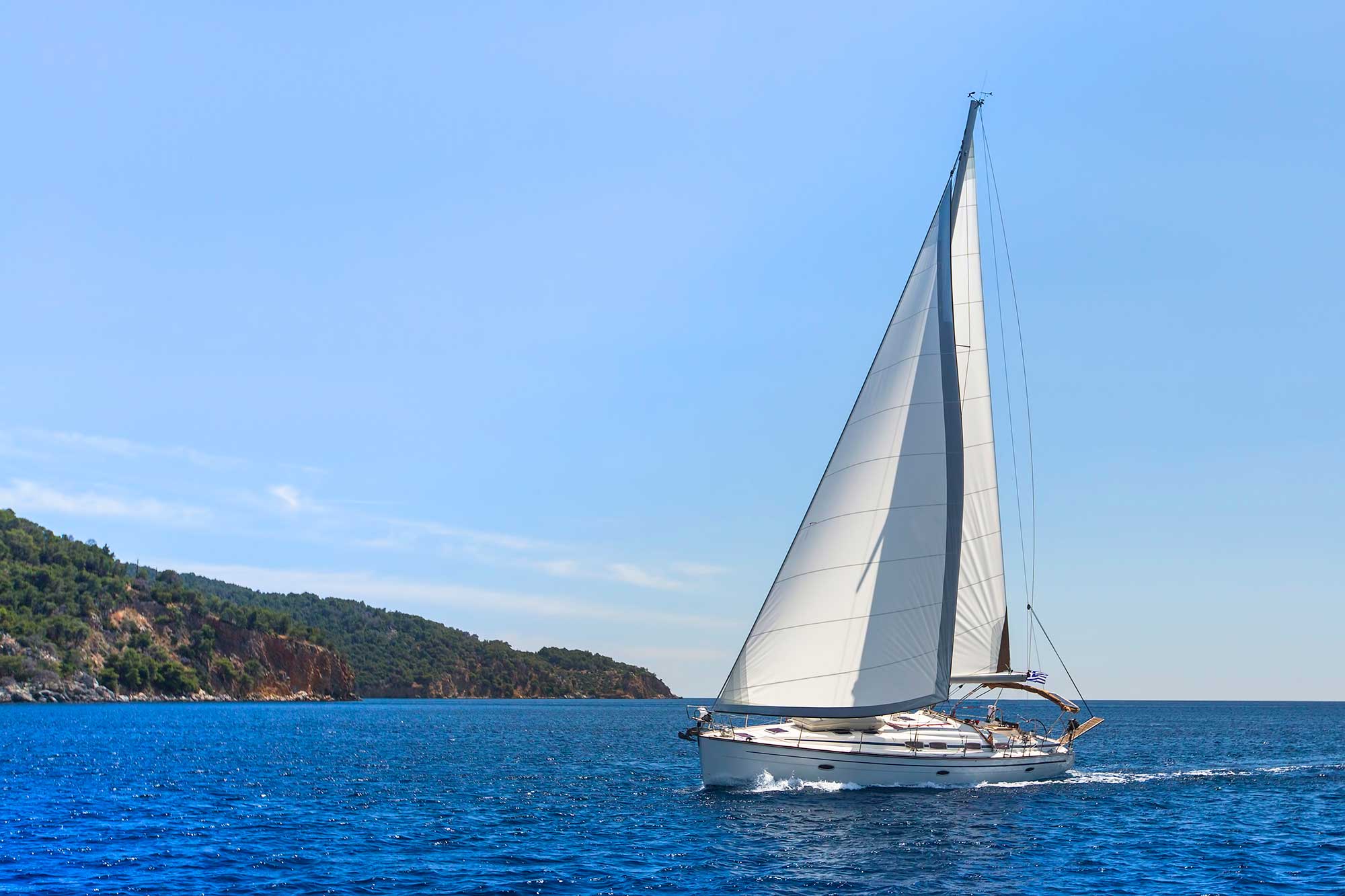 Sailboat
2-12 people
The most popular boat for active travelers and couples. They offer the classic sailing experience and tend to vary in size from 30-64 feet.
Starting from 1000 EUR pw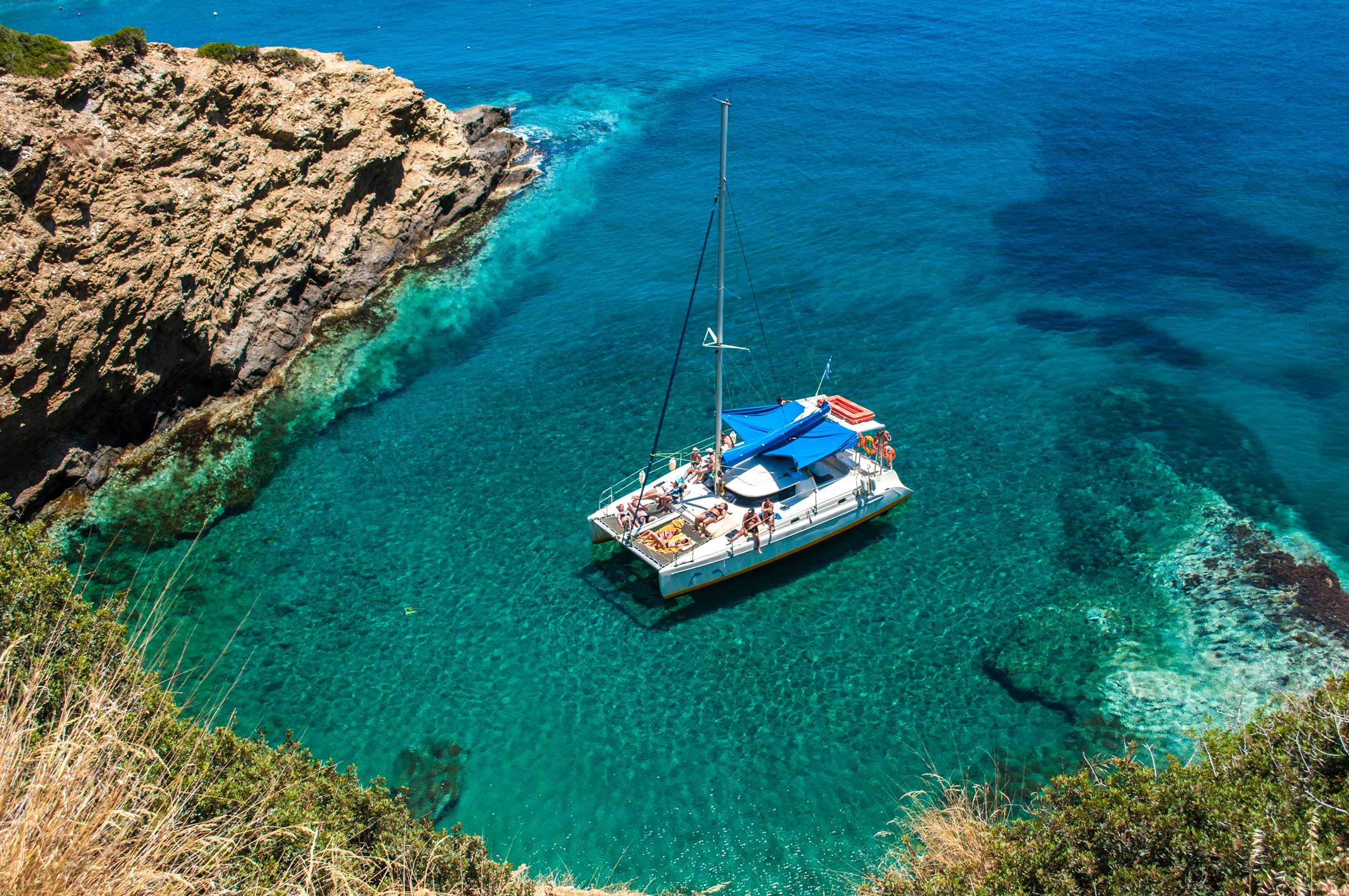 Catamaran
2-12 people
This offers a more smooth sailing experience compared to the normal sailboat and are the perfect choice for bigger groups or families. The sizes often range from 38-70 feet, with the average being around 42 ft.
Starting from 3500 EUR pw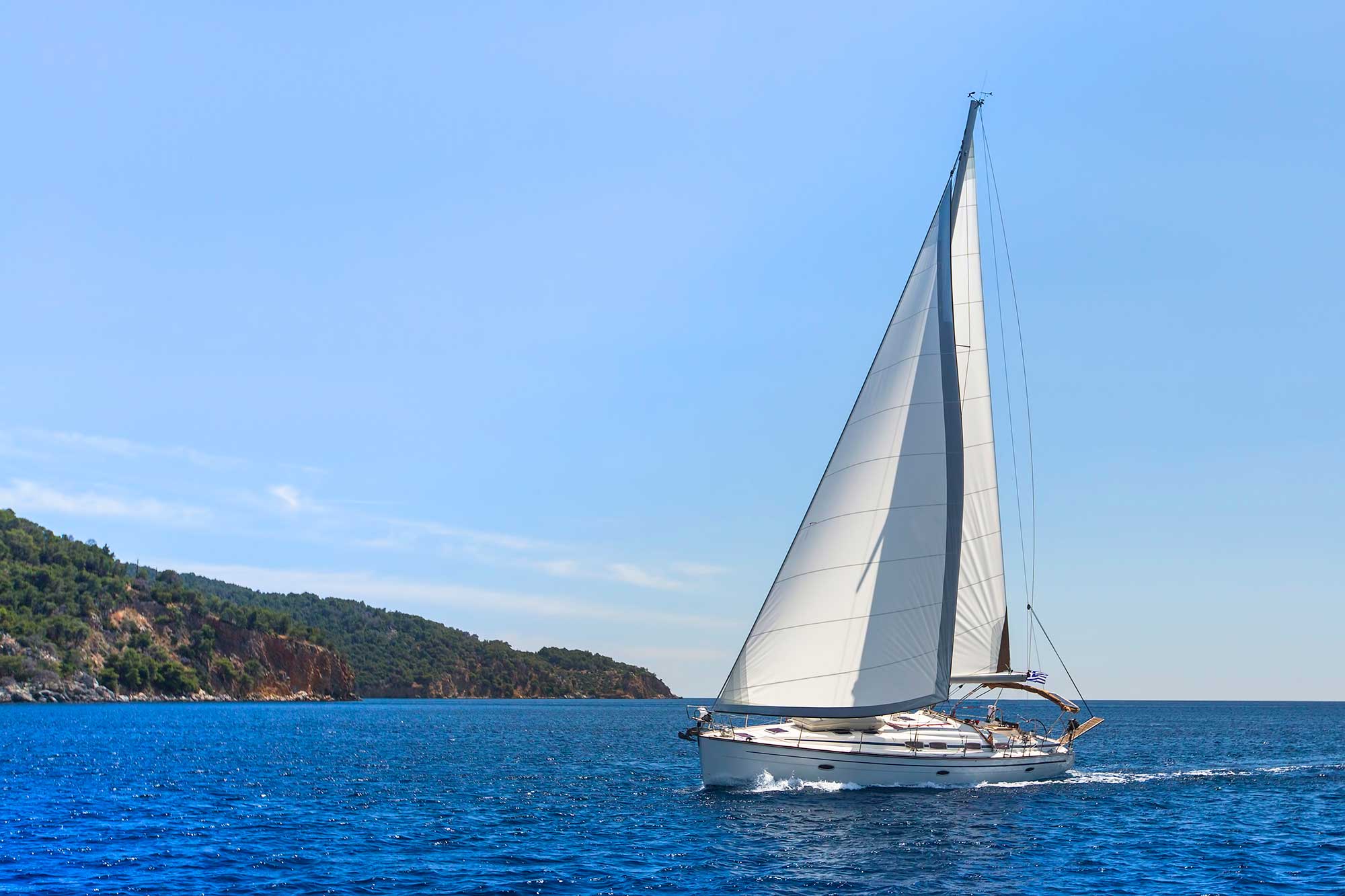 Starting from 1000 EUR pw
The most popular boat for active travelers and couples. They offer the classic sailing experience and tend to vary in size from 30-64 feet.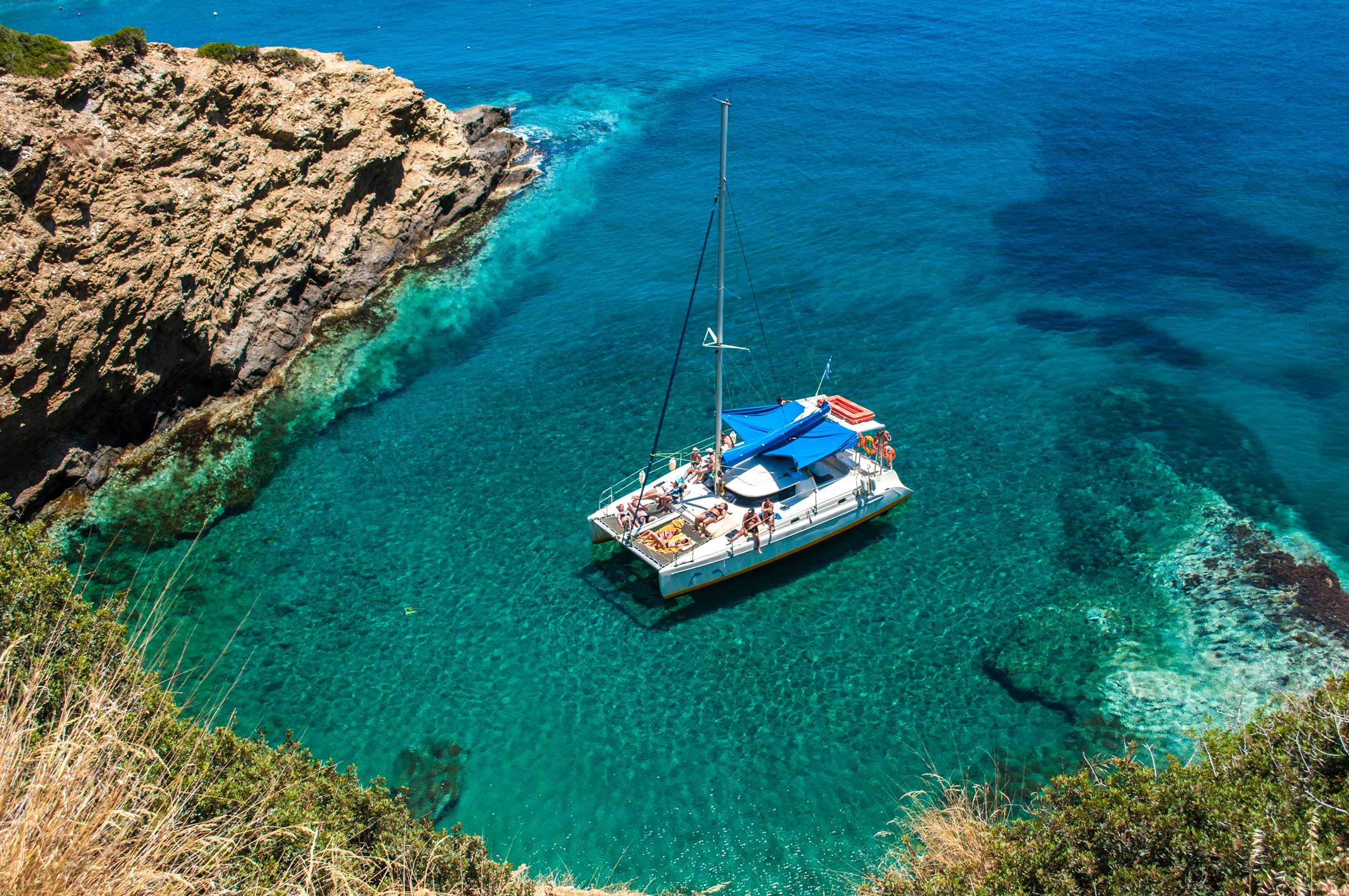 Starting from 3500 EUR pw
This offers a more smooth sailing experience compared to the normal sailboat and are the perfect choice for bigger groups or families. The sizes often range from 38-70 feet, with the average being around 42 ft.
Interested in Trogir route?
Are you interested in visiting the Trogir archipelago and explore its secret coves and beaches? We have answers to those questions and many more. So don't hesitate to get in touch with our friendly team today!