Romantic getaway: 5 sailing destinations in the Mediterranean
Last update: Wednesday, March 29, 2023


Time for romance should be all year round, not just on Valentine's day.
But it still makes a great occasion to gift someone a romantic sailing holiday, that you can enjoy together this summer.
If you're sailing as a couple – we'll provide you with a skipper.
If you're sailing as a couple, but don't want to rent the boat alone – we'll find you a cabin charter you can join.
If you're sailing as a group – we'll provide you with a skipper or a flotilla you can join.
No matter how many of you want to sail together, there are great destinations to check out, especially in the Mediterranean.
Croatia
Croatia's coast is full of romantic destinations with hidden beaches, great restaurants and beautiful sunsets.
We picked out these two as an option for those looking to do more activities and those wanting a secluded and more peaceful destination.
Rovinj
Rovinj is a small coastal town located in the Istria Region and a stop when sailing from Pula.
It has a perfect combination of activities for a romantic getaway:
great beaches
lots of restaurants
vineries
promenade for sunsets walks
There is no doubt that Rovinj is the place to create lifelong memories from your romantic getaway.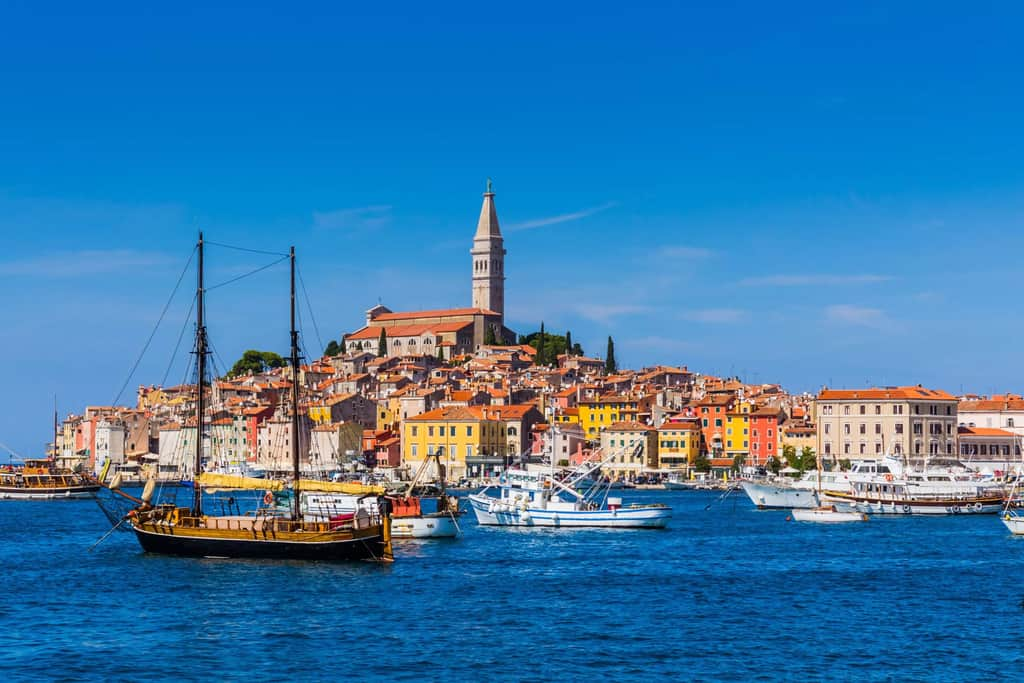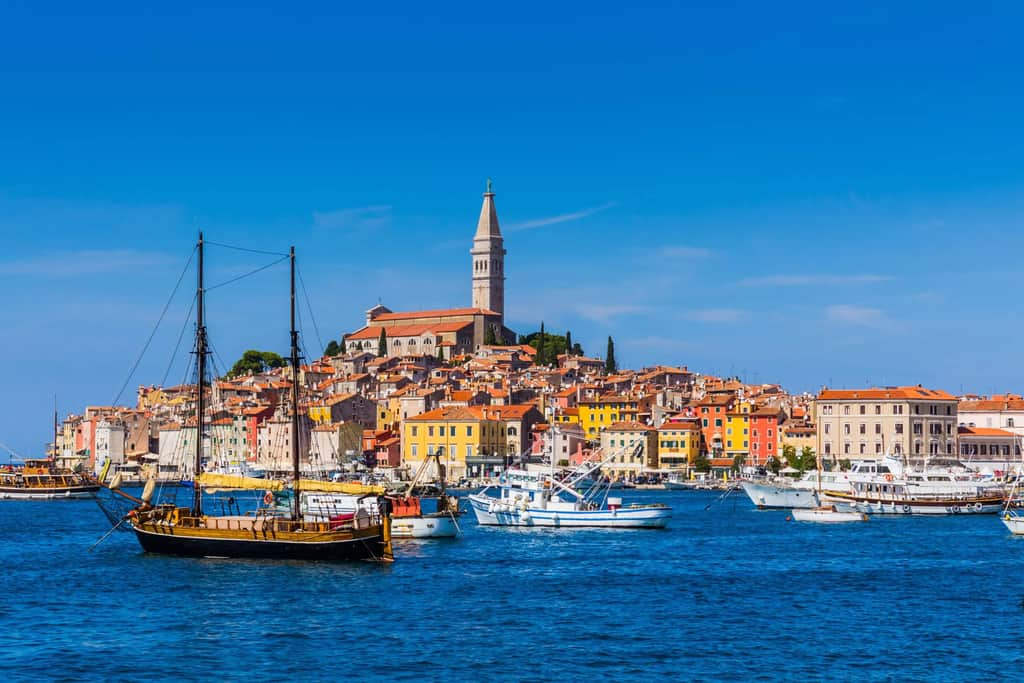 Palmižana – Pakleni islands
For those looking for a more secluded destination, we recommend Palmižana on the Pakleni islands, especially in May or late September.
Pakleni islands are just across the busy island of Hvar. There you can take a walk, enjoy history or even go for a night out.
But a romantic dinner, just for two with no interruption, is waiting for you on Palmižana. It also has its own marina since a place to anchor in Hvar is impossible to find.
After a night on the boat, you can take a 20-minute walk to the other side of the island and enjoy a day on the Palmižana beach.
Looking for a romantic getaway?
Surprise your loved one with a romantic sailing adventure!
Turkey
Unfortunately, not many people know the beauty of Turkey's nature, especially on the coast.
That kind of all possible shades of green can only be seen there – from the tree-filled coast to the turquoise water.
Your romantic getaway in Turkey will mainly consist of eating delicious food or relaxing on the beach.
Bodrum
On the southern coast of the peninsula lie the golden sandy beaches at Bardakci, Gumbet, Bitez, Ortakent Yalisi, Karaincir, Bagla and Akyarlar, while on the western side are Gumusluk, Yalikavak and Turgut Reis.
For those who want seclusion, the northern coast boasts Turkbuku, Golkoy and Gundogan – all small simple fishing villages, ideal for those who want a subdued and relaxing atmosphere.
Food and drinks:
La Pasion Restaurant – offers a variety of different cuisines
Avlu Bistro & Bar – has a great vine selection
Mezemore – a great place for seafood lovers
Bodrum at night is the perfect location for taking romantic pictures and videos – with Oscar-worthy backgrounds.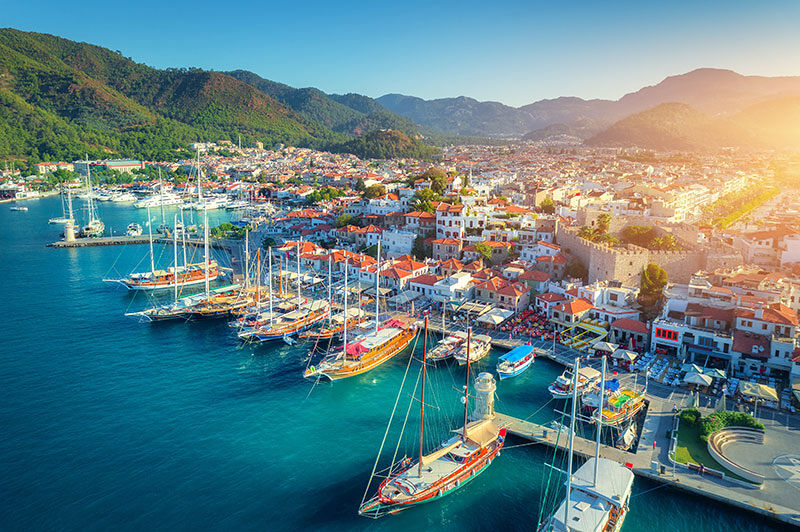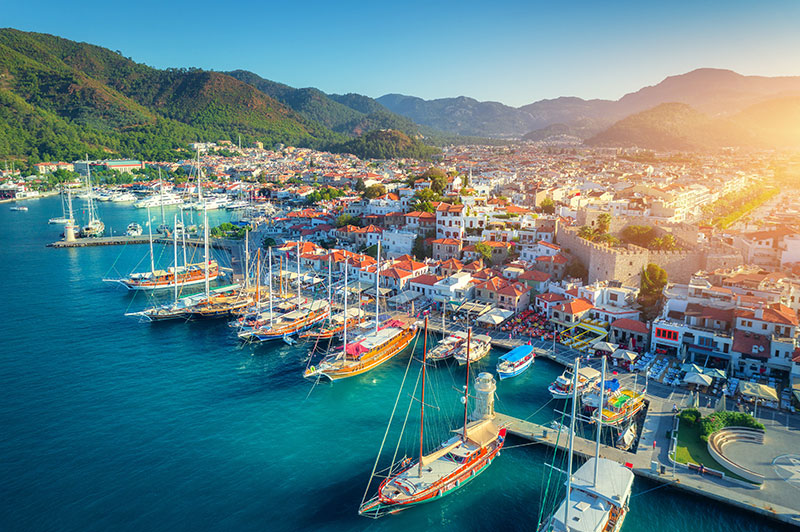 Greece
When taking Greece's popularity as a top romantic destination into consideration, it really doesn't need much explanation of why people choose to travel there with their loved ones.
But still, we wanted to introduce to you our two favourite spots.
Lefkas
According to mythology, the island was given by Odysseus' father to Penelope's father as a wedding gift – how very interesting!
This is one of the few islands in Greece accessible by car.
Lefkada means "white island" and the island got its name from the white chalk rocks and white cliffs in the south of the island around the picturesque Cape Lefkas.
Other parts of the island are very green just like most of the other Ionian islands – together with the exotic white colour of its beaches and turquoise sea colour it creates great scenery for late-night walks on your romantic getaway.
Beaches Porto Katsiki, Kathisma and Egremni, are among the most photographed places in Greece.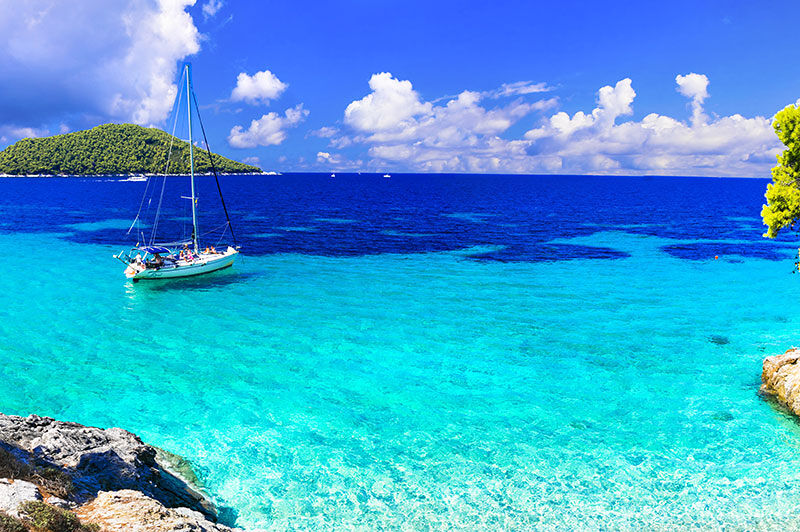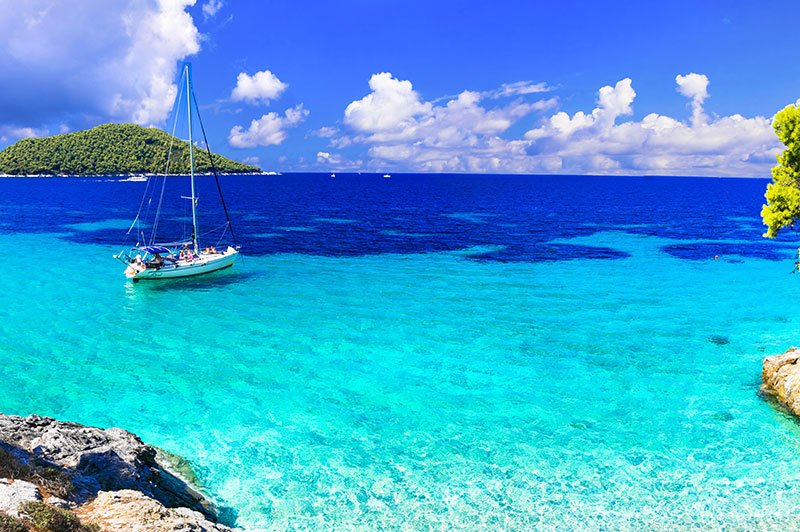 Santorini
Santorini is a volcanic island and part of the Cyclades group islands. It is famous for dramatic views, stunning sunsets from Oia town, the strange white aubergine (eggplant), the town of Thira and naturally its very own active volcano.
The best time to visit Santorini is between late April and early November when the weather is warm and there is little rain.
Like in most of the Cycladic islands, houses were painted white to reflect the harsh summer sun. With the extra blue color of the sea – Santorini is like a destination from a movie.
With activities like wine tasting, taking walks, trying greek specialties and enjoying the beach – there is no better place for your romantic getaway.