Trogir: Best sailing holidays
Are you culture savvy planning your ideal sailing holidays? Welcome to Trogir, one of the favorite Croatian nautical destinations.
A historic city, 25 km west of Split, is included in the UNESCO World Heritage Sites. Since Trogir is located near the Split Airport, it is easy to approach this yacht charter destination. Except by airplane, you can quickly get there by car, bus or boat.
There are few marinas in the broader area of the city, where you can rent a boat. These marinas are the ideal starting point for sailing to the Dalmatian islands. In this area, you can anchor your boat in the harbors on neighboring islands, like Drvenik, Šolta, and Čiovo. Or you can sail to the bigger islands like Brač, Hvar, Vis and Lastovo.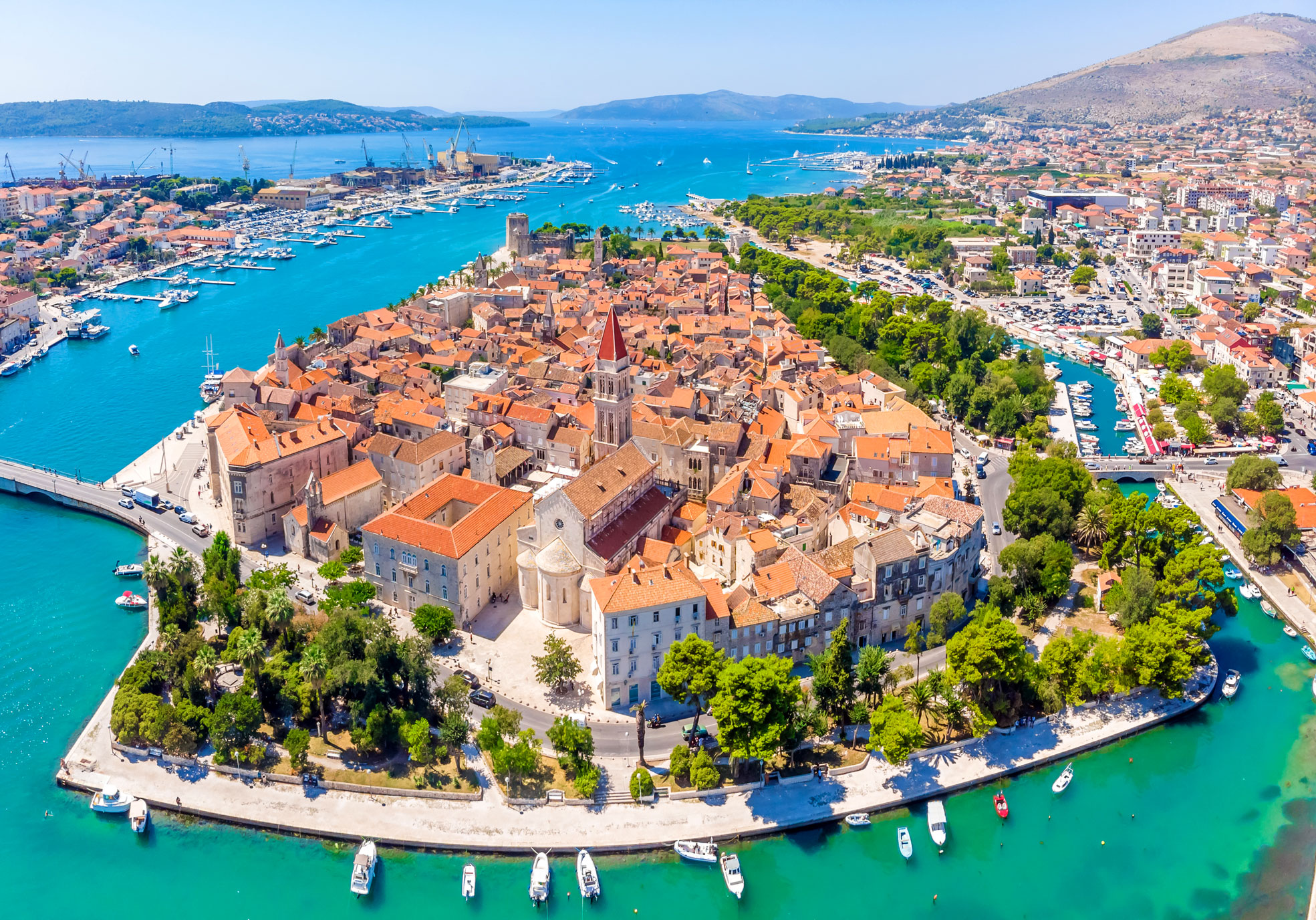 Old town legend
But first, let me take you to the old town. The Greek colony of Tragurion was established in the 3rd century before Christ. The town's most famous symbol is Kairos, the Greek god of a happy moment. A boy with the wings on his feet and back represents the young sculptor who finds his happy moment in Trogir. The legend says, if you catch him by his tuft – you will capture your happy moment.
Among many sights, we warmly recommend you to visit the beautiful St. Lawrence Cathedral with the famous Master Radovan portal. There is also the Fortress Kamerlengo, built by Venetians in the 15th century.
Nowadays, the fortress is a multimedia center with open-air cinema and a stage for cultural events. It is also interesting that in 1271, the first pharmacy in Europe was opened in Trogir. It's good to know that if you need any medicine on your sailing holidays, people there will know how to help you.
Trogir is a paradise for yacht charter
After the sightseeing, it is time for sailing. The broader surroundings of Trogir mark many islets, rocky and pebble beaches. One of the most beautiful pearl you should see is Krknjaši Lagoon. It is located on the eastern coast of Drvenik Veli.
This most attractive Blue lagoon on island Drvenik is surrounded by two smaller islands, Large and Small Krknjaši. Thanks to the lovely sandy beach and shallow bottom, the Krknjaši bay provides the atmosphere of a real tropical paradise.
If you're looking for a beach that is suitable for families with small children, we warmly recommend this place. Enjoy the crystal blue sea, natural beauties, sunbathing, diving. You can also find there an excellent Dalmatian restaurant with fresh seafood and authentic dishes.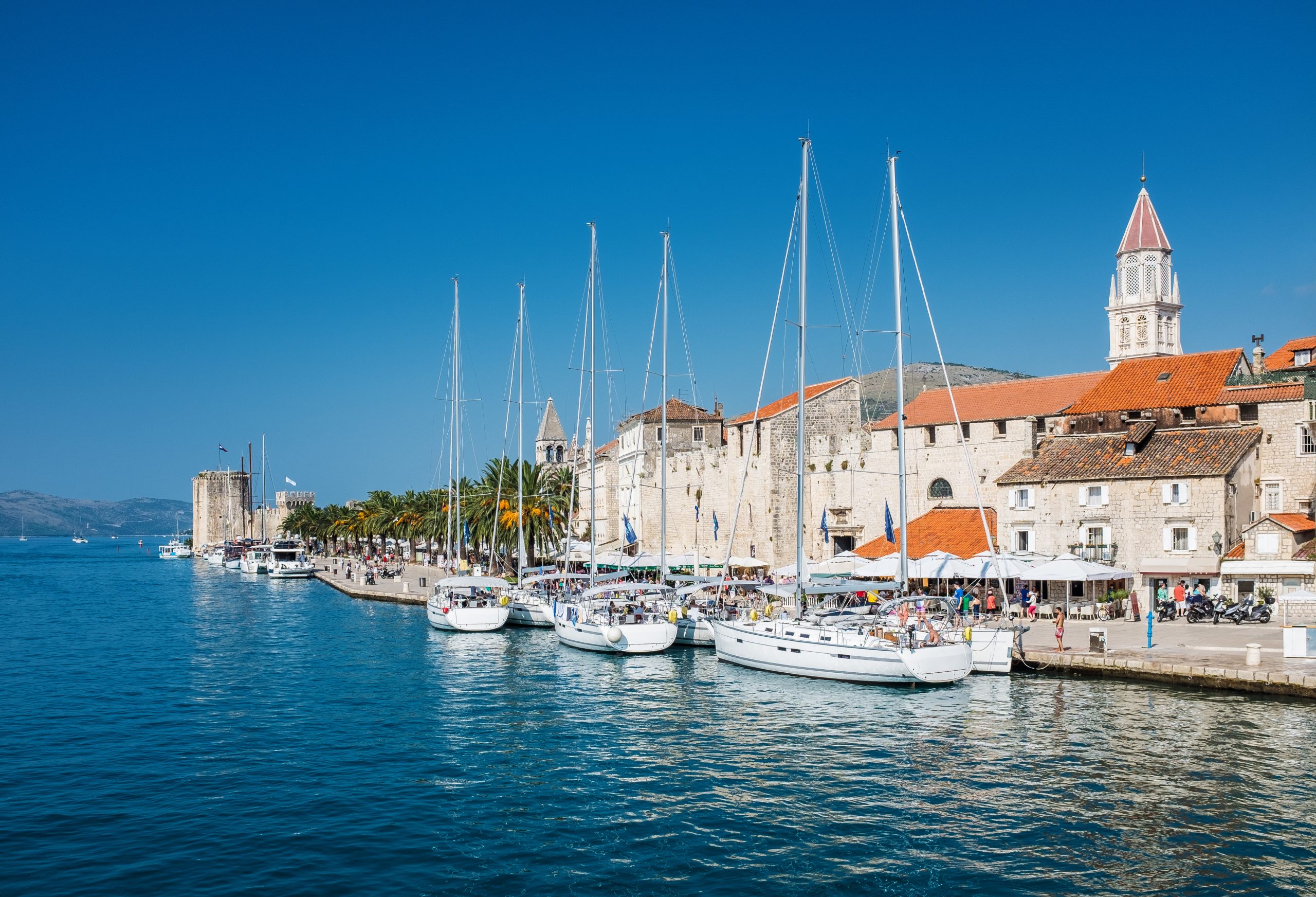 Enjoy food and sports
And finally, we would like you to meet the Trogir gastronomy. Visit traditional restaurants and taverns, where you can taste light Mediterranean cuisine.
You can try favorite dishes like pašticada and peka, or grilled lamb, octopus salad, roasted or fried squid and of course, best quality Adriatic fish. Those plates are most tasty served with high-quality local olive oil and a glass of homemade black wine.
Typically homemade prosciutto and cheese are served as an appetizer. And for dessert the traditional Trogir pie, Dalmatian Rožata or pannacotta. There are many opportunities for sport and recreation, like tennis, bowling, windsurfing, diving. The Trogir area is a mild resort for a combination of an active and relaxing vacation. So, we wish you a lot of happy sailing moments in Trogir.
Trogir – interesting location for every vacation
You are looking for an interesting location in Croatia that can offer you everything you need for an ideal vacation? Trogir is a place for you. Enjoy sailing and discovering all types of beaches, visiting the historical sights of the city and eating traditional food.

We have an amazing Trogir route that you'll love it. This 7 day sailing trip starts in Trogir and has already included all the interesting places to see and where you can enjoy the sailing holiday to the fullest. Visit this wonderful pearl on the Mediterranean!

If you're looking for a vacation tailored for you, we're here to plan the best Sebastus Experience to get exactly what you need, when you need it.